The most beautiful campsites in Languedoc Roussillon camping-to-compare
top-camping-du-moment-by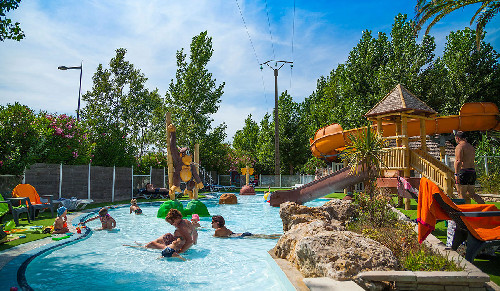 Languedoc-Roussillon
Dès 195€ /sem
-20%
Sérignan
Camping Le Clos Virgile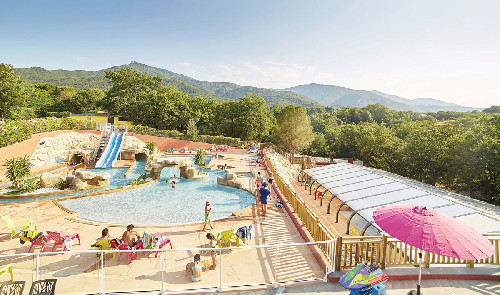 Languedoc-Roussillon
Dès 259€ /sem
Laroque-des-Albères
Camping Les Albères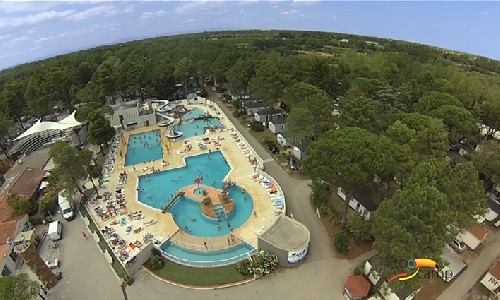 Languedoc-Roussillon
Dès 417€ /sem
Argelès-sur-Mer
Camping Taxo Les Pins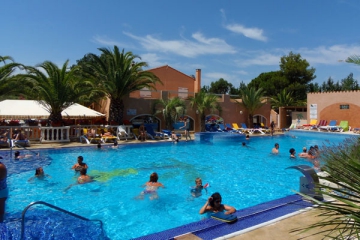 Languedoc-Roussillon
Dès 328€ /sem
Le Barcarès
Camping La Croix du Sud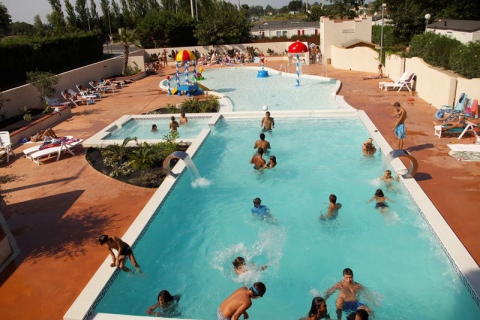 Languedoc-Roussillon
Dès 683€ /sem
Argelès-sur-Mer
Camping Sol Y Mar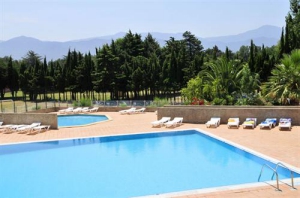 Languedoc-Roussillon
Dès 266€ /sem
Argelès-sur-Mer
Camping Les Abricotiers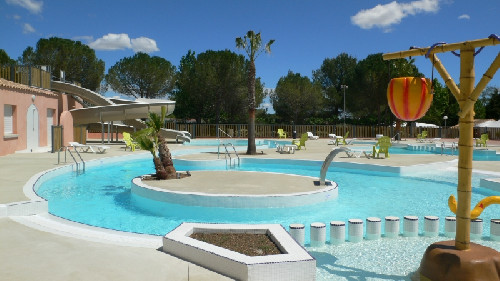 Languedoc-Roussillon
Dès 525€ /sem
Bessan
Domaine Sainte Veziane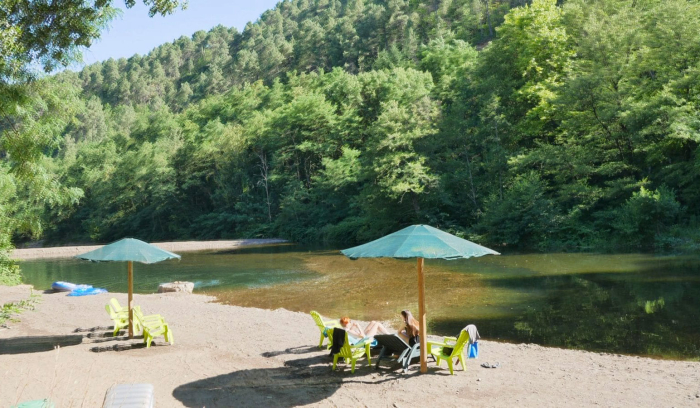 Languedoc-Roussillon
Dès 333€ /sem
Peyremale
Camping Les Drouilhèdes
Languedoc-Roussillon
Dès 483€ /sem
Ria-Sirach
Camping Bellevue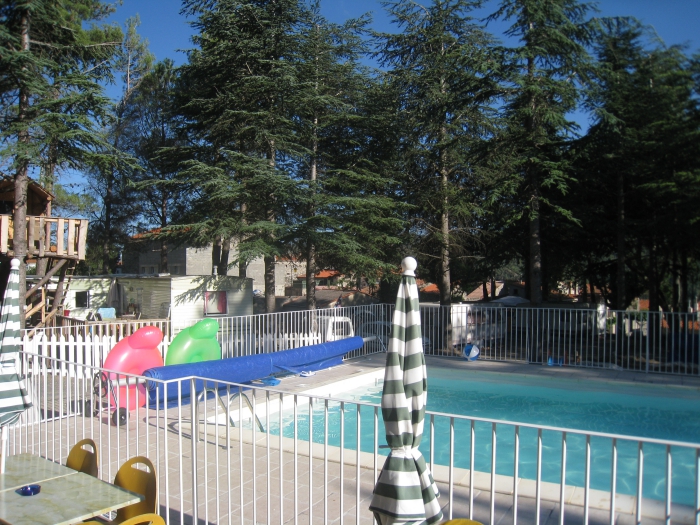 Languedoc-Roussillon
Dès 294€ /sem
Sournia
Camping La Source
The most beautiful campsites in Languedoc Roussillon - 656 campings à comparer




















In the Occitania region, in the Pyrénées-Orientales department, in Argelès-sur-Mer, the 2-star campsite Les Abricotiers welcomes you in its park of 10 hectares, in the shade of pine trees and palm trees, located at the foot of the massif Albères and about 2.5 km from the Mediterranean sandy beaches. In this camping village-holidays near the sea, you can stay in cottages for 4 to 6 people or mobile homes that can accommodate between 4 and 8 holidaymakers, equipped for your comfort and decorated with terrace with garden furniture. Please note that the campsite does not have spaces to receive your tents, motorhomes and caravans. For fun and excitement, the campsite offers an outdoor swimming pool and paddling pool surrounded by sunbathing, multisport and petanque grounds, a playground that will undoubtedly be the joy of your toddlers, Ping-pong tables, table football and a tennis court. During the months of July and August, children from 4 to 12 years can have fun in the club-children while the youngest will enjoy many weekly activities such as water aerobics, water polo tournaments and thematic evenings. You will not be left out at the catering level since the campsite offers a snack bar with terrace to enjoy hot and cold snacks during the summer and a breakfast service to order. Good to know: to reach the beaches and downtown, climb the little train commuting from the campsite! From this family campsite with a warm atmosphere, go on a day hike around the Lac de Matemale, admire the royal castle of Collioure and indulge in the many water sports that offers this must-see seaside resort!...
Mobile home /1 du 06/25 au 07/02
Marchand: Booking
Voir l'offre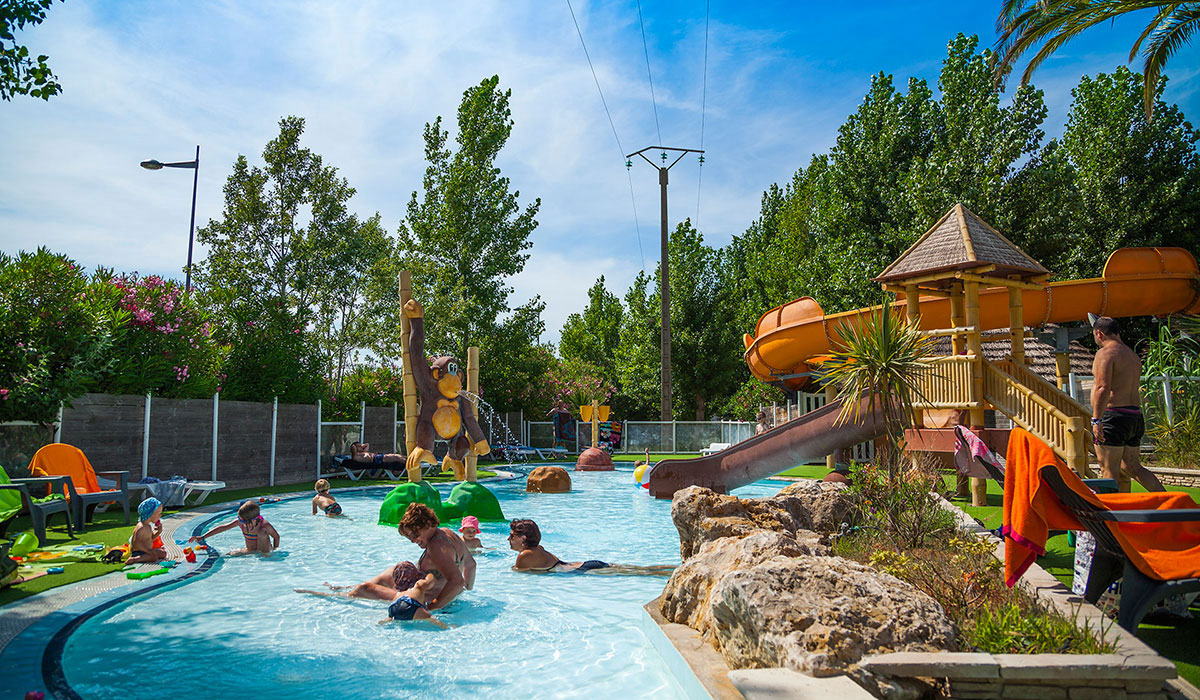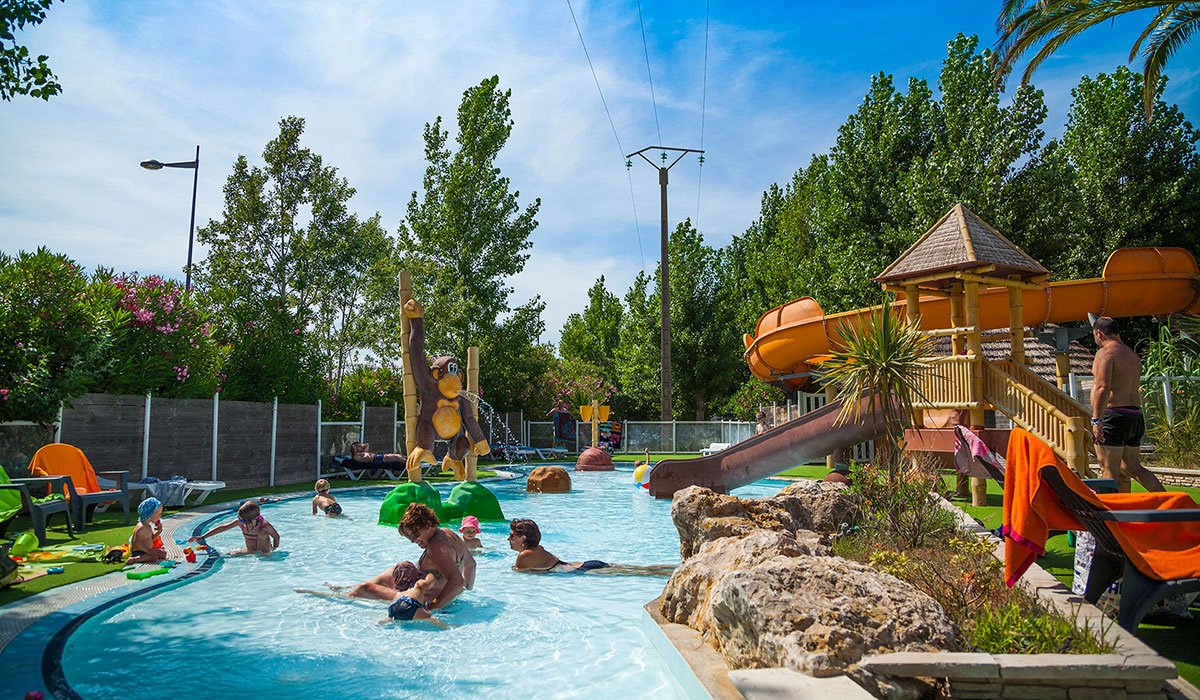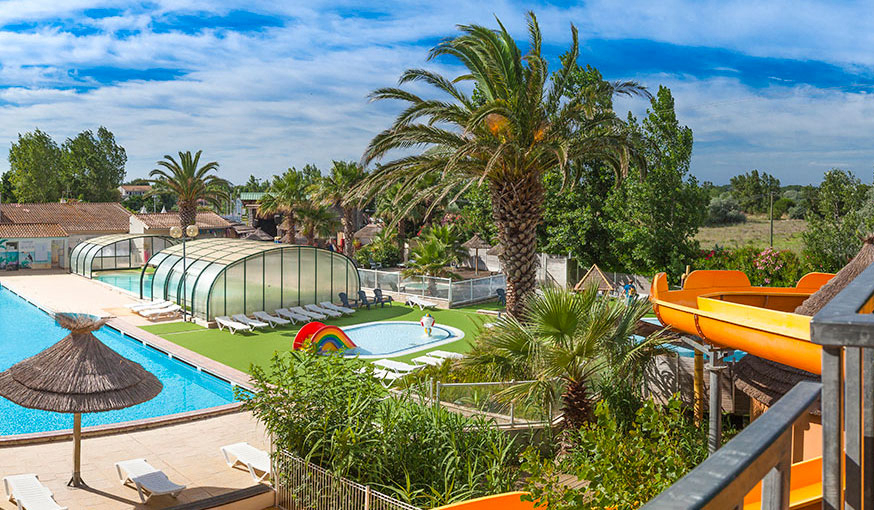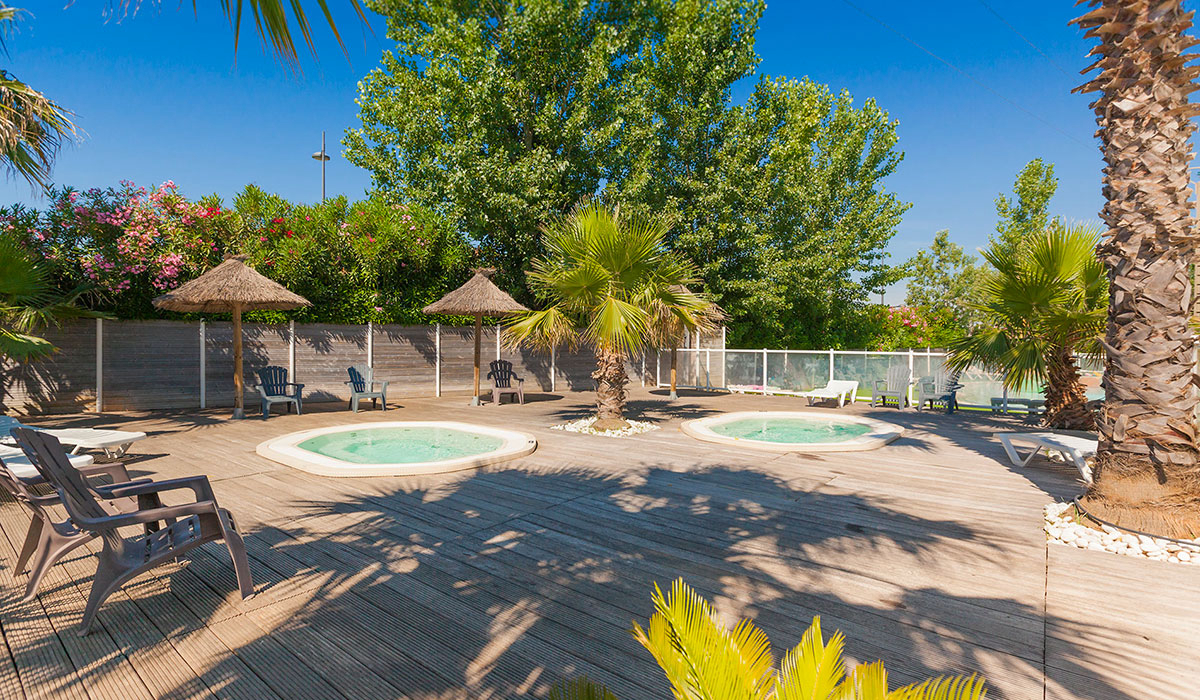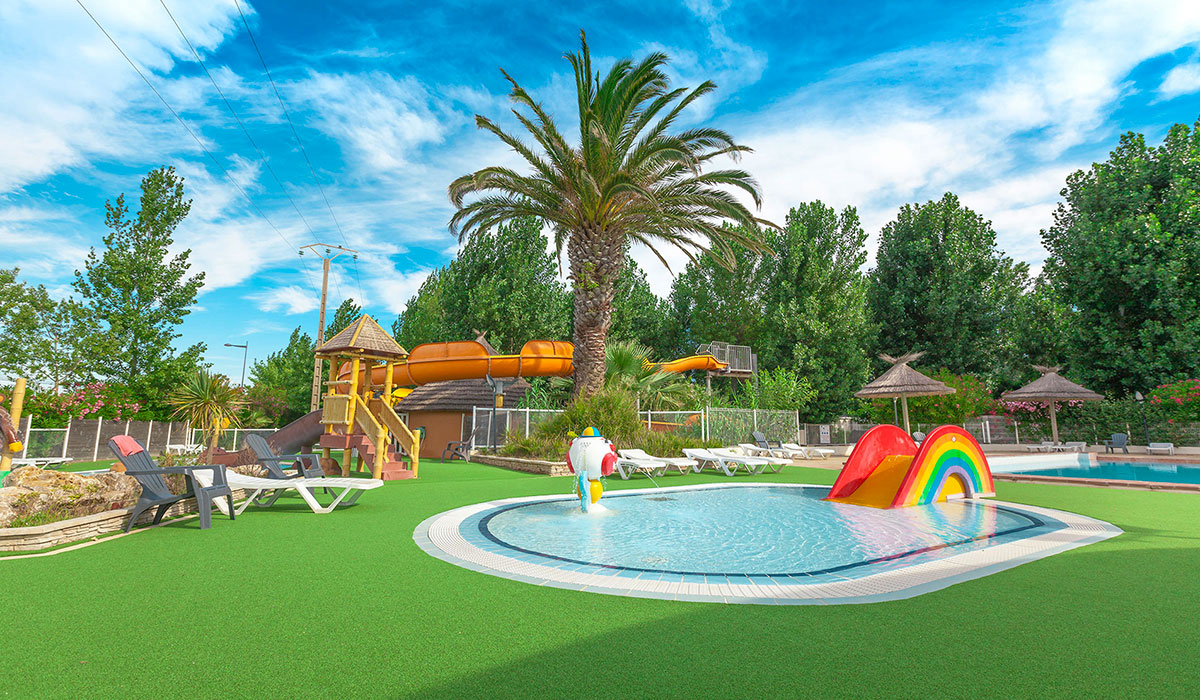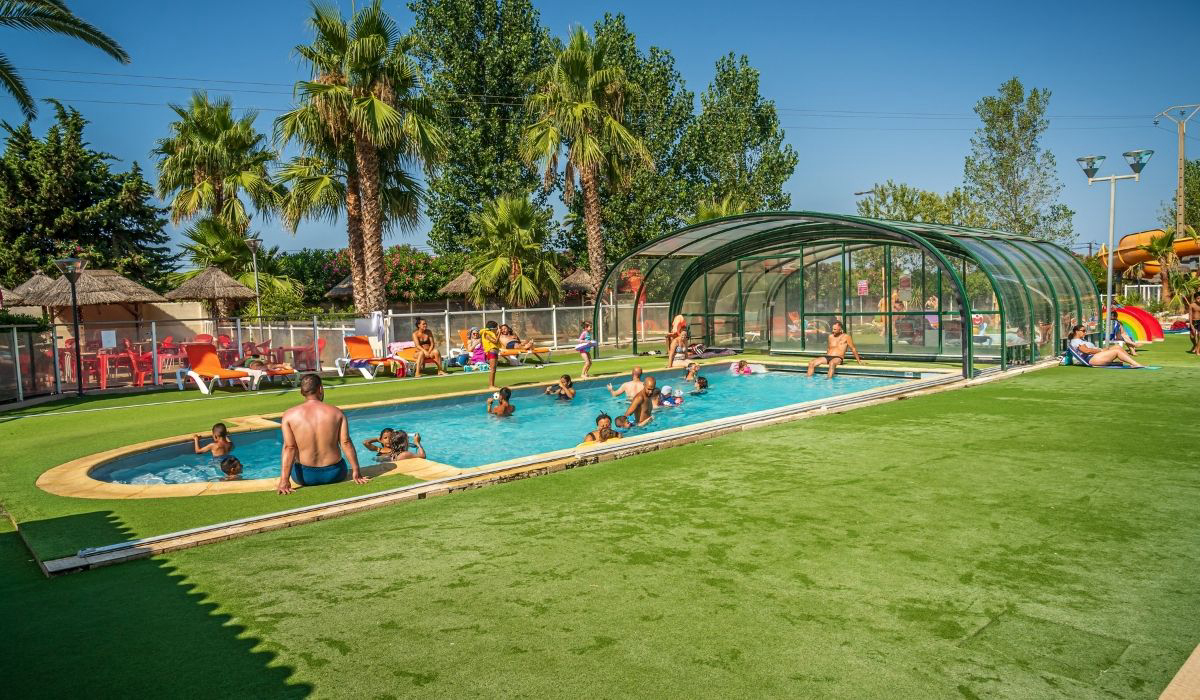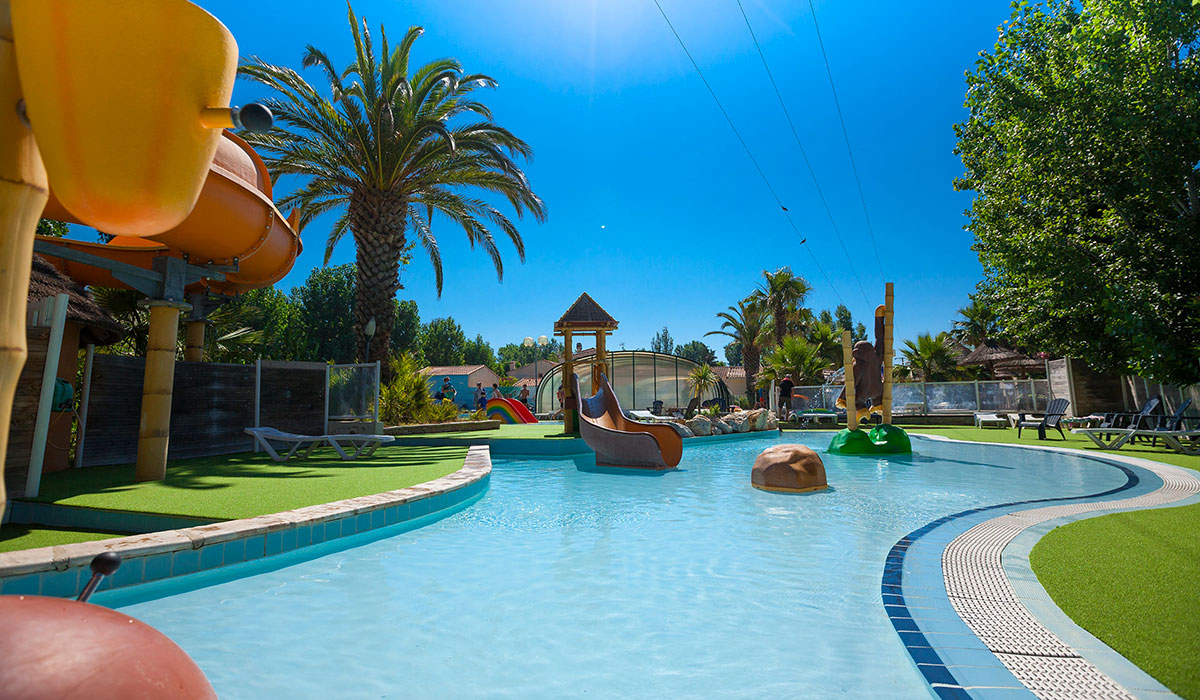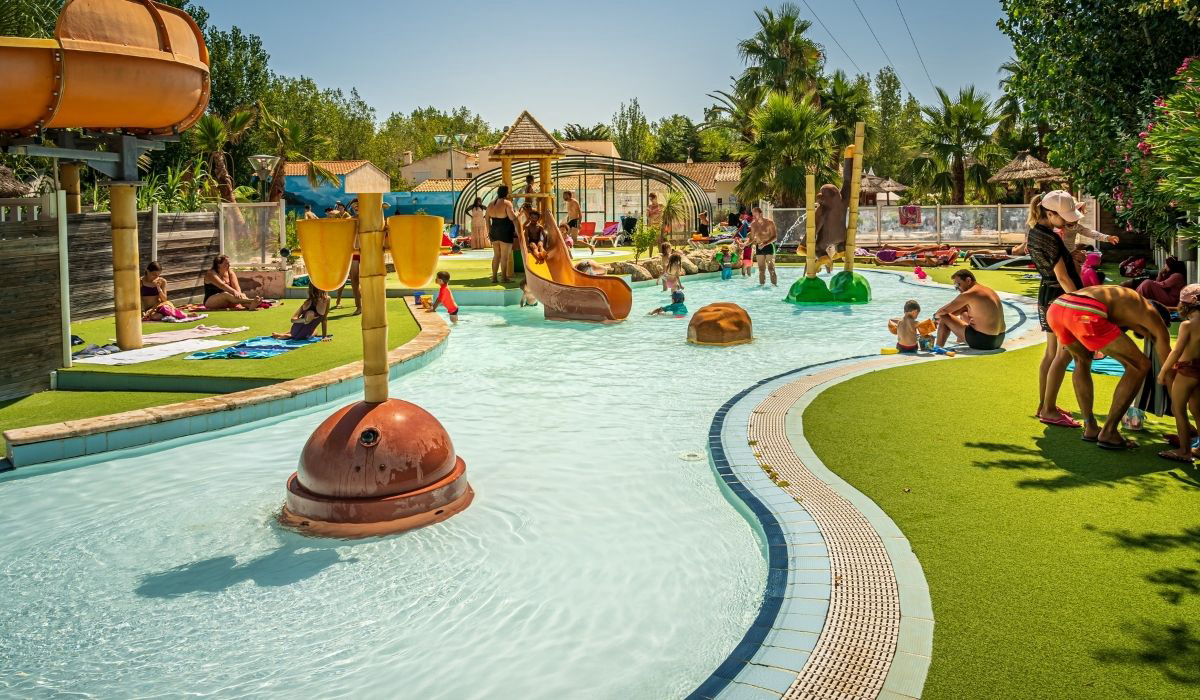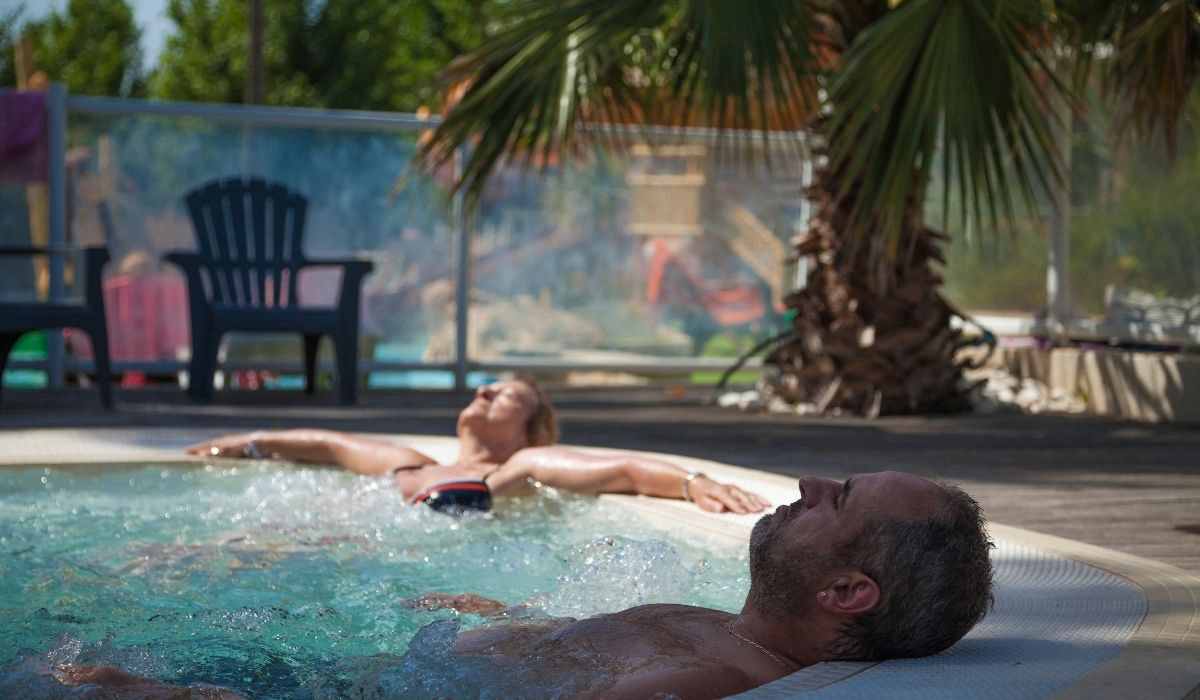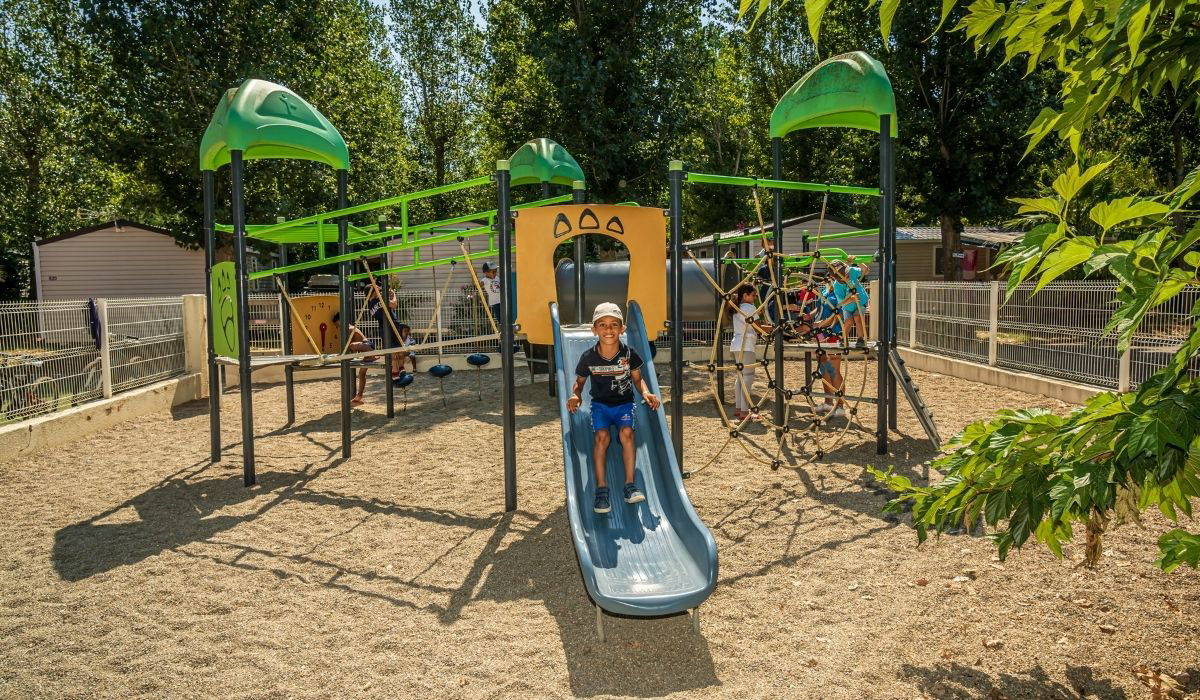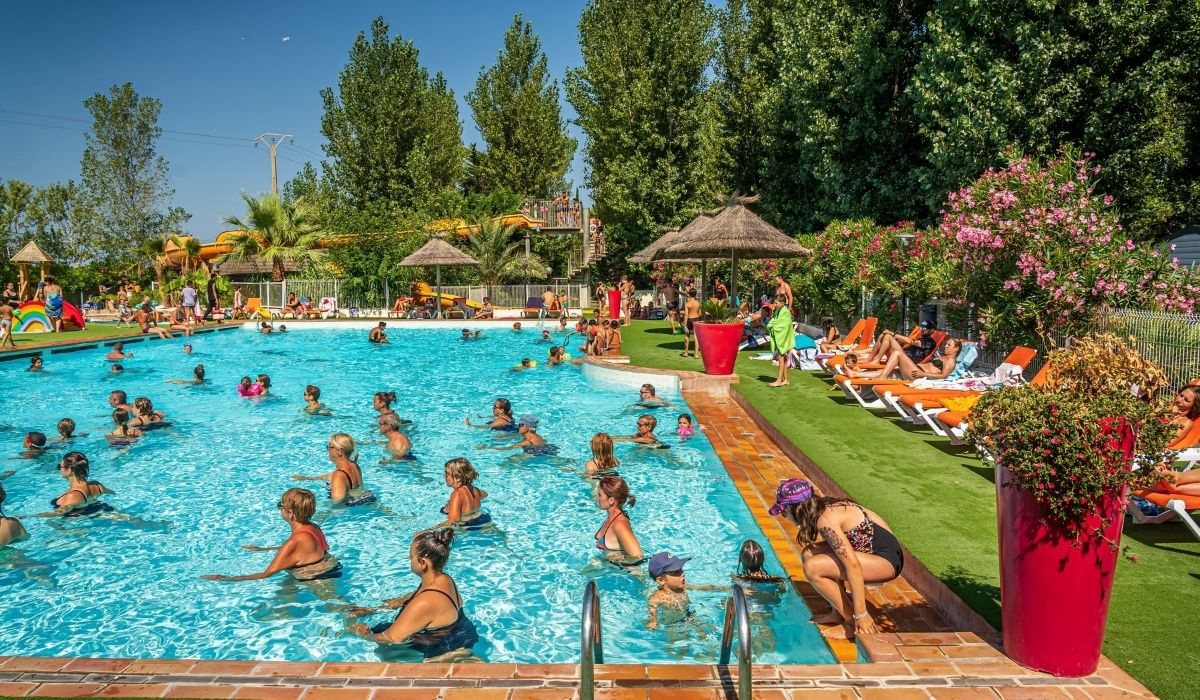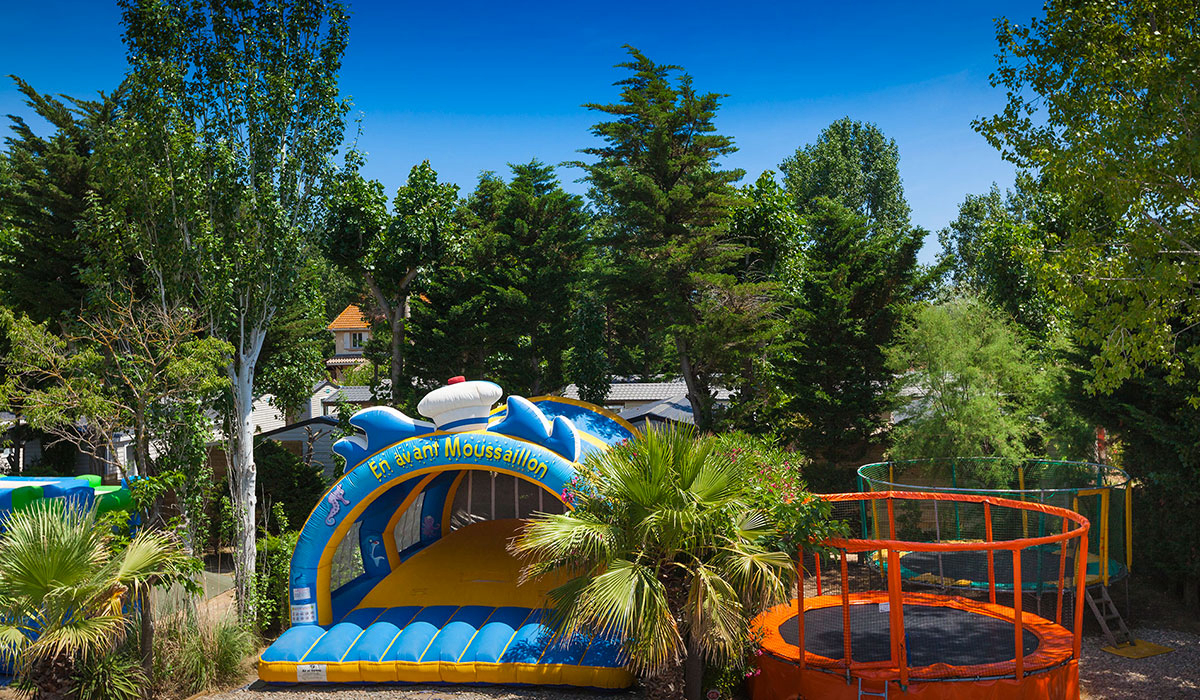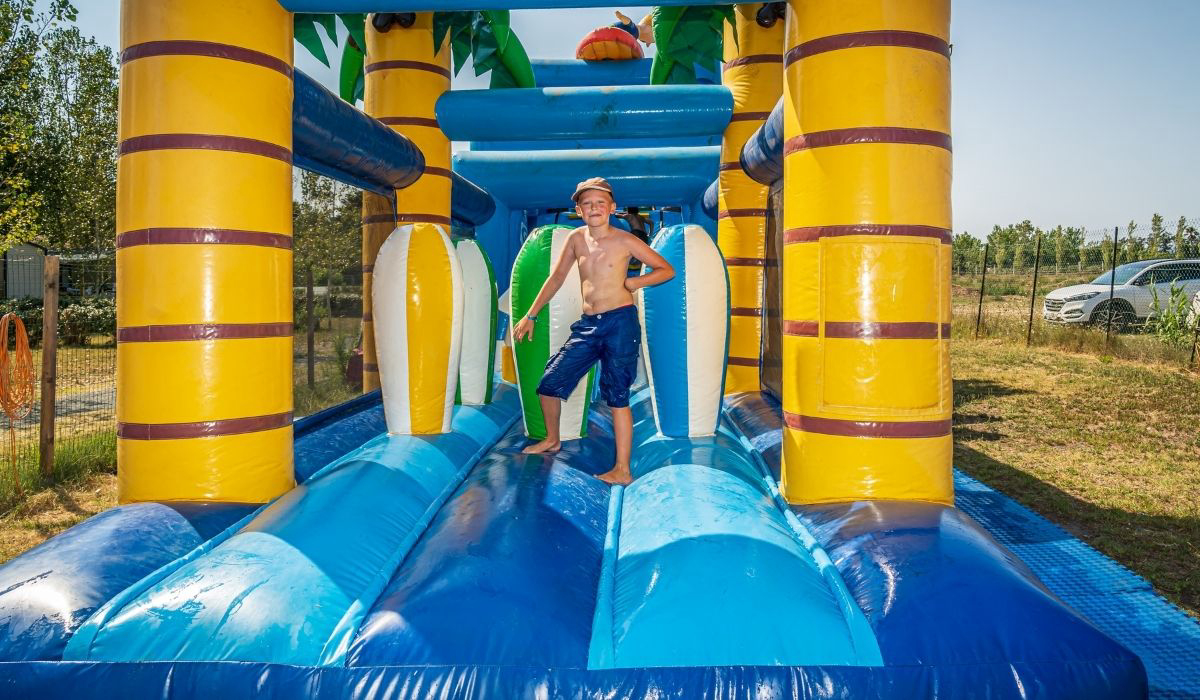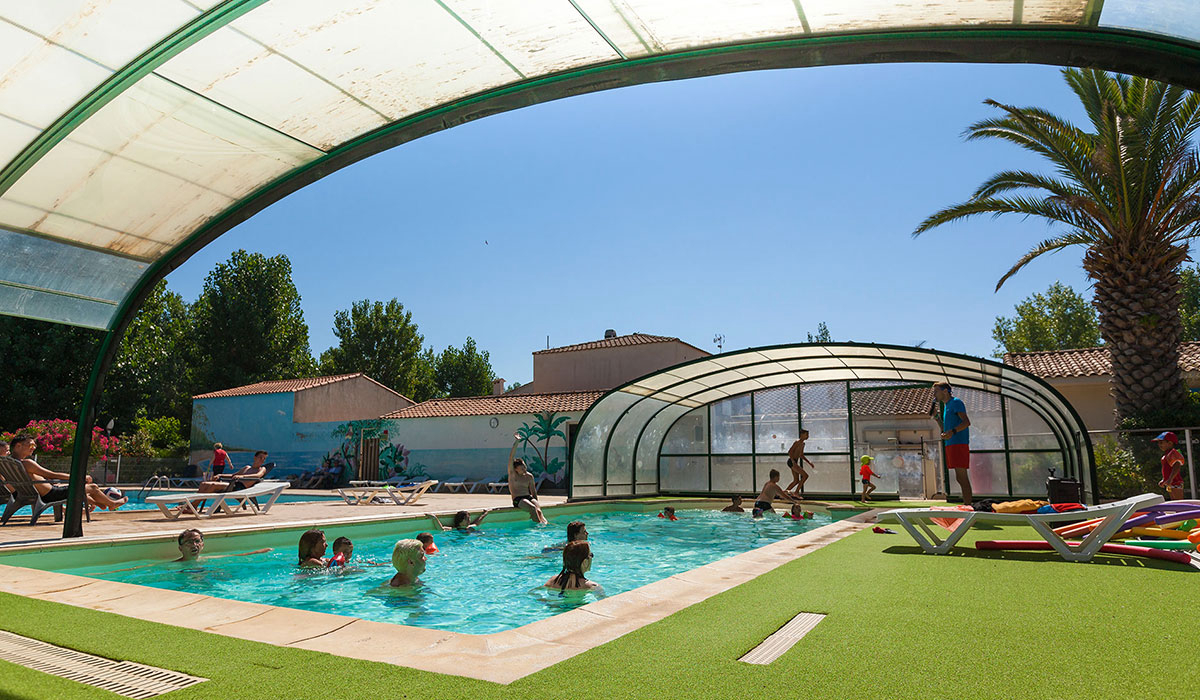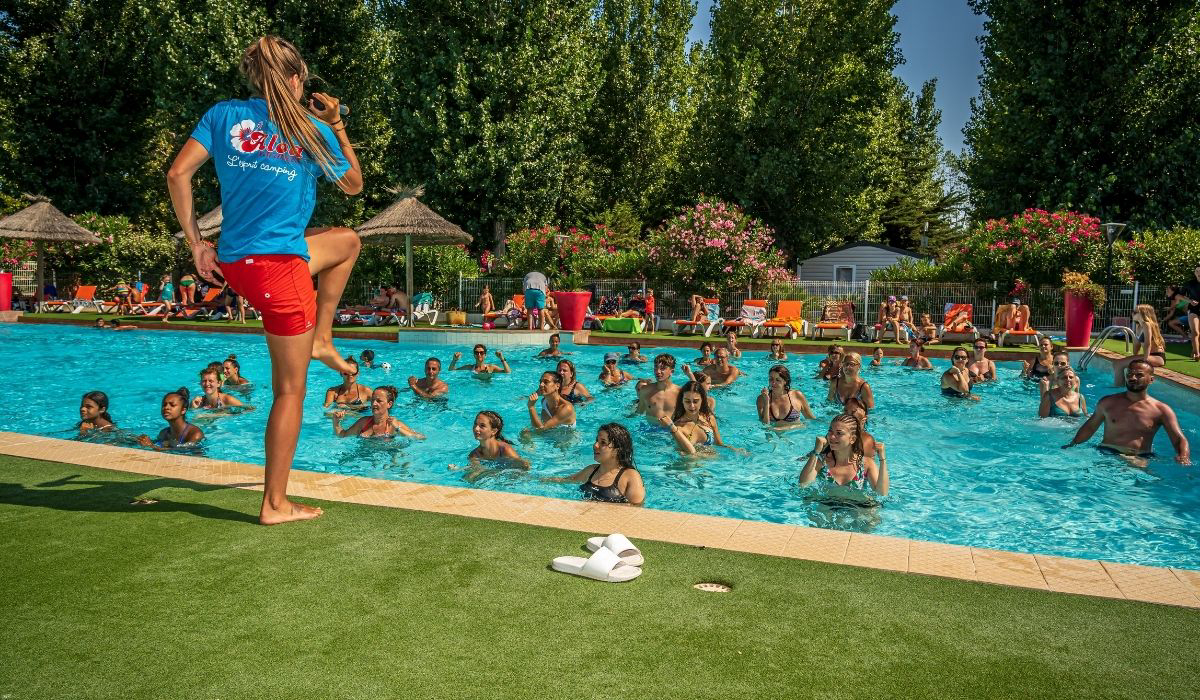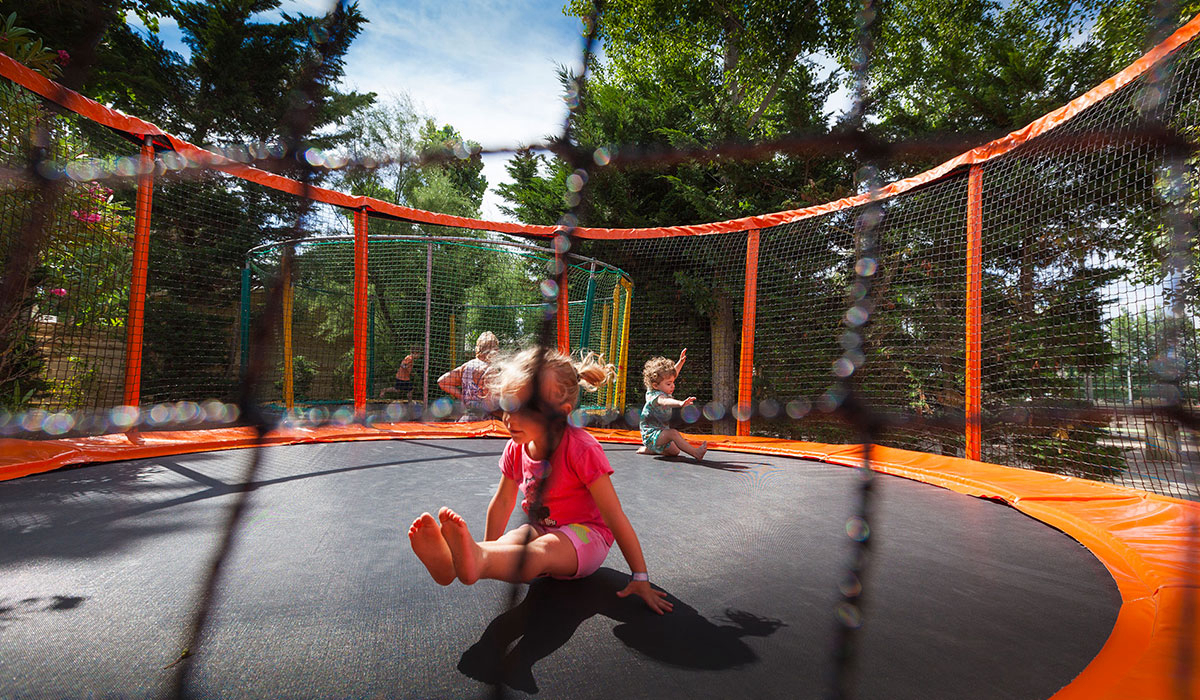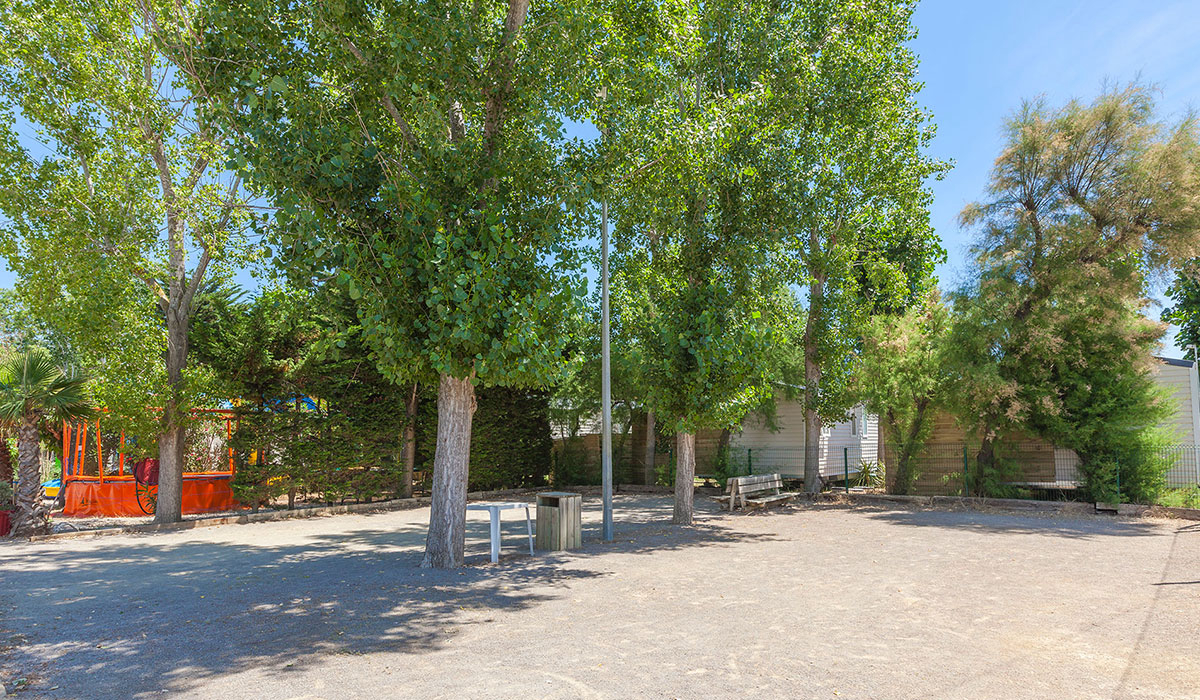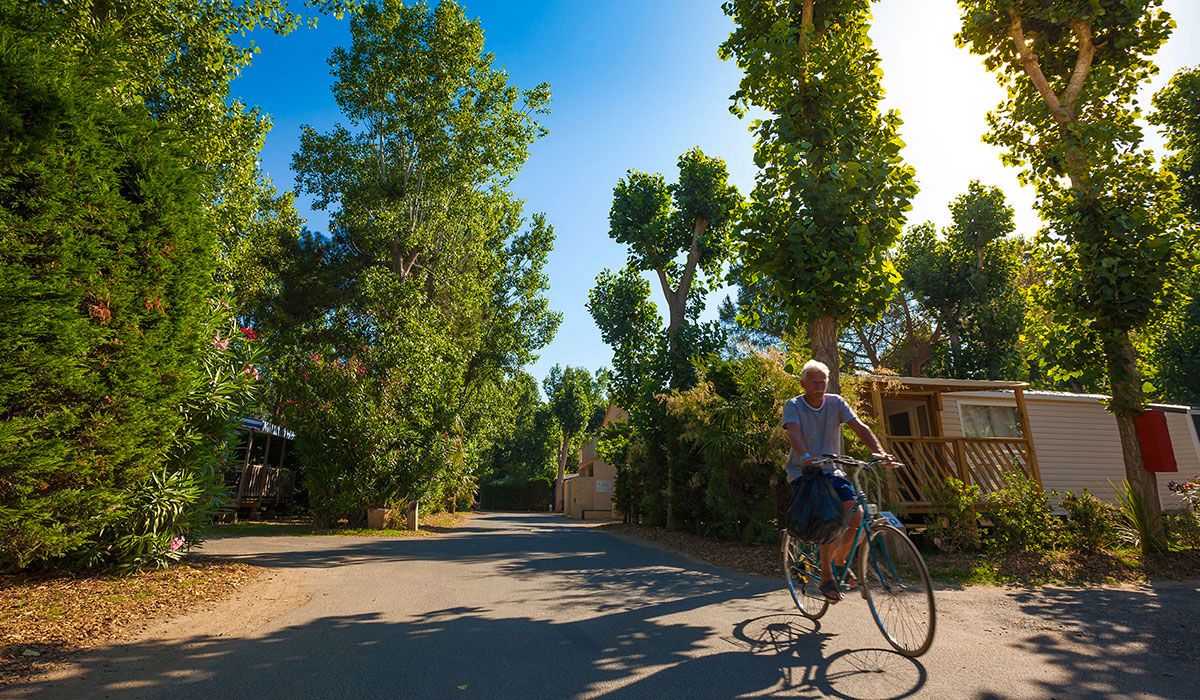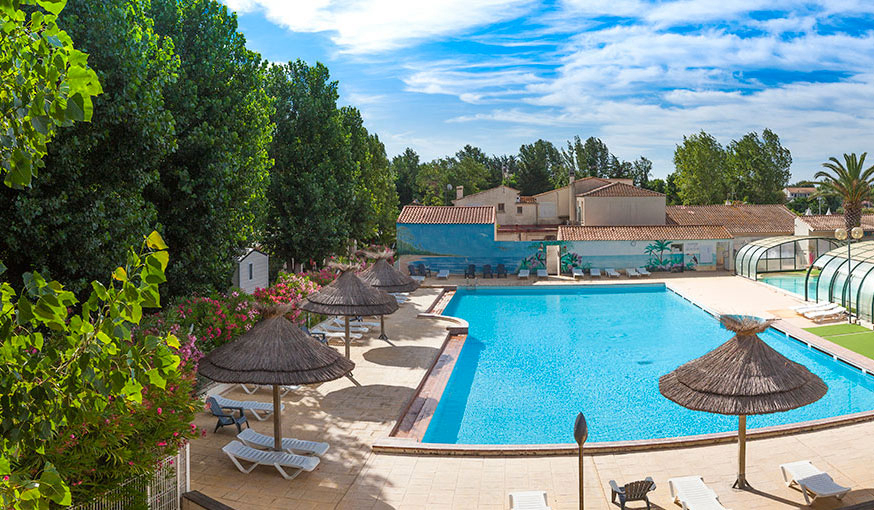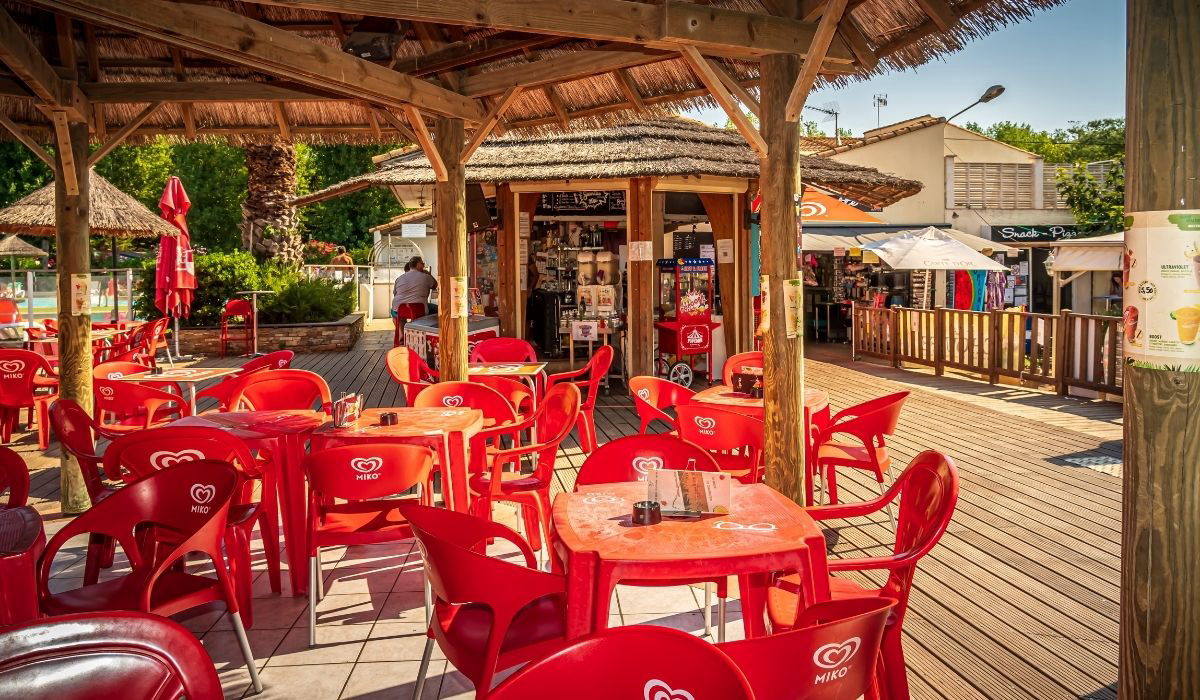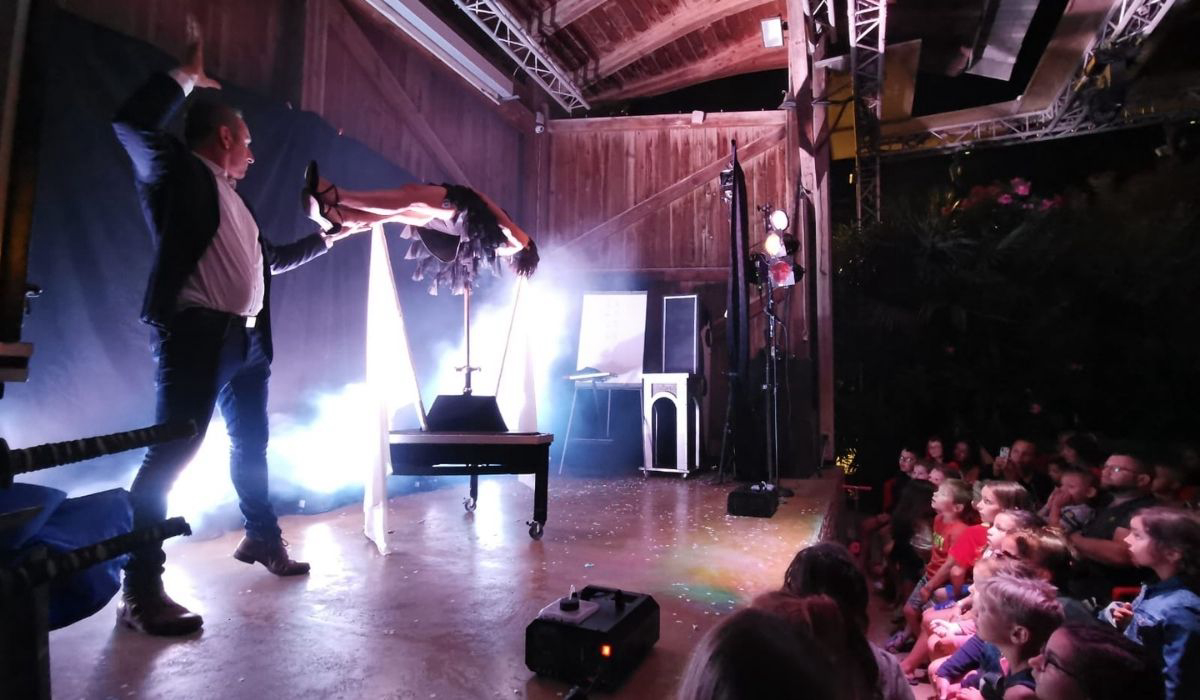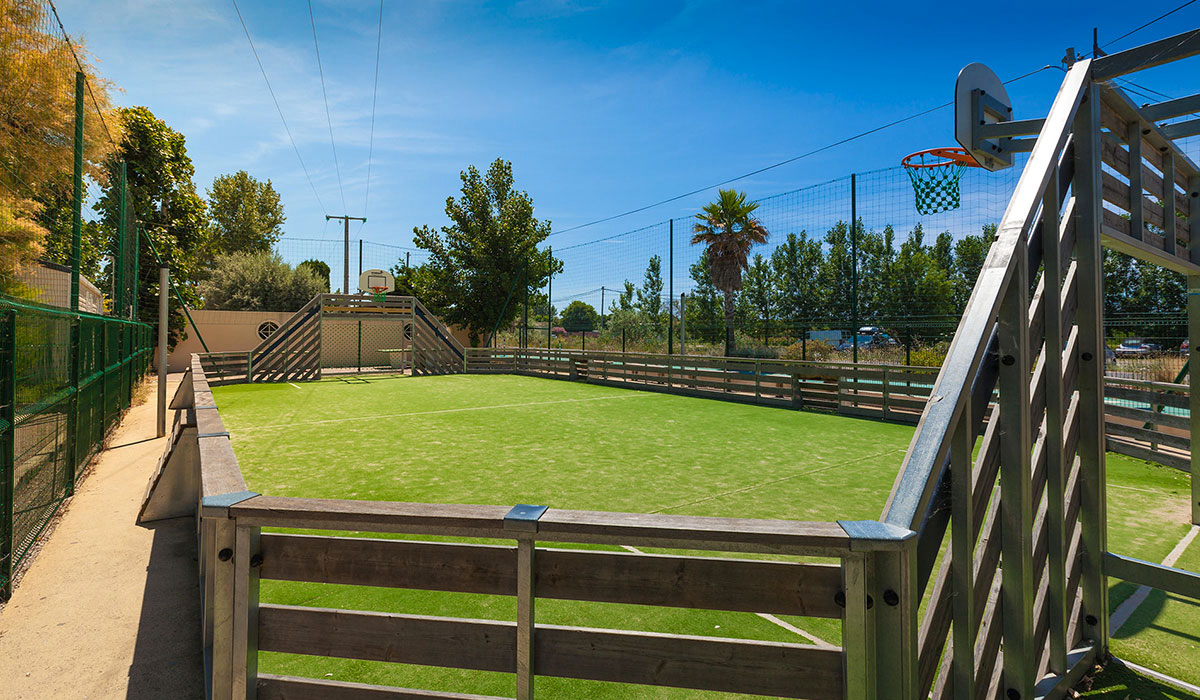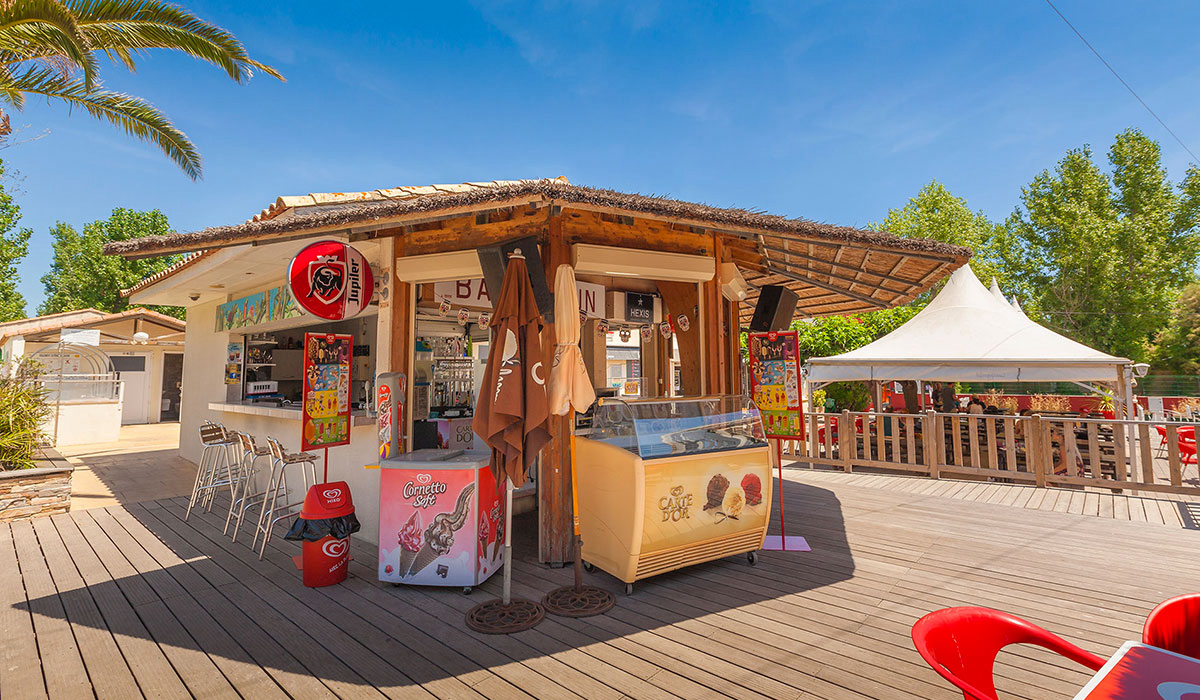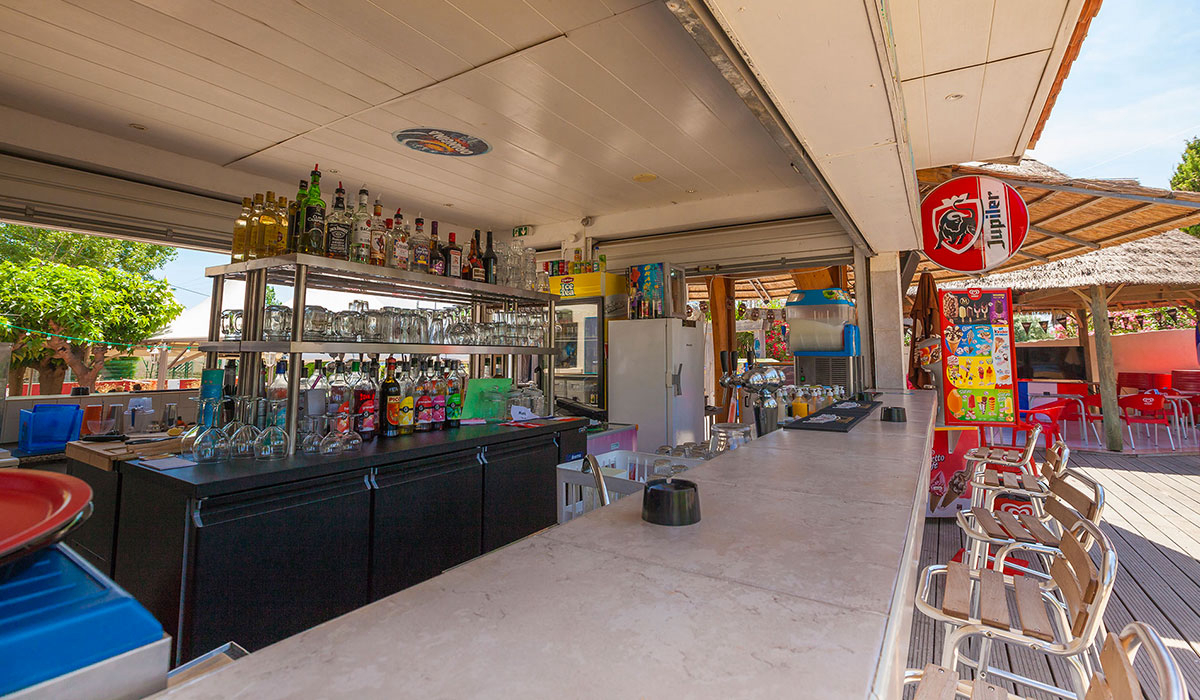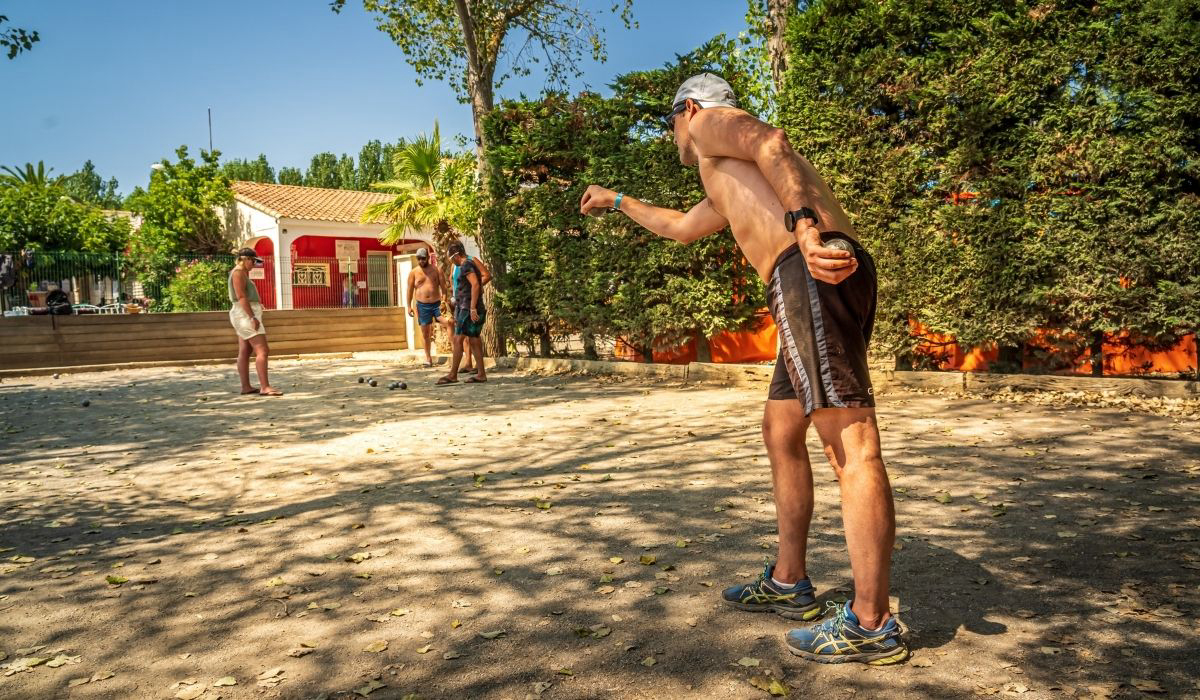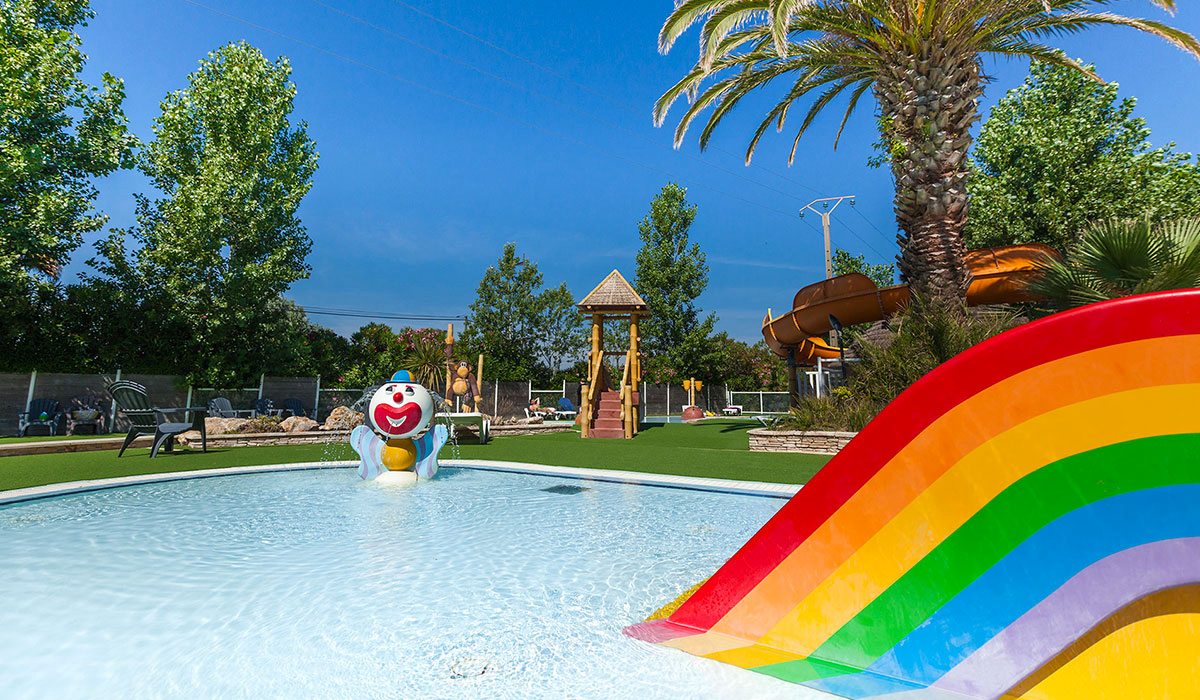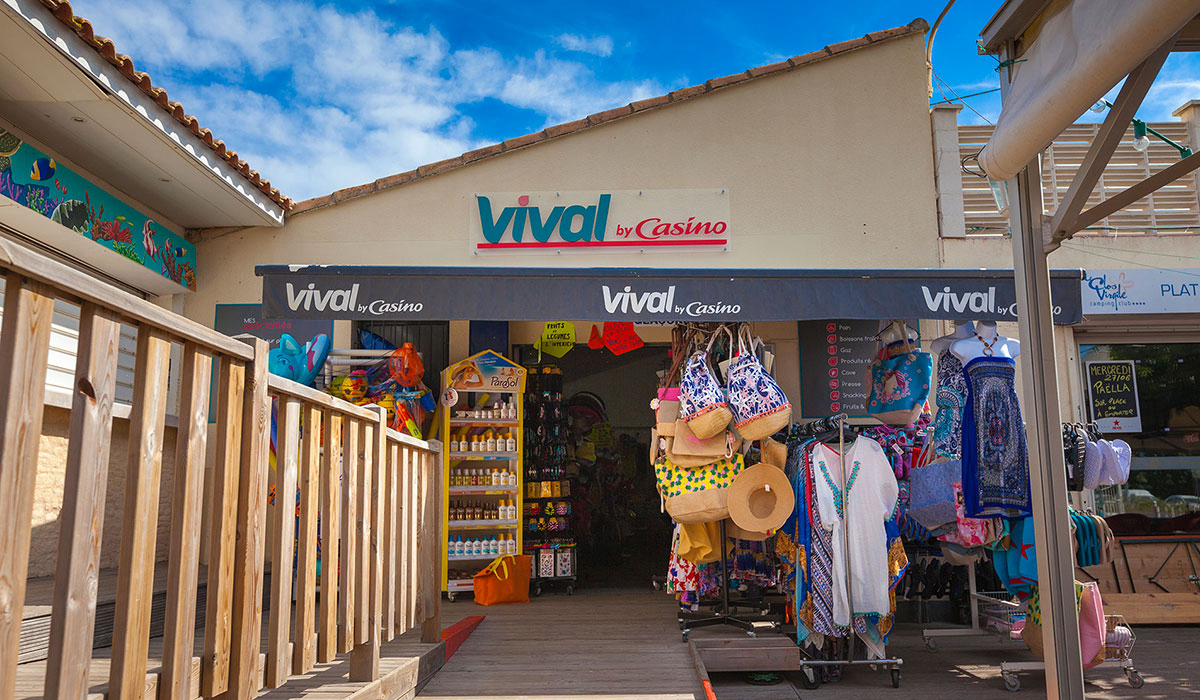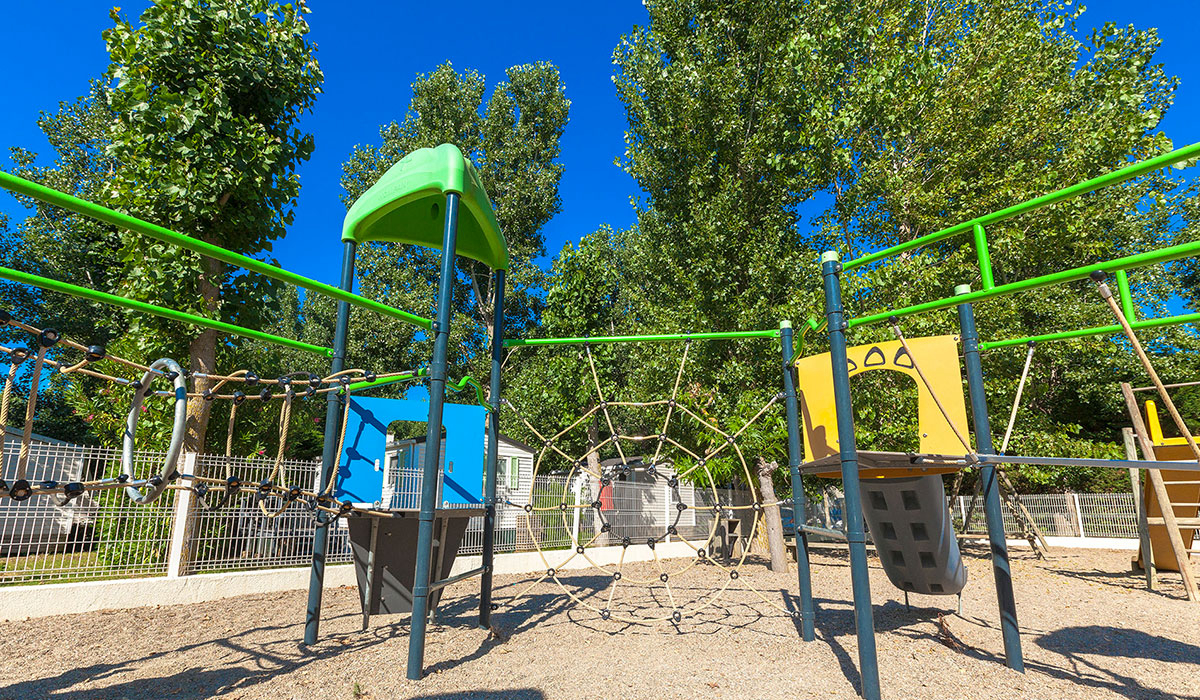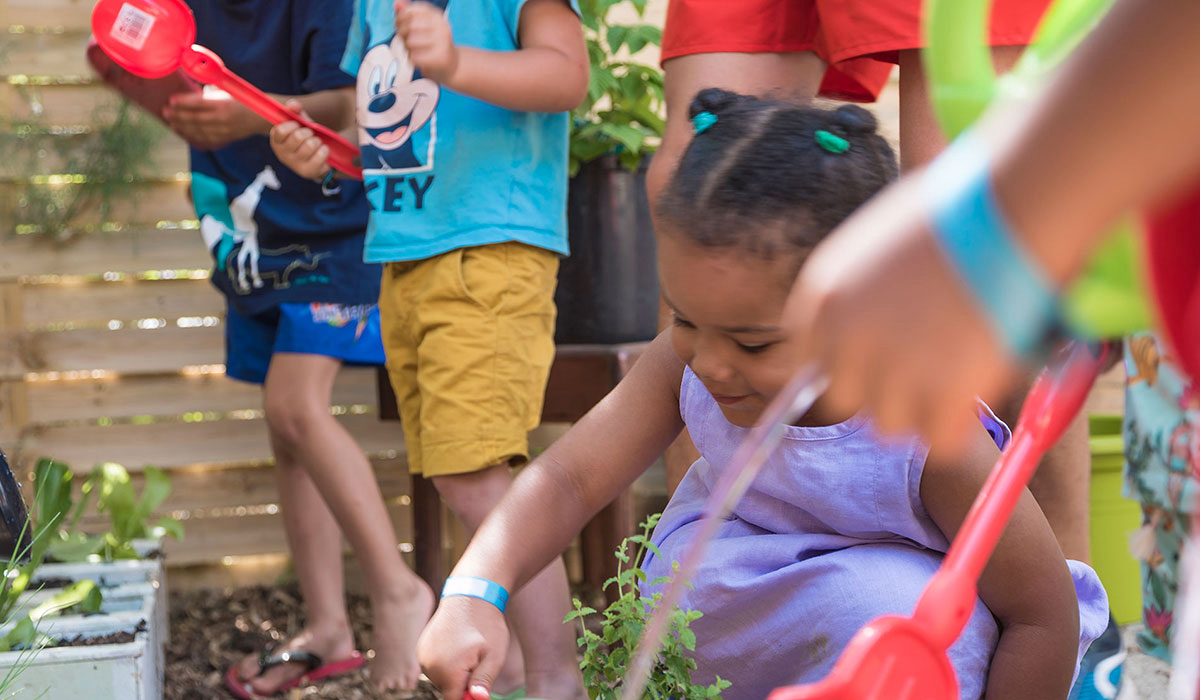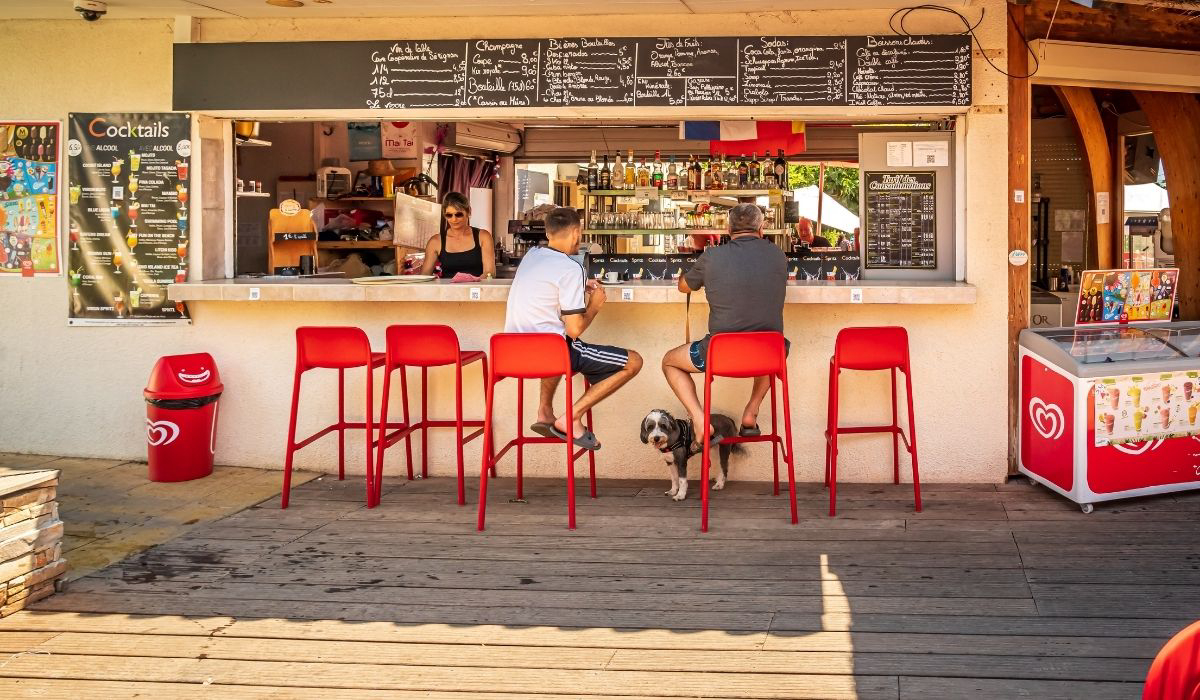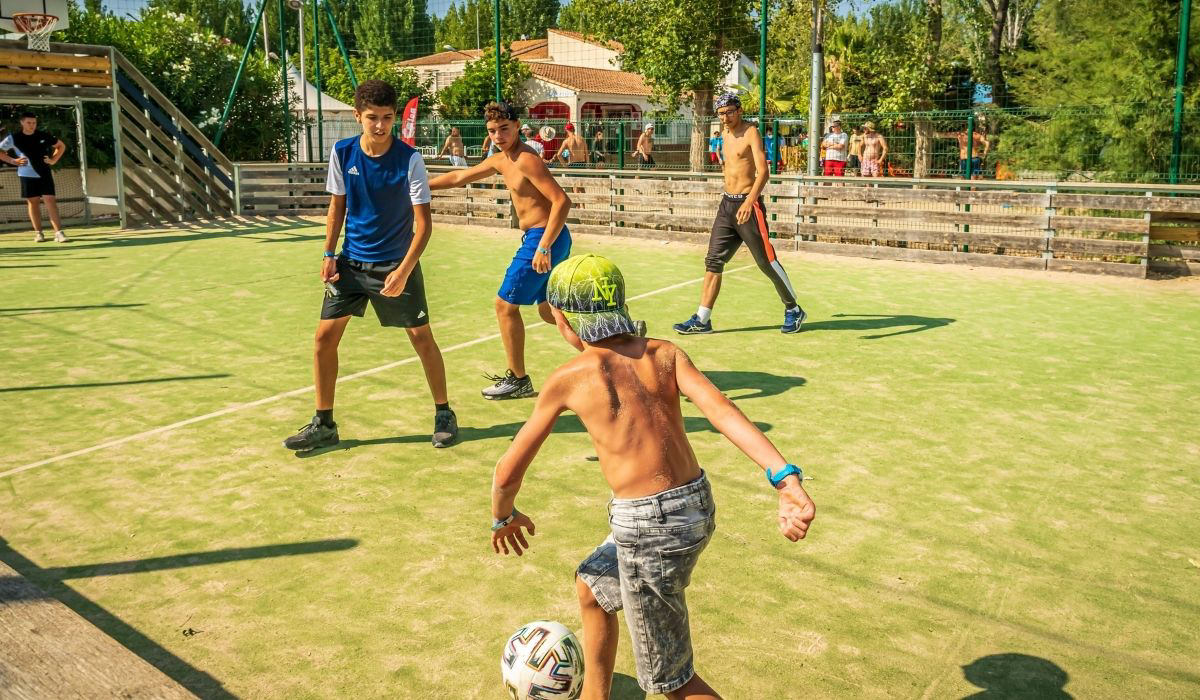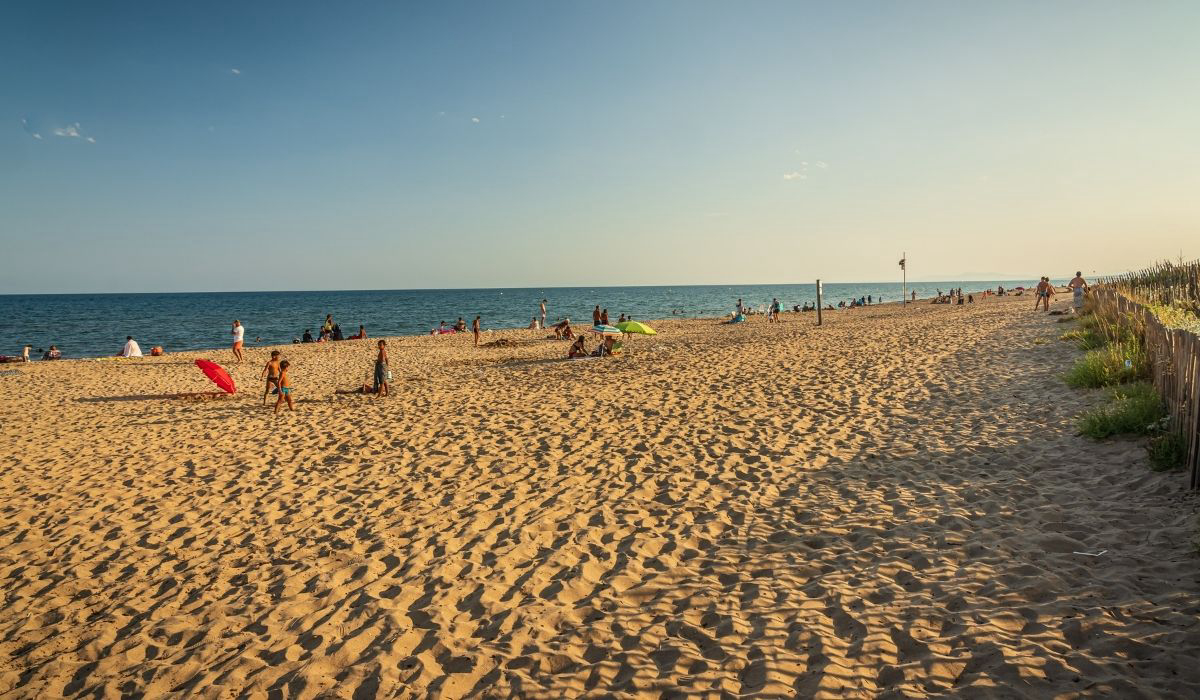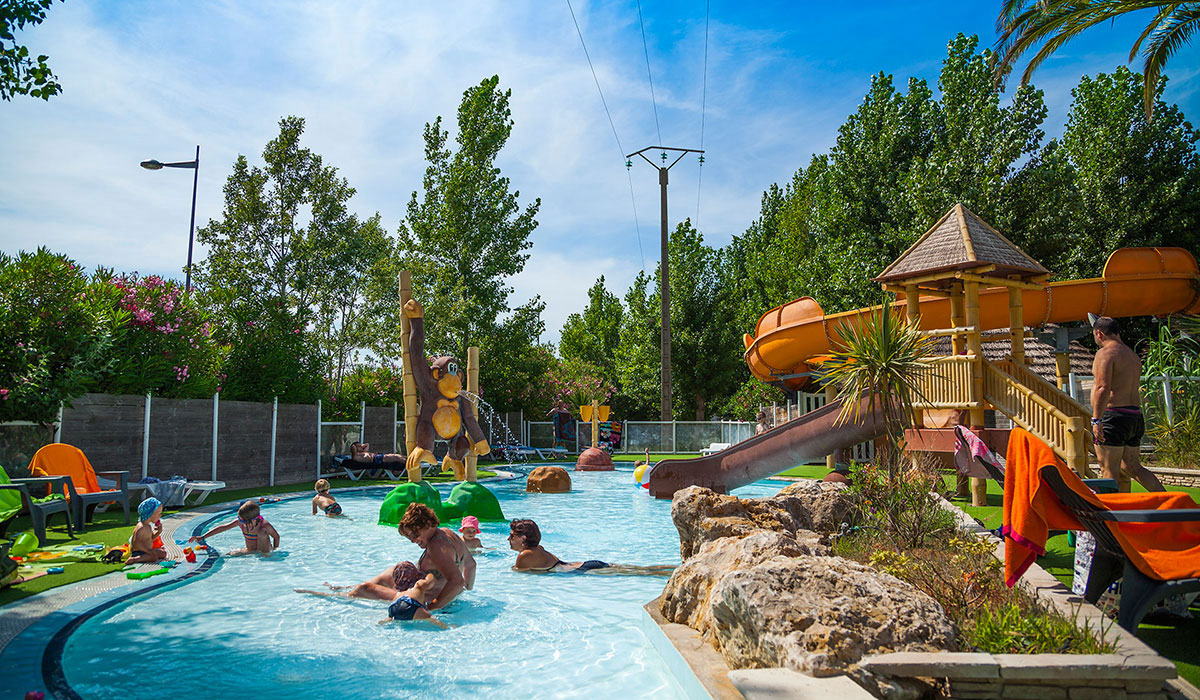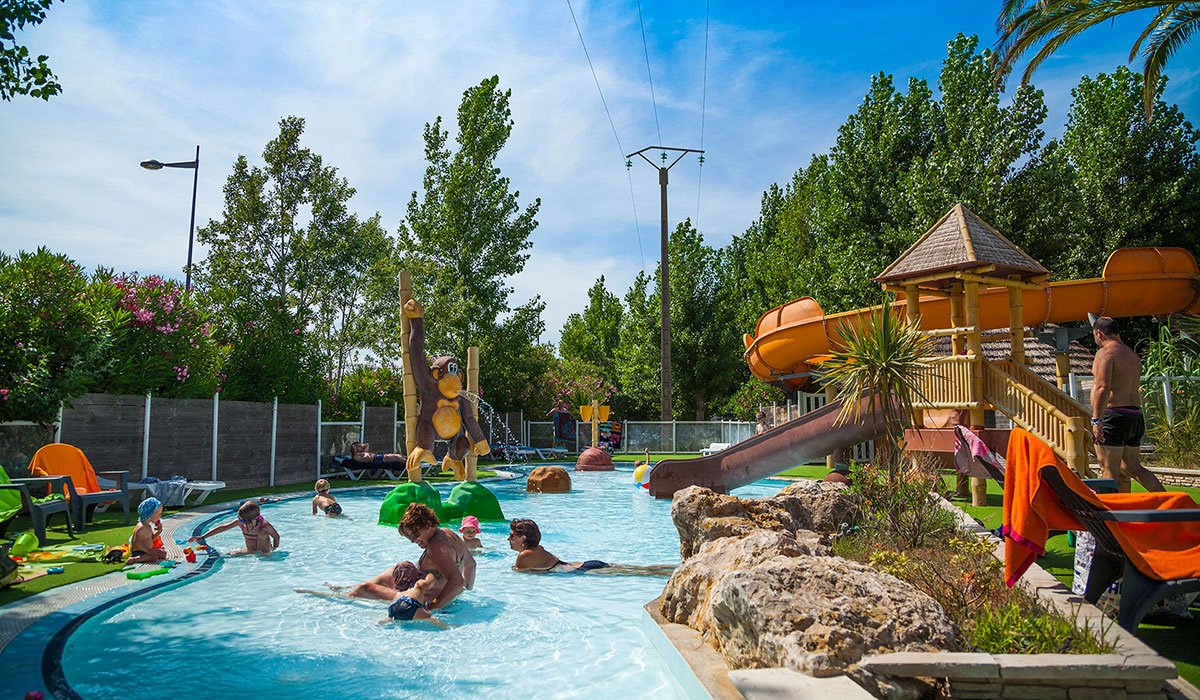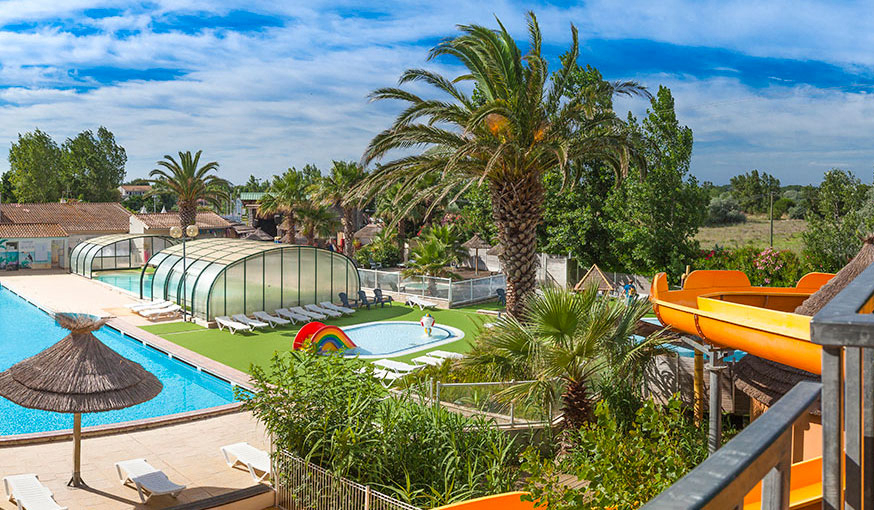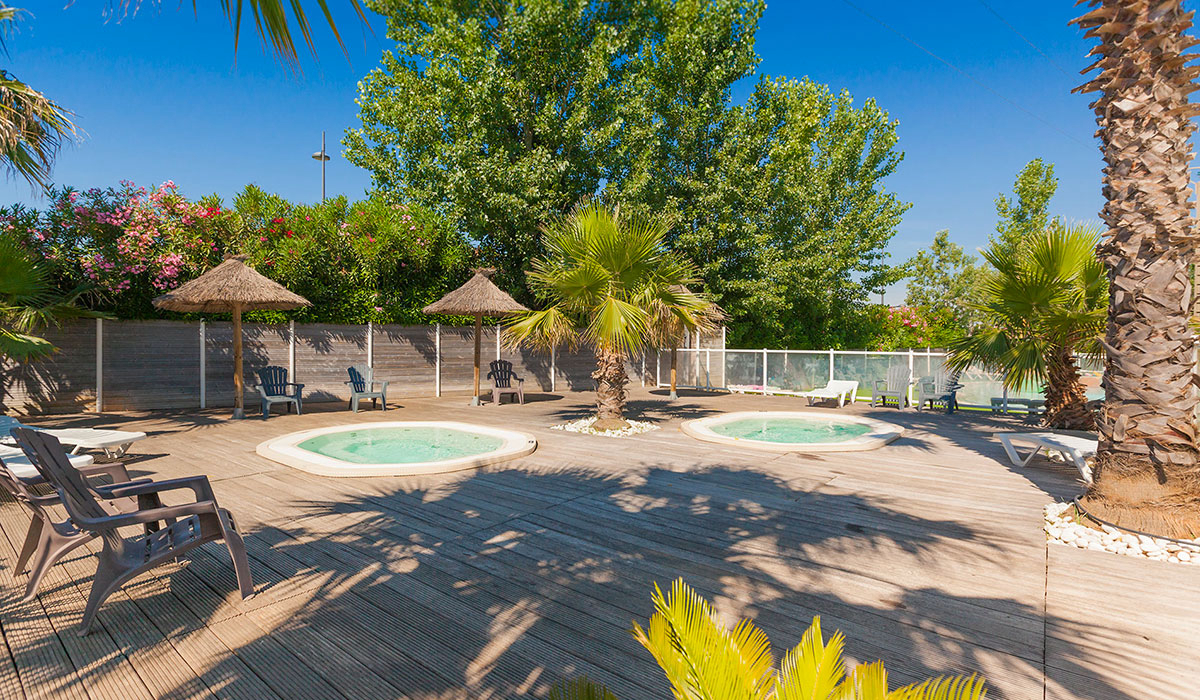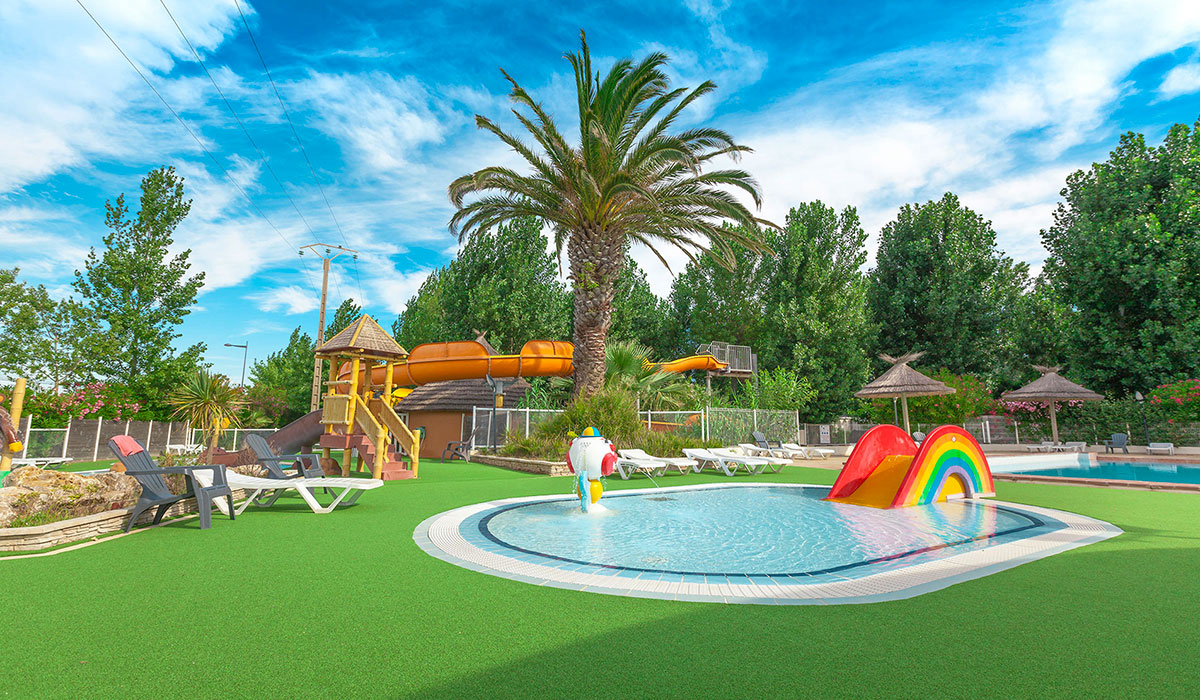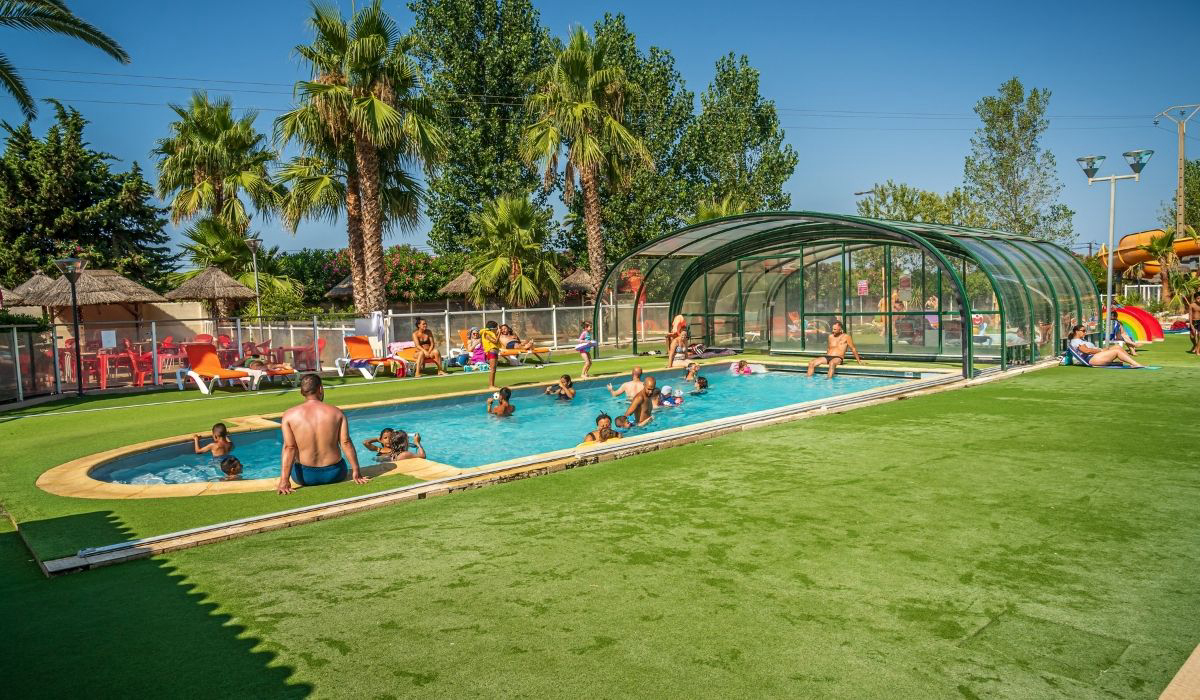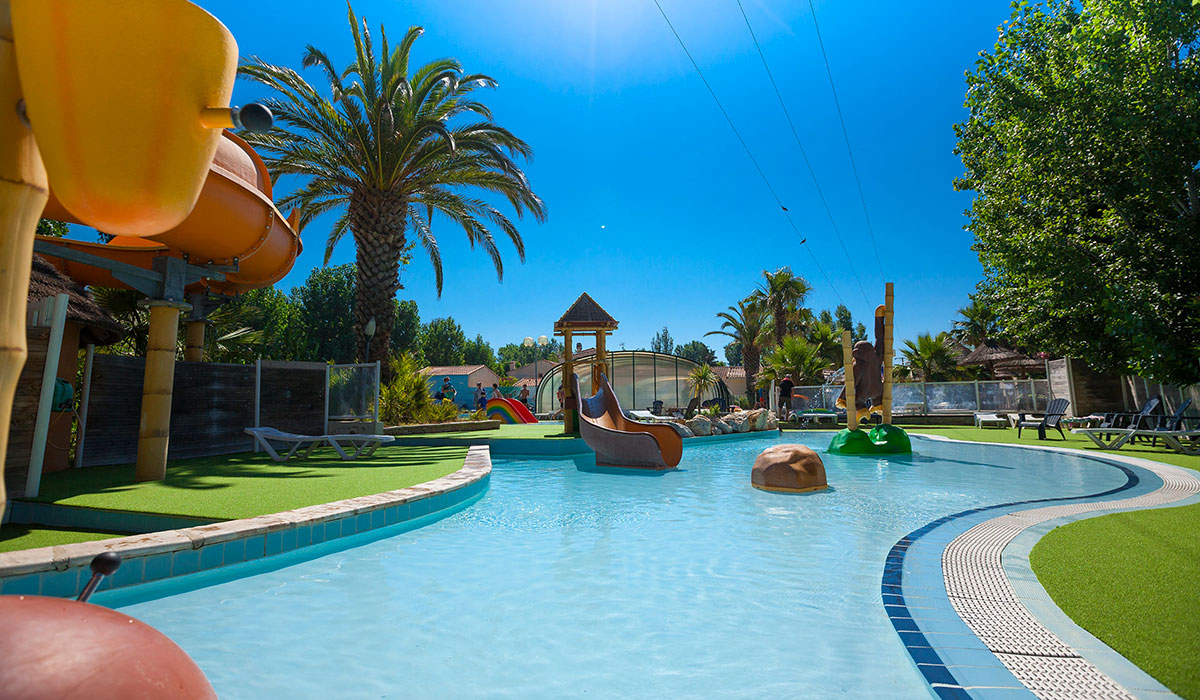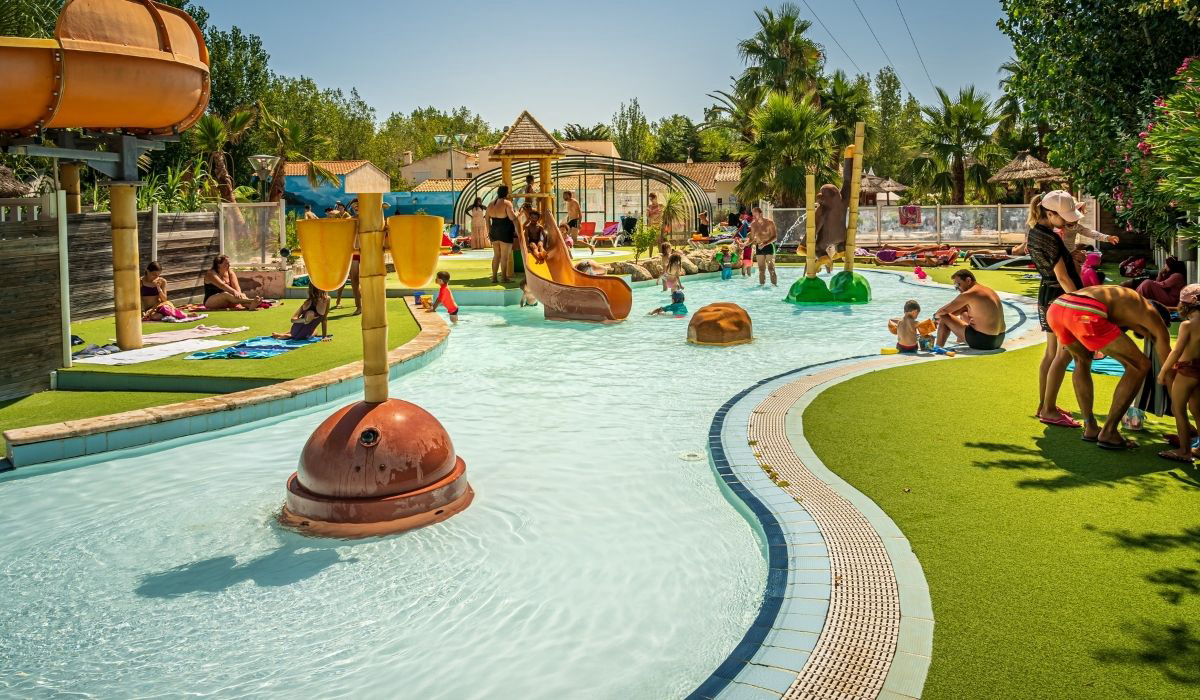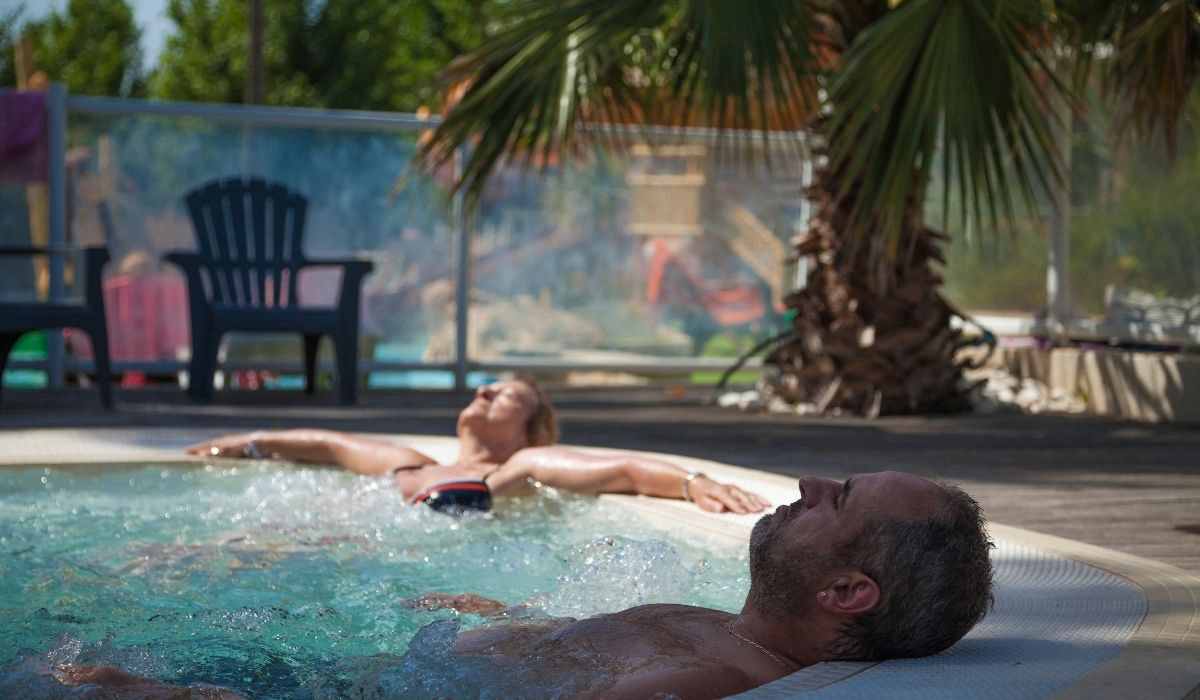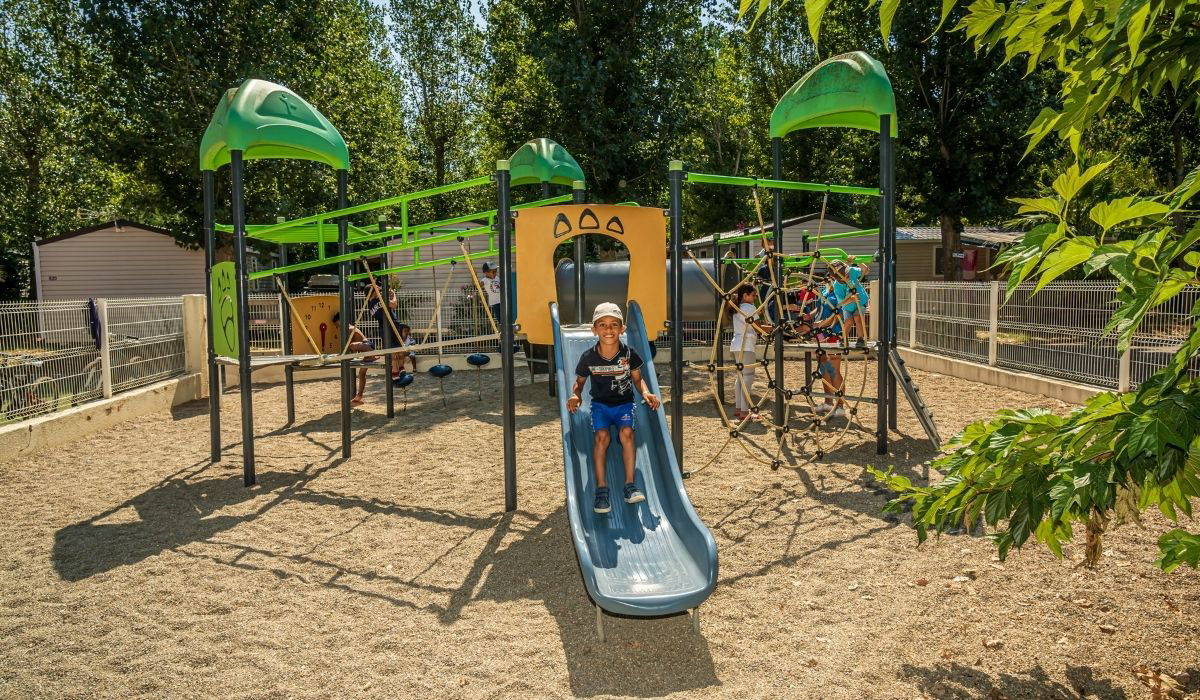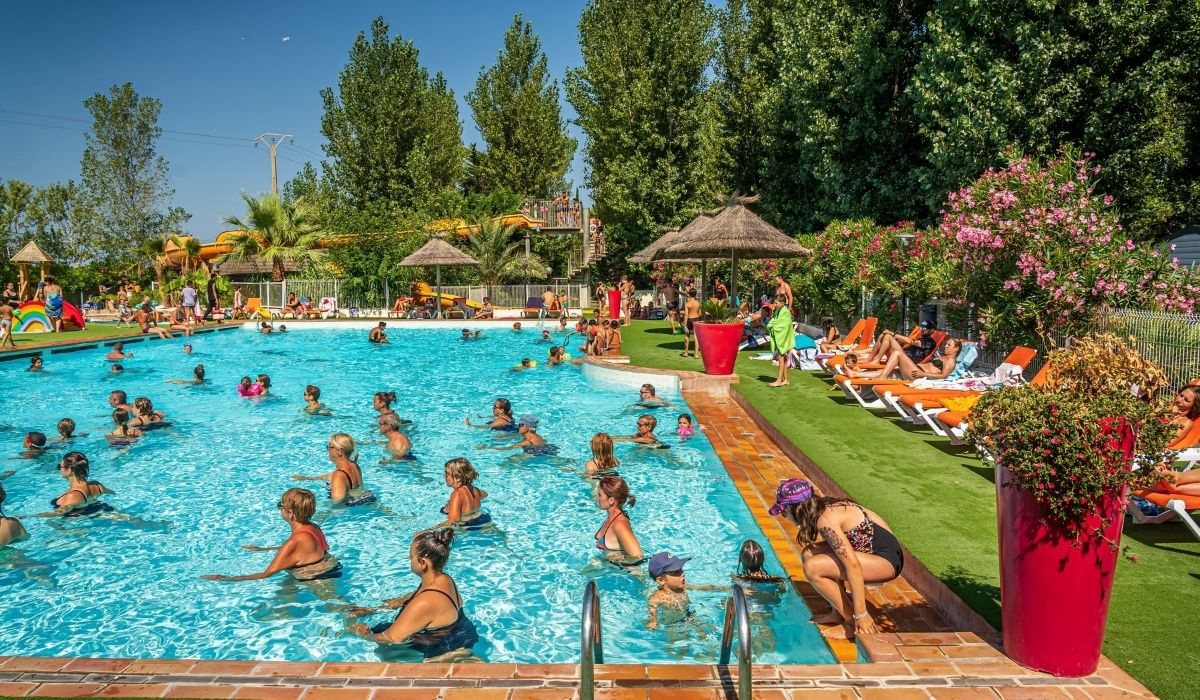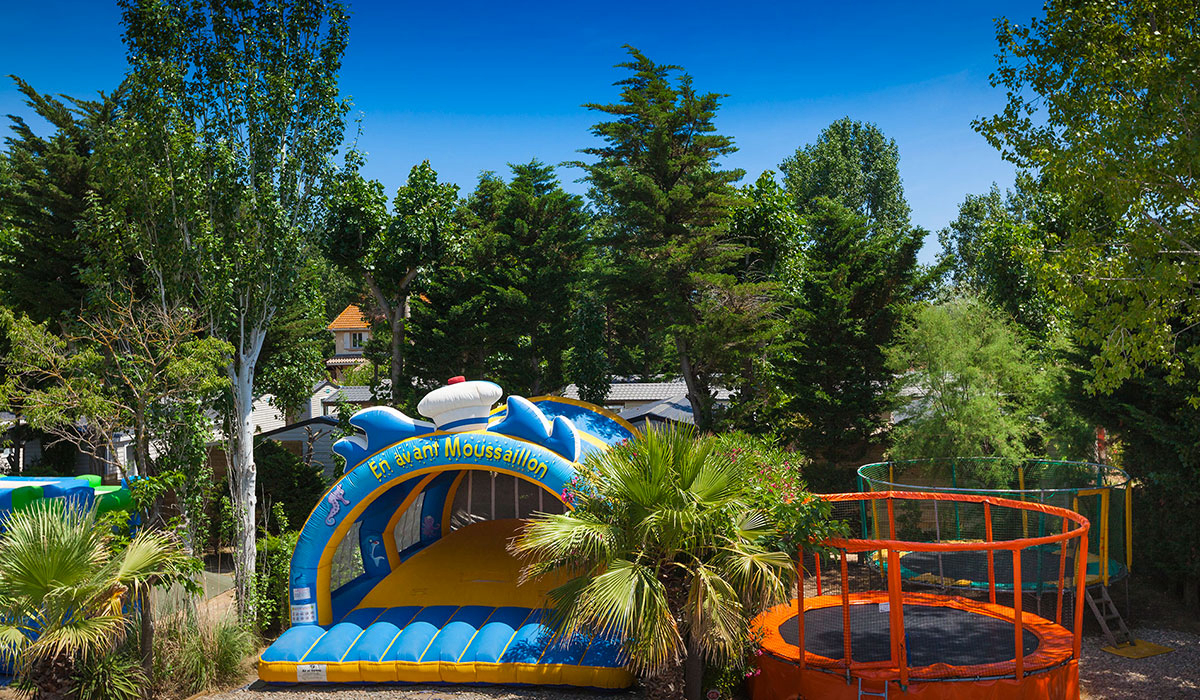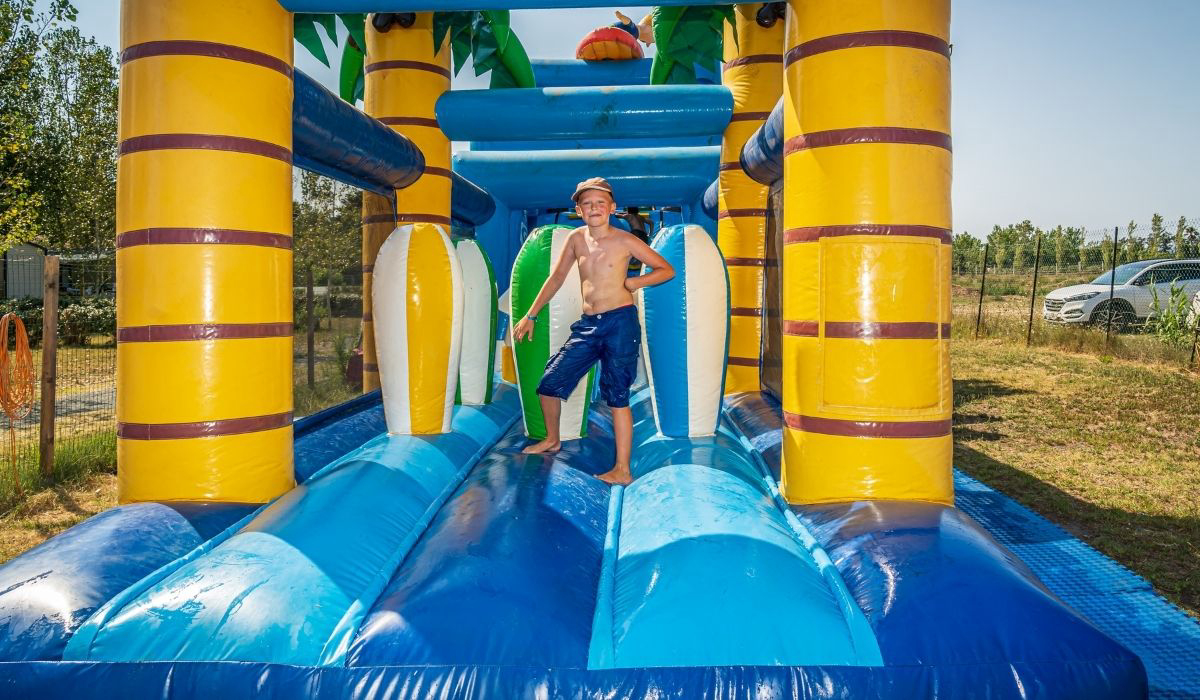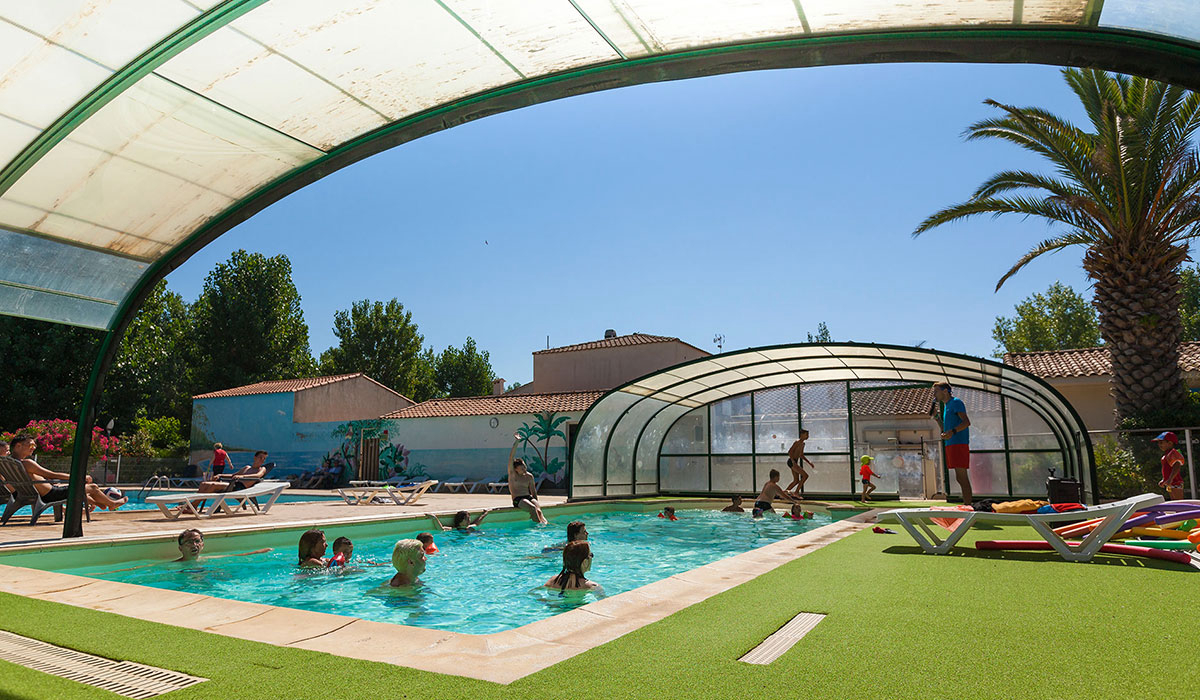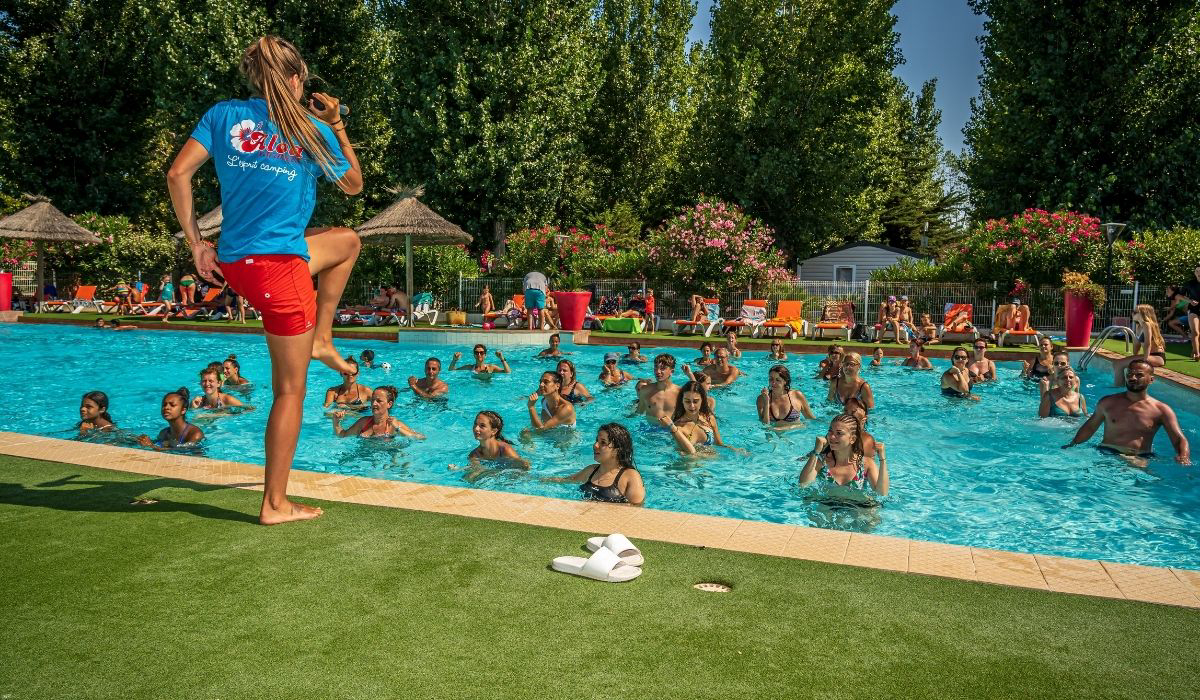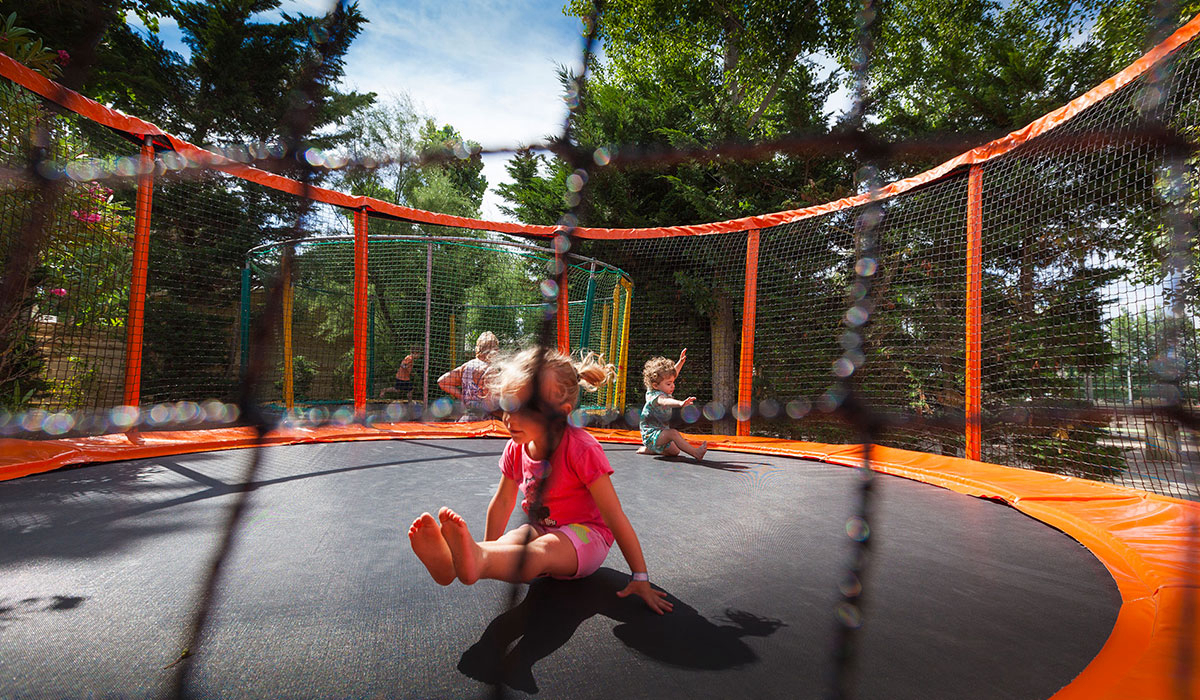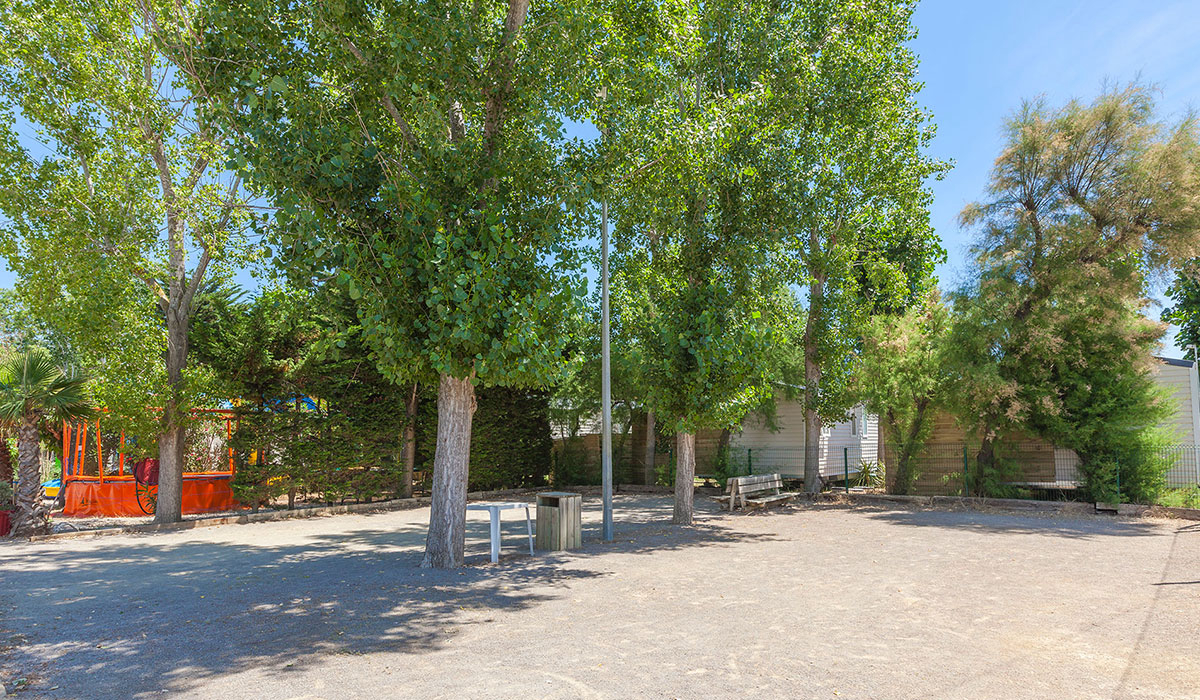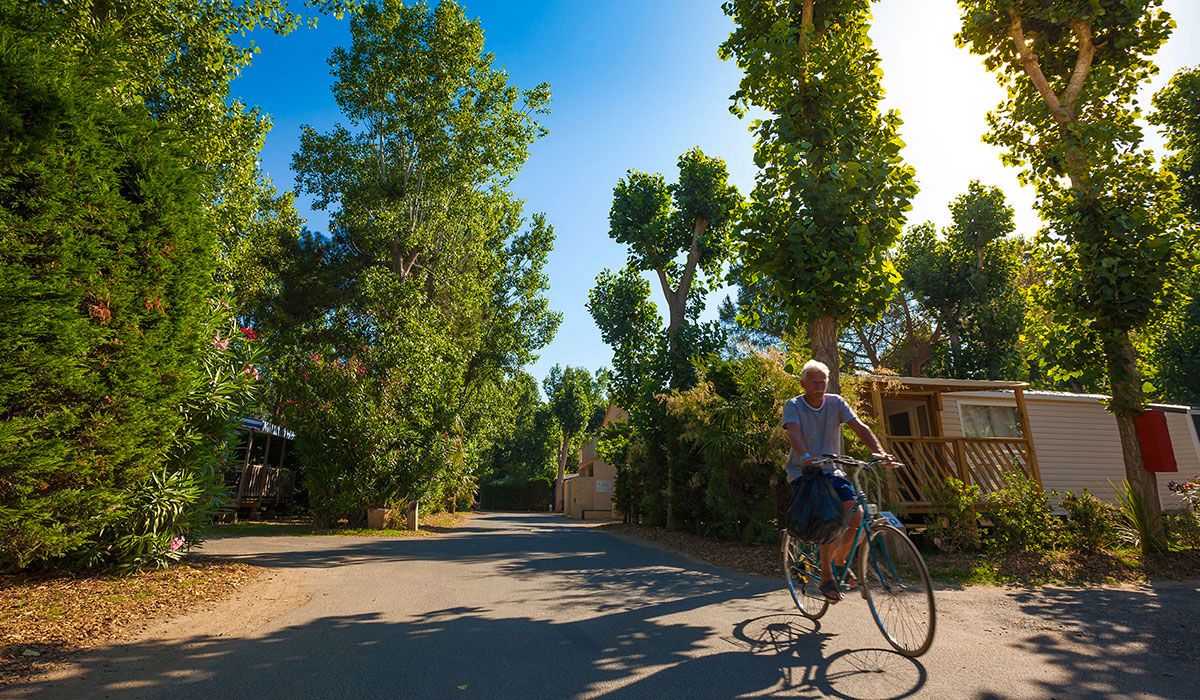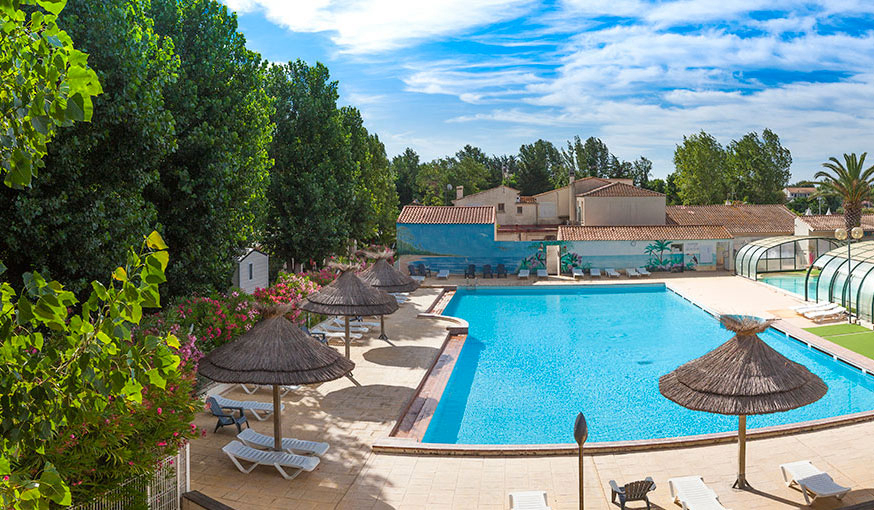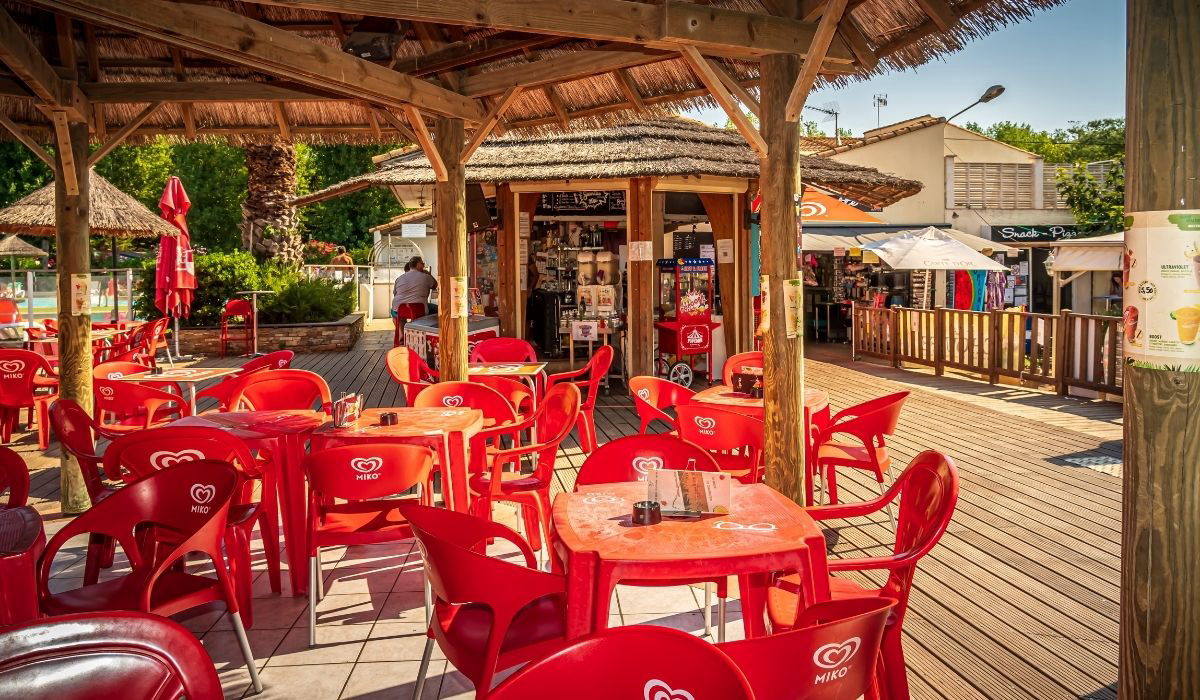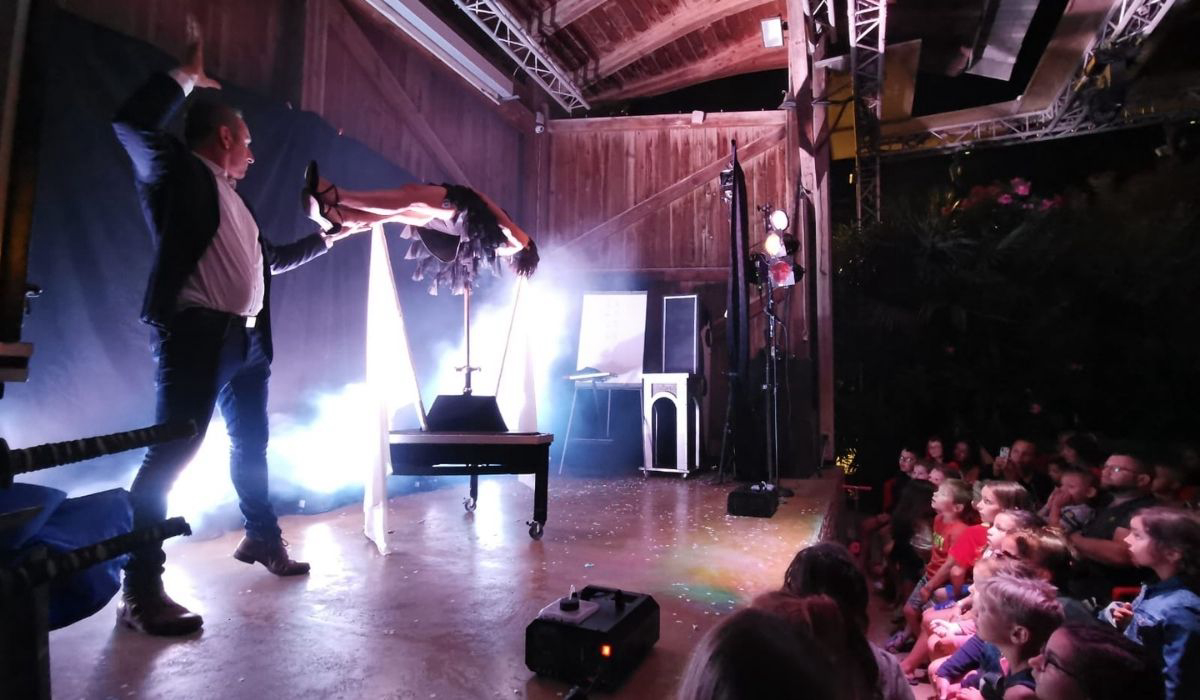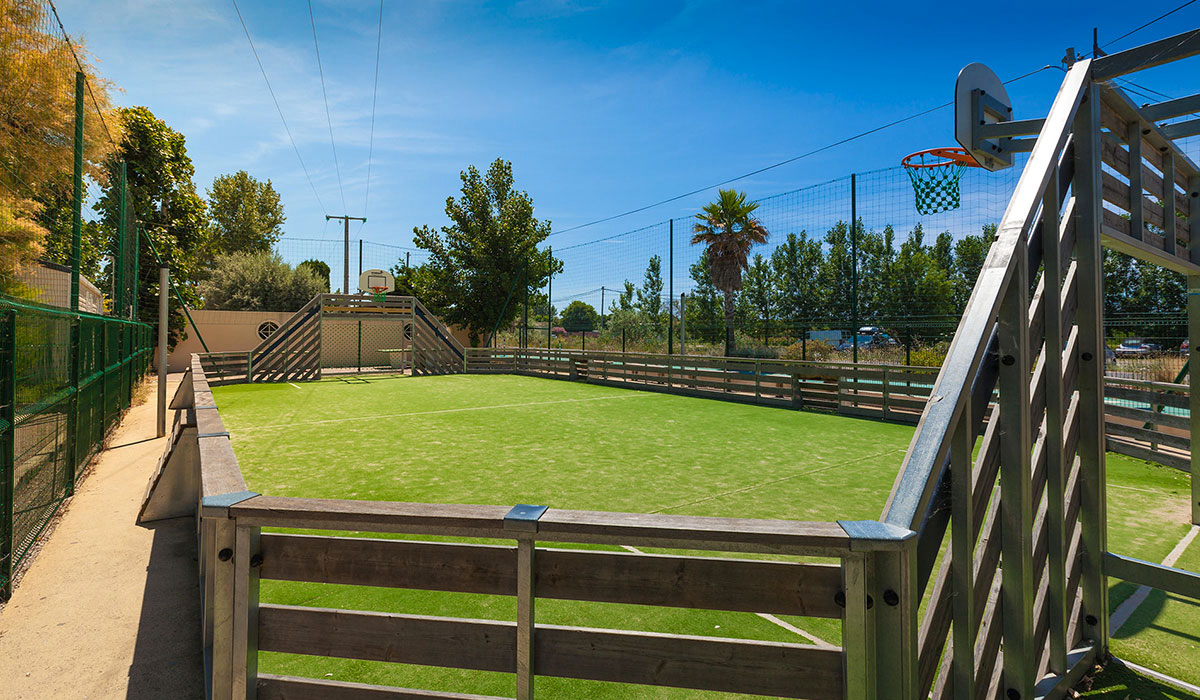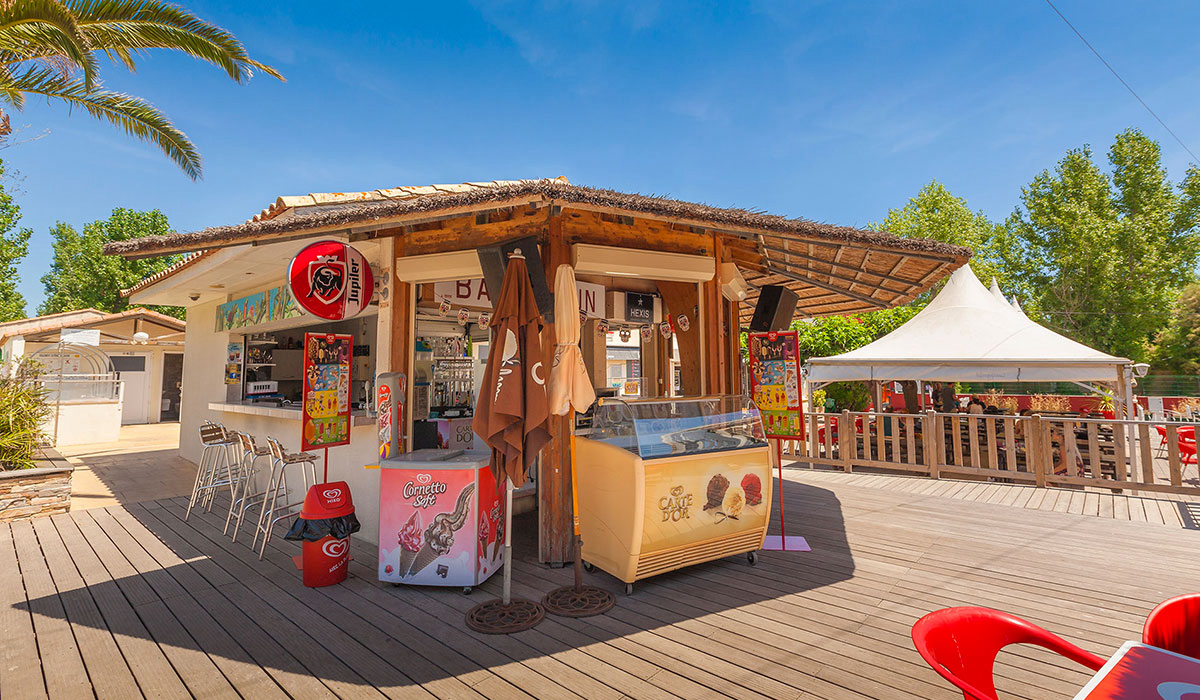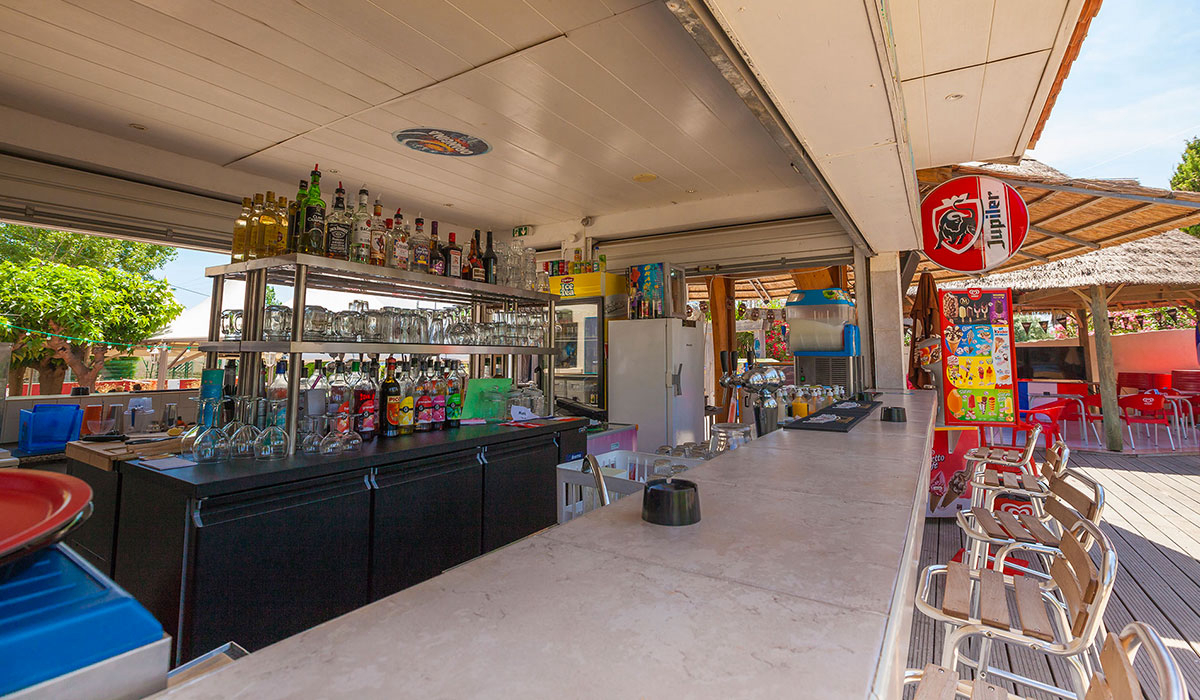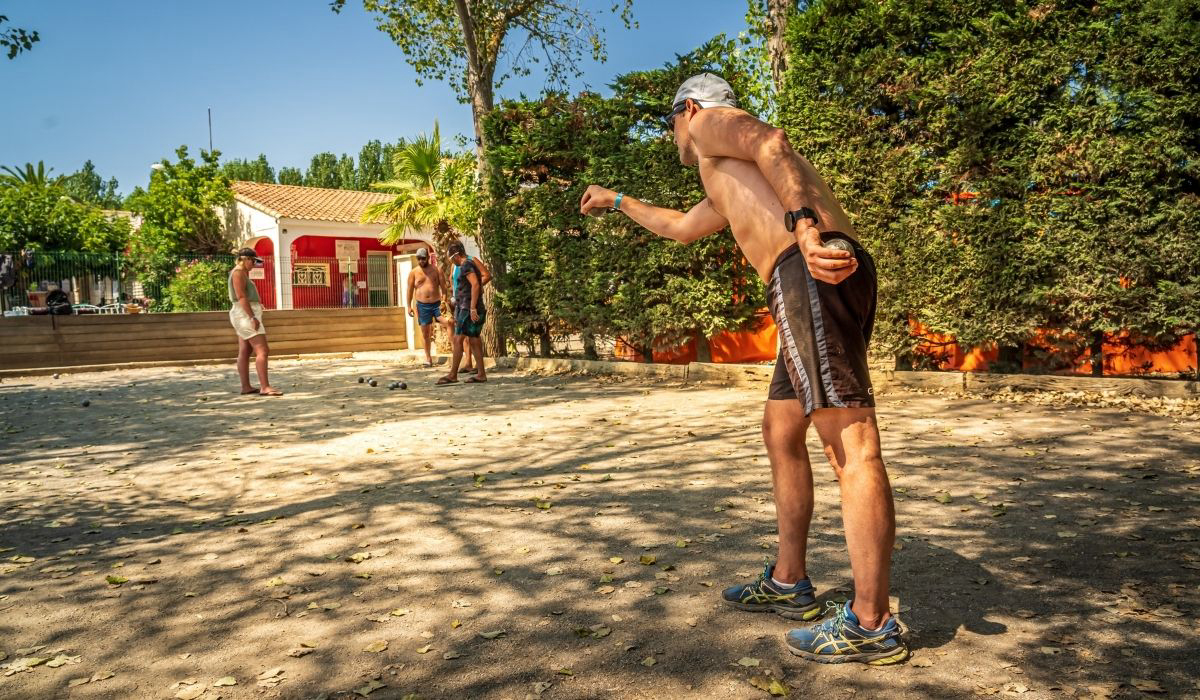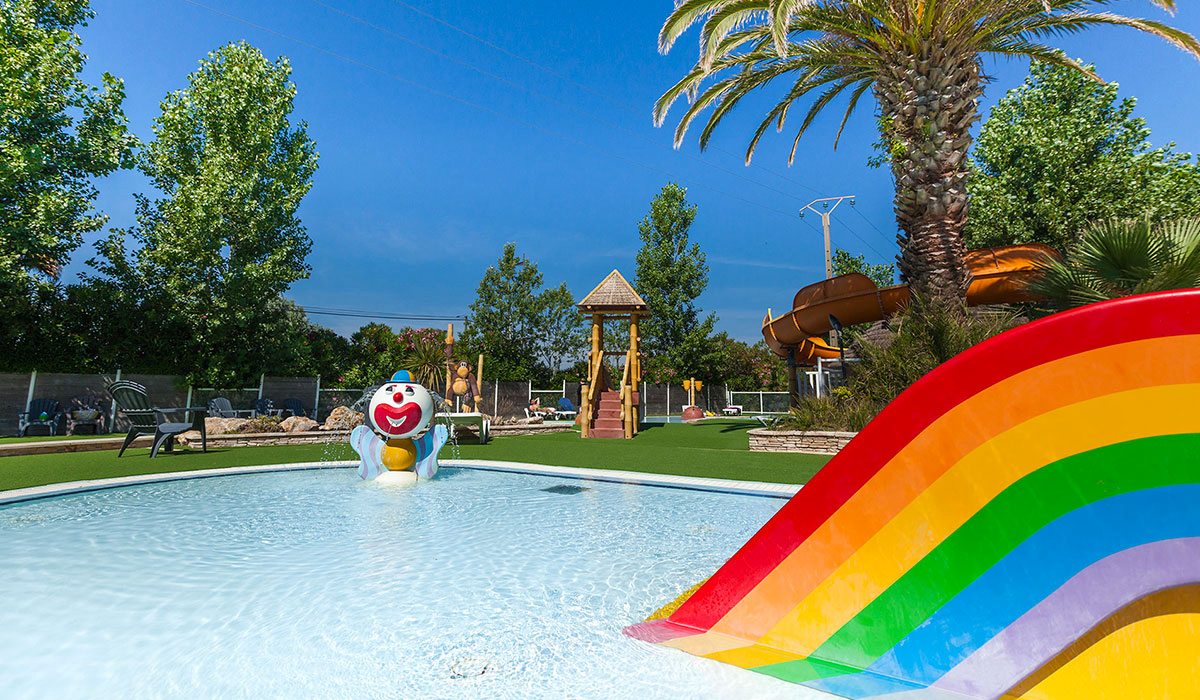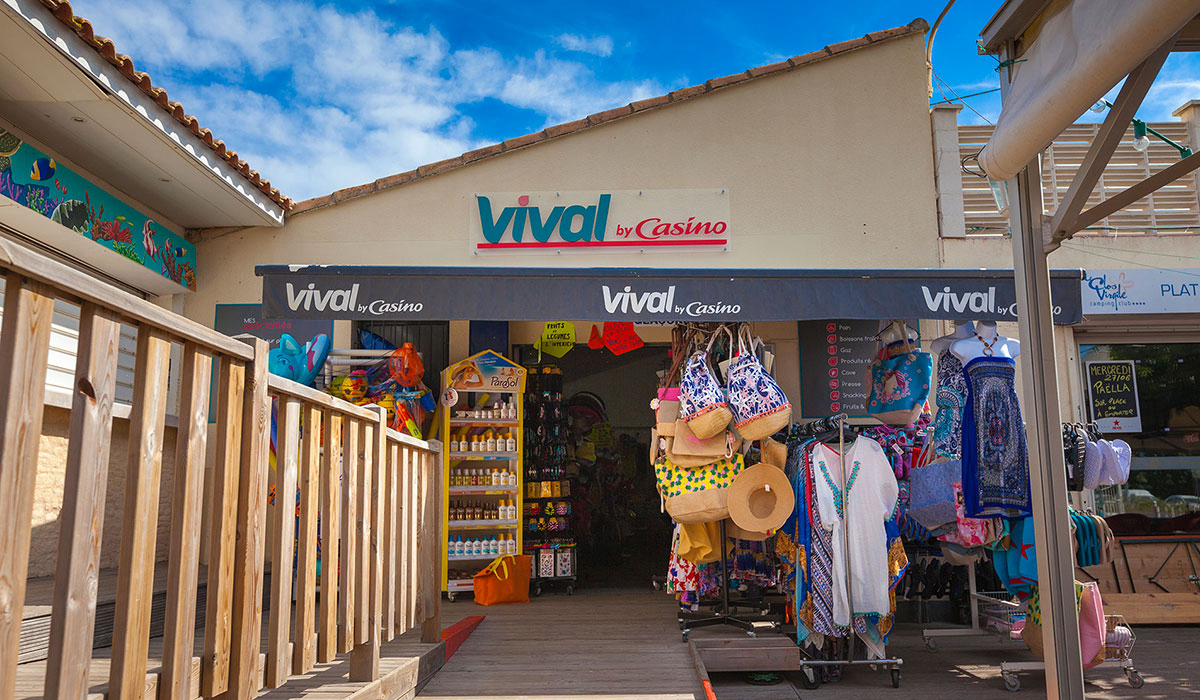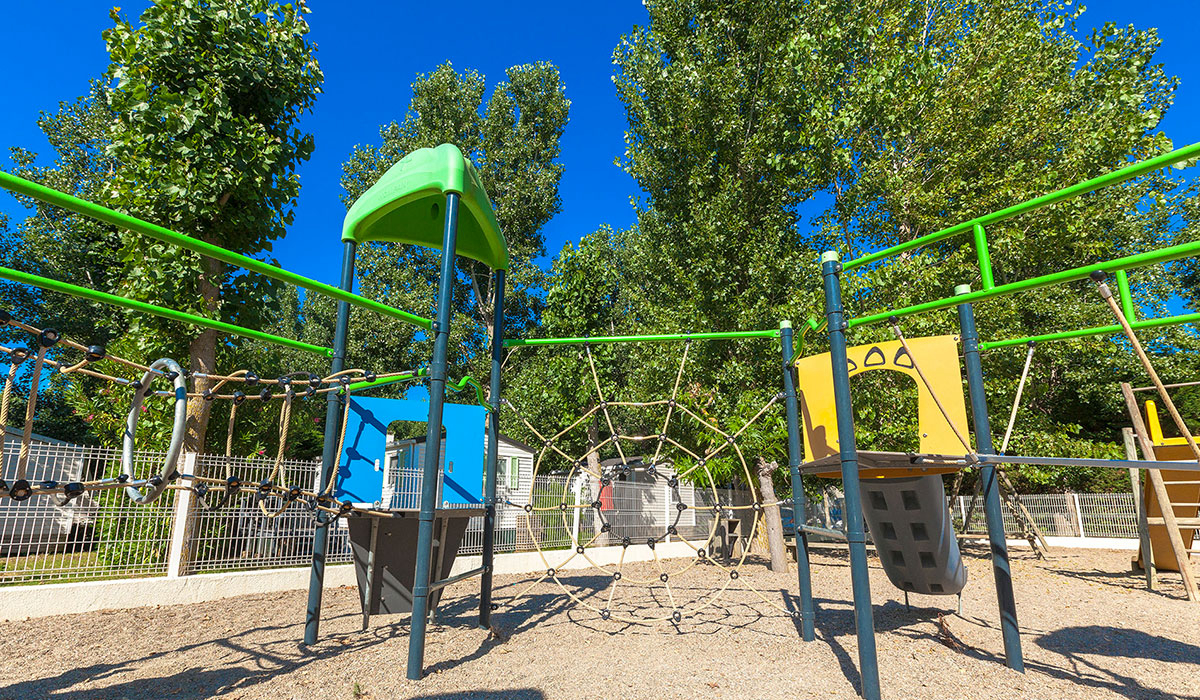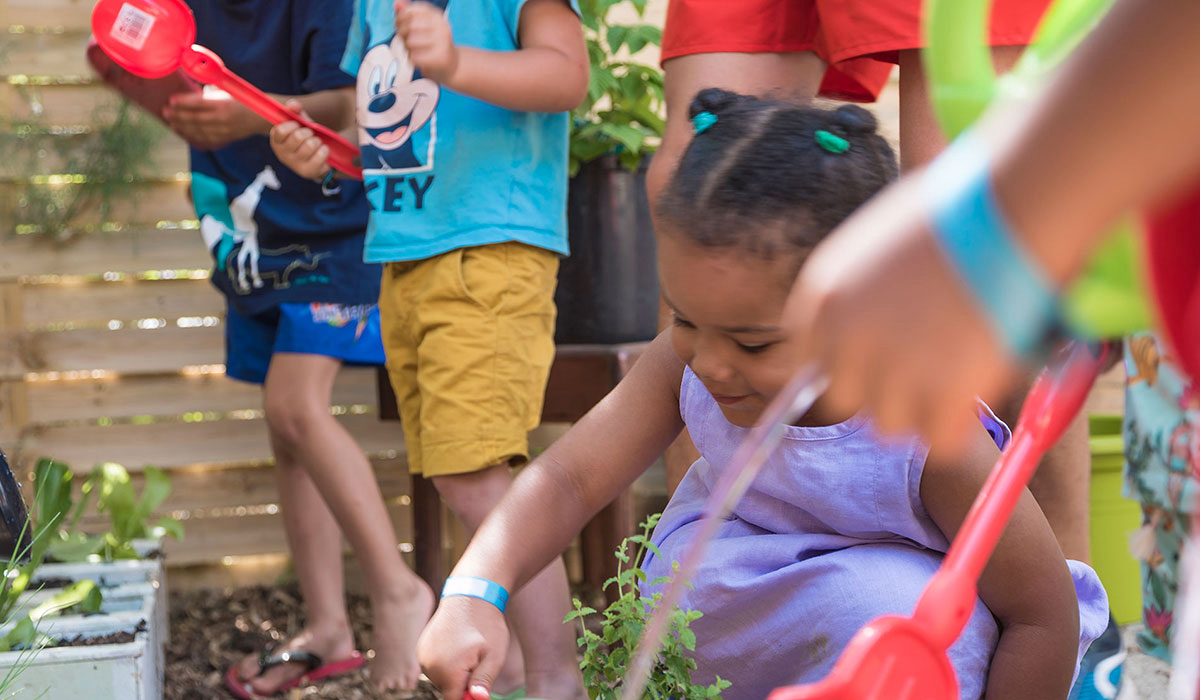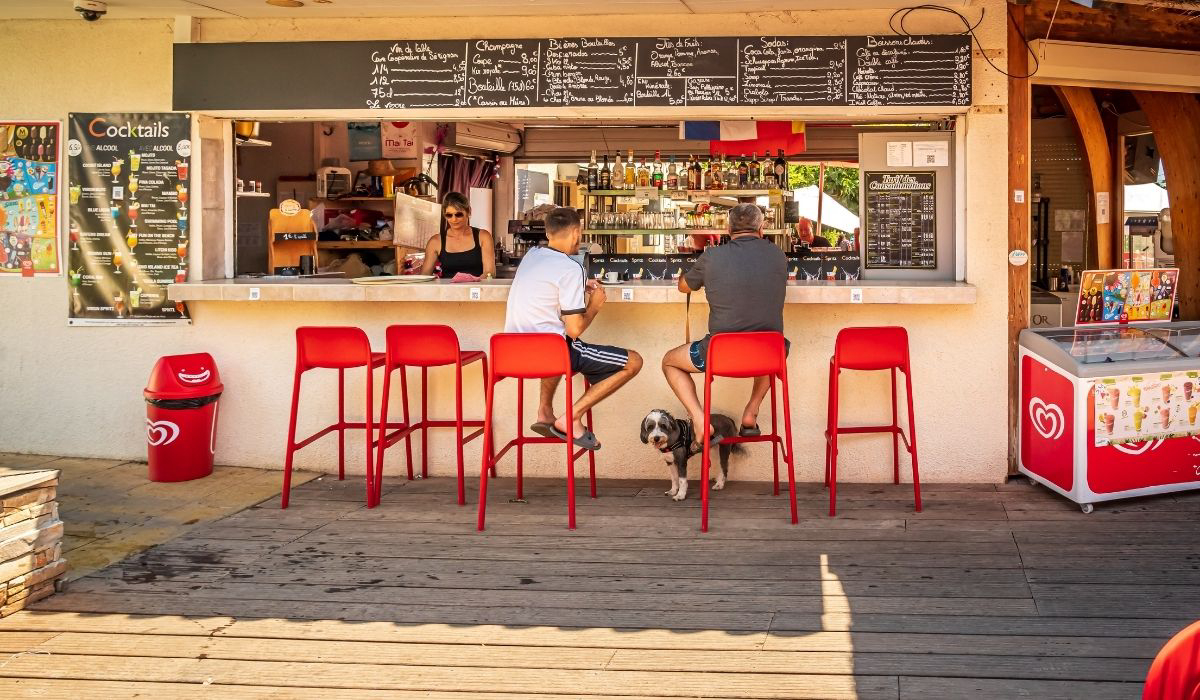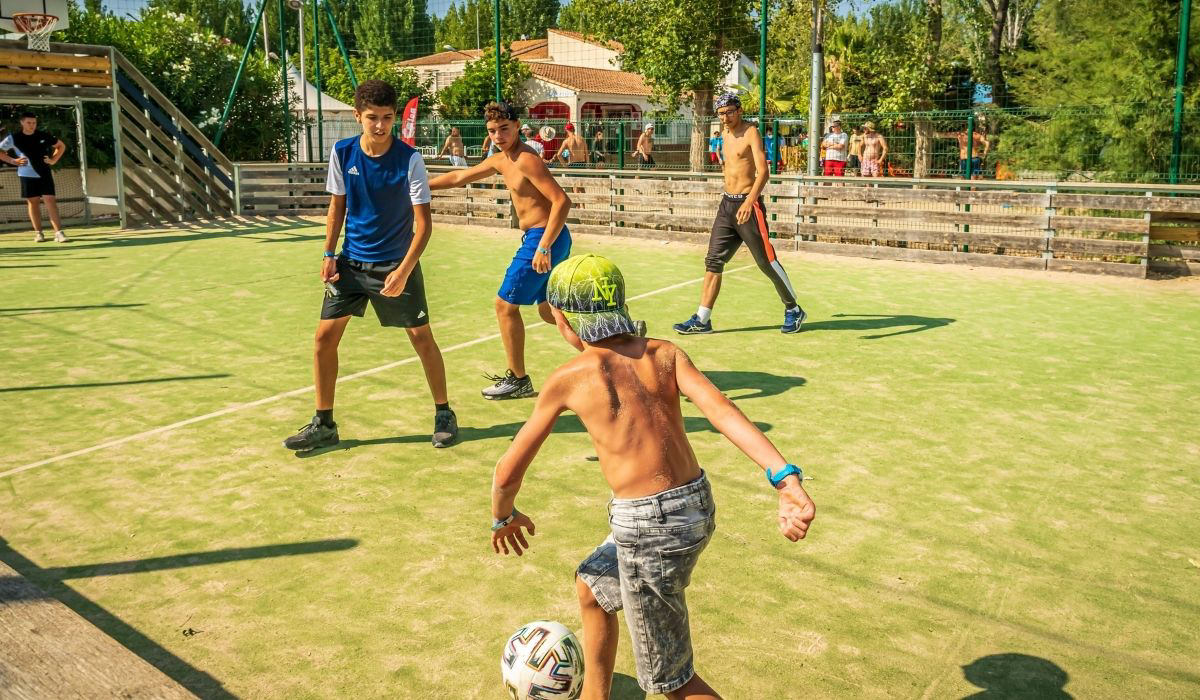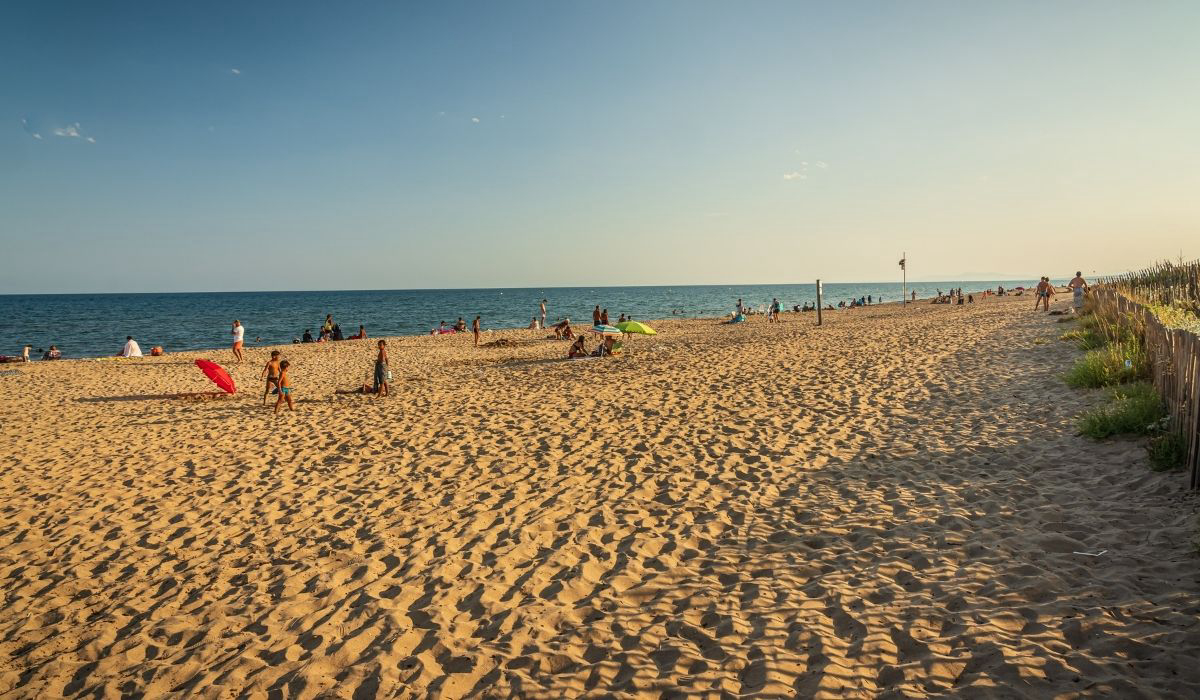 Camping Le Clos Virgile 4 * is ideal for your holidays by the sea. It is located only 400 meters from the beach! To you the immense expanses of beaches of fine sand. The scenery is sublime, which is why the site is preserved. The campsite is upscale and offers services at the height of a 4-star campsite. Accommodation side, all the scholarships will find their happiness. Indeed, there is something for all desires and for all budgets. You can opt for either a rental or a nude location. Different rentals are available: mobile homes and chalets. The mobile homes can accommodate up to 6 people. The mobile home 6 places is comfortable and fully equipped. It has 1 double bedroom and a twin bedroom. Its modern decoration has beautiful summer tones. You will feel close to nature thanks to its terrace and its brightness. For traditional camping enthusiasts, bare pitches are available for rent. They can accommodate your tent or caravan. The many trees of the site will allow you to feel close to nature in a natural environment and especially to enjoy a shady plot for your camping holiday. The water park of the campsite will delight young and old. To bathe whatever the weather, an indoor heated pool is at your disposal. A large outdoor area will allow you to fully enjoy the sun and the blue sky of the region. Palm trees, deckchairs and straw huts will immerse you directly in a holiday spirit that rhymes with sun and relaxation. For even more relaxation, head to the whirlpools of the aquatic area while enjoying the sun. A large swimming pool is also waiting for you. The more adventurous will like to slide along the waterslide. The campsite has thought of the little ones by setting up two paddling pools for children. They can swim safely and have fun with water...
Bungalow 1/5 pers. du 06/25 au 07/02
Marchand: Le Clos Virgile
Voir l'offre




































































Campsite Albères is, as its name suggests, located at the foot of the Pyrenees and the Albères. News: mini-golf, expansion of the playground and charging stations for electric vehicles! A major asset of the campsite Albères is that it has a beautiful pool area with views of an exceptional panorama overlooking the mountains and the forest. This space has been completely redone and has a heated and covered pool that allows you to swim in any weather. This aquatic area also has two water slides and a river against the current. And for moments of relaxation, nothing better than to enjoy the hot tub available. This aquatic space will delight the whole family. The campsite Albères ensures its vacationers never to be bored as his team regularly offers entertainment programs and activities to spend moments of pleasure and sharing. Each member of the family will be able to spend the holidays they want, even children, since a club dedicated to them offers different activities such as treasure hunts, outdoor games, dancing, crafts and so on. Children will be able to perform a show every Friday in front of their parents. The restaurant in the campsite invites those who do not want to cook during the holidays to just sit at the table and let themselves be served for a comfortable stay. The camping sites are obviously at the rendezvous, but also accommodation available for rent such as equipped mobile homes. Different sizes and capacities are offered to holidaymakers. "Natura" equipped tents are also available. For a stay nature and comfort, family or lovers, nothing like to enjoy one of these accommodations. Thanks to a privileged situation in the Pyrenees Orientales, the Albères campsite is the ideal starting point for walks and activities of all kinds. Please note that this property accepts CAF Vacations (VACAF) for a budget holiday....
Chalet 2 pers. du 06/25 au 07/02
Marchand: Cybèle Albères
Voir l'offre











Bessan
-
Languedoc-Roussillon











The campsite Domaine Sainte Veziane, located in Bessan in the Languedoc, offers a dip in its beautiful aquatic area surrounded by palm trees in the heart of a park near the Cap d'Agde. Ideally designed for adults and children, the small water park is equipped with two pools with two pools and two water slides. You can relax in peace and enjoy the jacuzzi. Deckchairs are available on the beaches of the campsite swimming pool to make a place of rest and sunbathing. The swimming pool Domaine Sainte Veziane is the meeting place for everyone to swim and relax. In terms of accommodation, the campsite offers rental mobile homes of two and three...
Mobile home 6 pers. du 06/25 au 07/02
Marchand: Booking
Voir l'offre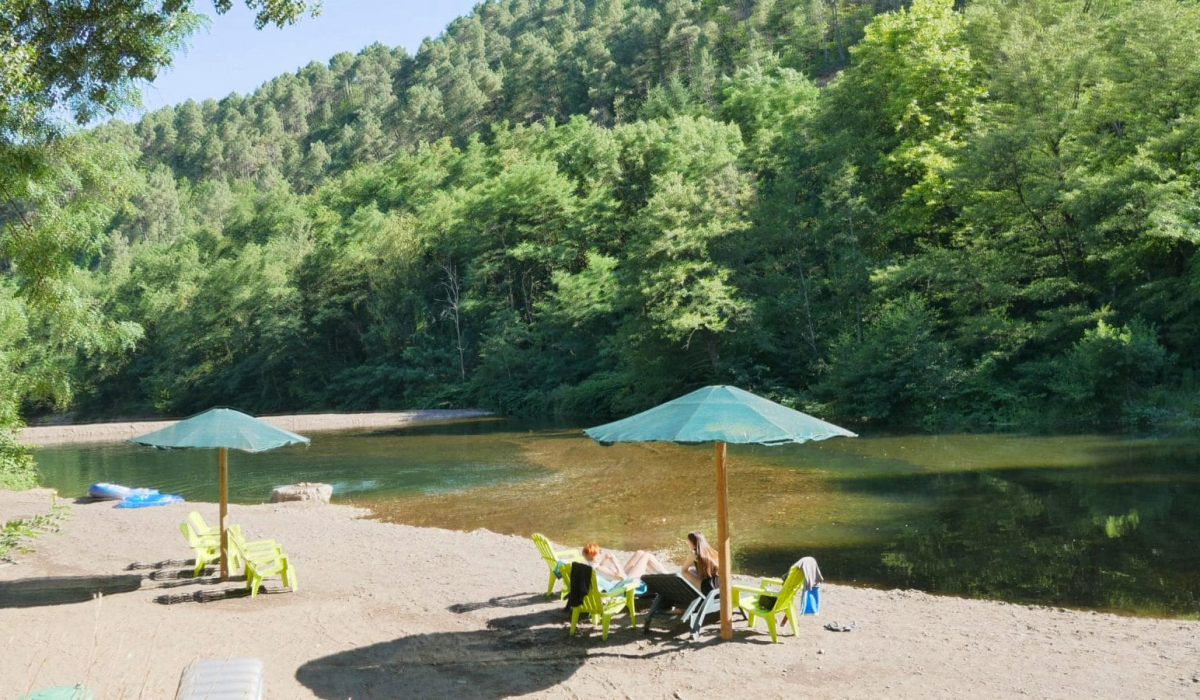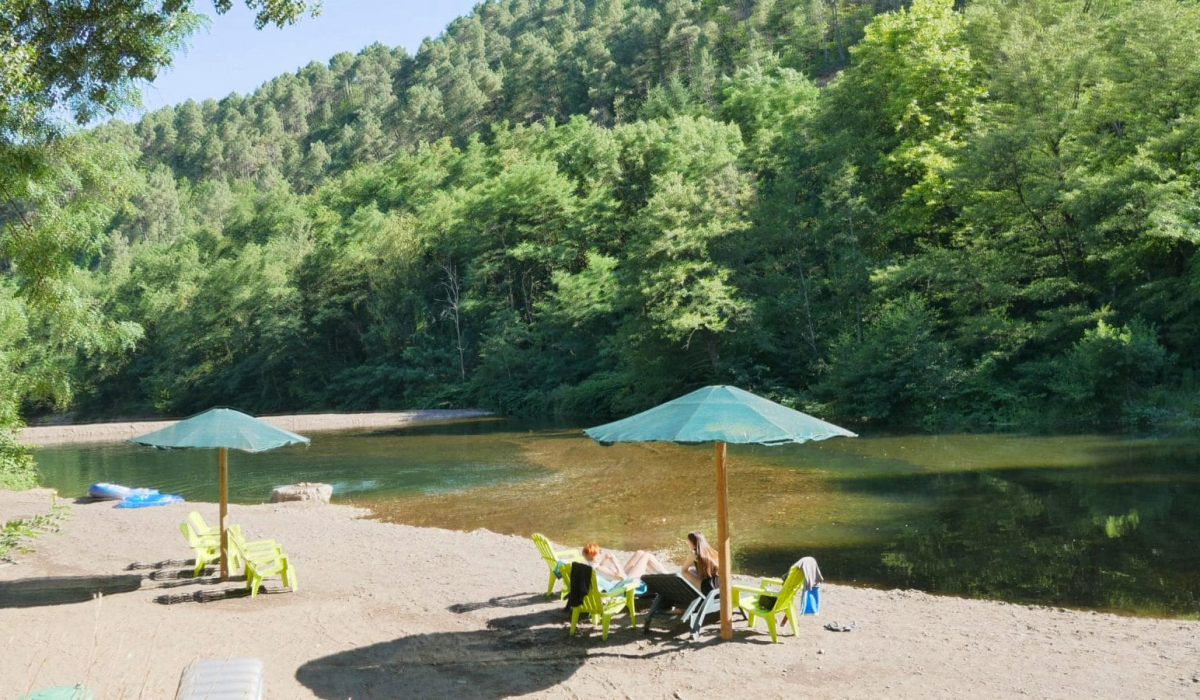 The campsite Drouilhedes is a family campsite on the banks of the Cèze. It offers pretty places by the river, around a playground or in a well shaded place and surrounded by laurels. At the campsite Les Drouilhedes, holidaymakers can enjoy various activities offered by the establishment. It will be possible to play pétanque, enjoy a tennis court, play mini-golf or table tennis. A pool table is also available as well as a giant chess game. Activities for children aged between 4 and 9 are offered during the high season, while adults can participate in pétanque, table tennis or volleyball competitions. Musical evenings are organized regularly. The campsite is located by the river and has a dam, which offers holidaymakers the opportunity to enjoy a beautiful lake. Within the campsite, no less than three playgrounds in total are available to children so they can have fun safely. The services offered by the campsite to the holiday makers will make the stay very pleasant. The sanitary block which is made available is clean and has facilities for the youngest children. In this block are spacious showers for family washing as well as rooms adapted for people with reduced mobility. Holidaymakers can also use washing machines and an iron. In the center of the campsite is a terrace that invites you to order a hot drink, ice cream or fries. Moreover, the main playground is just outside the terrace so that adults can relax and children play safe. In the morning, a grocery store is open and it is possible to get some bread....
Furnished Tent 4 pers. du 06/25 au 07/02
Marchand: Booking
Voir l'offre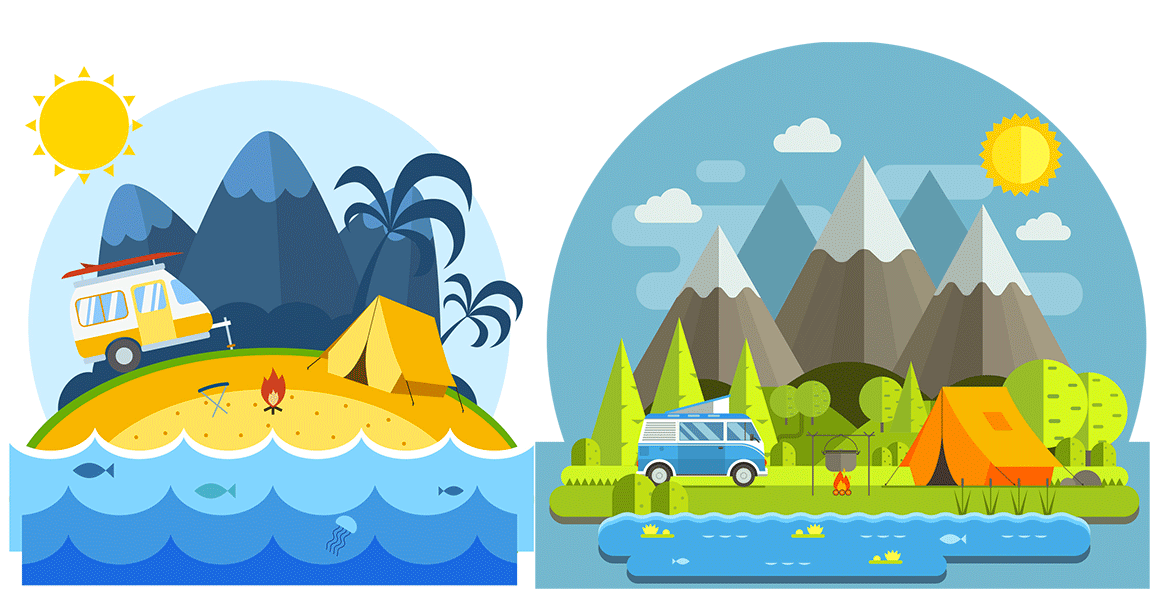 Saint-André-de-Valborgne
-
Languedoc-Roussillon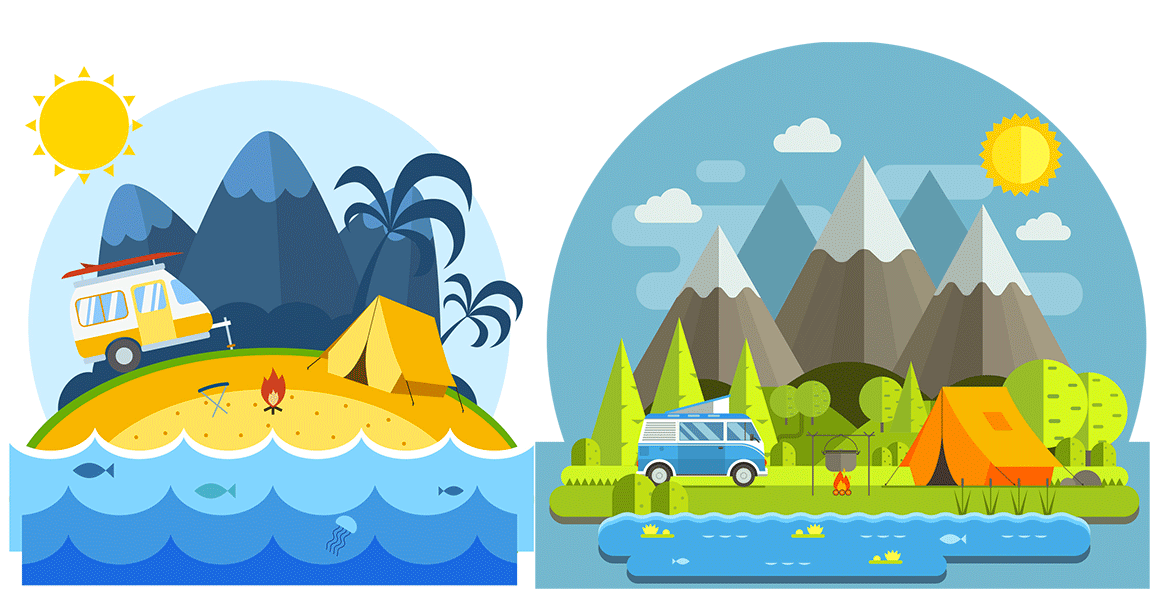 Studio 4 pers. du 06/25 au 07/02
Marchand: Booking
Voir l'offre
ville-les-plus-rechercher










Argelès-sur-Mer
-
Languedoc-Roussillon










In the countryside of Languedoc-Roussillon and 800m from the beach, Sol Y Mar family campsite welcomes vacationers seeking relaxation and leisure. This campsite accepts the good VACAF which allows to spend holidays at low prices. Holidaymakers can pay by credit card and holiday vouchers (ANCV). Note that this property is accessible to people with reduced mobility. A wifi connection is present on the entire campsite. A magnificent heated pool is present in the grounds of the campsite, in a wooded place. It is accompanied by a hot tub and a wading pool with slide and water playground for the enjoyment of the youngest children. The deckchairs on the edge allow to enjoy the sun to relax. A playground is present in the campsite. Spending a stay at Sol Y Mar campsite means enjoying entertainment programs for the whole family. A children's club is in charge of proposing to the youngest play programs. The campsite has a volleyball court and a ping-pong area. The Sol Y Mar offers mobile homes fully equipped to rent. Several sizes and capacities are available to adapt to the needs of each and consist of a bathroom, bedrooms, a kitchen equipped with all necessary appliances and a covered terrace with garden furniture . Holidaymakers looking for a comfortable family holiday will be welcome in these mobile homes. It is possible to spend a half-board stay with breakfast and lunch or dinner. Around the campsite, holidaymakers will find many activities. 200 meters away, there is a leisure area with fairgrounds, mini golf, karting, acrobranche, bowling and canyoning. 1.5 km away is the beach center with water activities and shops. Less than half an hour away, holidaymakers will appreciate the natural and historic heritage of the Pyrénées-Orientales....
Mobile home 3 pers. du 06/25 au 07/02
Marchand: Booking
Voir l'offre




















Argelès-sur-Mer
-
Languedoc-Roussillon




















The campsite Bois-Fleuri is a 5-star, upscale and family-friendly establishment located close to Spain. The campsite accepts checks vacances ancv . It is part of the 30 holiday villages of the Sunelia voluntary chain. The campsite Bois Fleuri offers its guests to enjoy a large aquatic area of 900 m2. Different basins are present, all heated to 27 ° C. Among these pools is a paddling pool for toddlers accompanied by two small slides. An intermediate basin is present with slide and waterfall while the large pool has swimming lanes. A solarium accompanies all, with its deckchairs, and will allow bathers to relax in the sun. Those who love to swim during their stay can enjoy the beach of Argelès-sur-Mer, with its fine sand and its free small train that connects the campsite. A playground is available for children to have fun, as well as a basketball court, a football field and a volleyball court. Holidaymakers will enjoy table tennis and a bowling alley. Some will also appreciate the floodlit tennis courts. A gym is there to converse and the sauna will allow you to totally relax. Throughout the stay, holidaymakers can enjoy various activities supervised by instructors. For more energy, go to fitness, cardio and zumba classes. Aquagym sessions are offered in the campsite's swimming pool, while children will enjoy mini-discos, treasure hunts and various tournaments. Fun and manual activities are also offered by the mini-club, suitable for ages 4-12. Chalets, mobile homes and bungalows are available for rent by the campsite Bois-Fleuri. Holidaymakers wishing total comfort in nature will be conquered by these rentals. One of the mobile home models is suitable for people with reduced mobility....
Chalet /1 du 06/25 au 07/02
Marchand: Booking
Voir l'offre

















Argelès-sur-Mer
-
Languedoc-Roussillon

















The Camping Taxo les Pins 4 * welcomes you for your holidays in Argelès-sur-Mer at the edge of the Mediterranean Sea. Ideal for holidays in the south of France. On the accommodation side, the mobile homes available are adapted to all needs and desires: mobile home Duo, 2 bedrooms, 3 bedrooms, economic, standard, comfort and great comfort. All are comfortable and fully equipped. For an upscale stay, opt for the Grand Confort 3-bedroom XL with integrated terrace. It has a maximum capacity of 8 people. It is very well equipped and spacious. You will love its modern decoration and design. The Eco range is much more sober while guaranteeing the necessary comfort for your stay. The campsite's water park includes a heated swimming pool and a hot tub. Many water areas are arranged for children. A paddling pool, a water games area and especially a water slide of 7 meters high! The particularity of camping is that it includes a show area arranged to offer a maximum of entertainment. Big screen, a gauge of 500 covered places to enjoy the festivities whatever the weather and the time of the day. Concerts, shows, magic and many other parties are organized throughout the season. On site you will find a restaurant, La Voile Blanche which will allow you to discover the flavors of the South West. Many services are also at your disposal: bike rental, supermarket, wifi, sports field, ping-pong, children's playground and many...
Mobile home 2 pers. du 06/25 au 07/02
Marchand: Booking
Voir l'offre







Argelès-sur-Mer
-
Languedoc-Roussillon







The 2-star campsite Domaine des Mimosas, located in Argelès-sur-Mer, in the department of Pyrenees-Orientales, in the Occitanie region, invites you to its wooded park of oaks, nestled in the heart of the Catalan country, at the foot of the Albères and 2 km from the golden beaches of the famous seaside resort. In this campsite located close to the Mediterranean Sea, you can stay in apartments for 4 to 8 people, in comfortable furnished villas that can accommodate 4 to 10 holidaymakers or in mobile homes for 4 to 6 people, all perfectly equipped and equipped with terrace. Also, to receive your tents, motorhomes and caravans, large shady sites, with or without access to electricity. To spend pleasant moments of relaxation, sports or leisure, you will find on site an outdoor pool lined with sun loungers, table tennis, table football and billiards, a petanque, bicycles to the rental and a playground for toddlers. In addition, during the two high season months, the campsite organizes convivial and thematic evenings that will delight young and old alike. Finally to satisfy all appetites, you can enjoy a collective barbecue, a grocery store with bread and pastries and a bar-restaurant-glacier, including an indoor room and a nice shaded terrace, Accessible from breakfast until late in the evening. From this quiet campsite between sea and mountain, take the hiking trails or cyclists to discover the abundant surrounding nature, visit the beautiful surrounding cities such as Collioure or Perpignan and, going a little further, why not cross the border? and spend a day at the pace of Spain!...
Studio 3 pers. du 07/02 au 07/09
Marchand: Booking
Voir l'offre
















Argelès-sur-Mer
-
Languedoc-Roussillon
















Camping Le Neptune 4 * welcomes you for your holidays in Argelès-sur-Mer at the edge of the Mediterranean Sea just 500 meters from the beach. The campsite is a member of the FFCC . In the heart of 4 hectares of greenery, stay in a high-end setting in Mobile Home or Tent equipped. Mobile homes can accommodate up to 6 people. Composed of two or three rooms depending on the chosen range, they are fully equipped and comfortable. To be closer to nature by not trimming on your comfort, the option equipped Tent is made for you! 2 bedrooms, a kitchen area, furniture with real beds, a terrace with awning; all for 5 people. The beach is only 500 meters away. When we are on vacation sometimes we only dream of idleness. And that's great because this Tohapi campsite has an aquatic area with lagoon-shaped pools, water slides, solarium and paddling pool. Many animations are proposed for adults, teenagers and children. Camping Le Neptune meets the expectations of the whole family for a comfortable holiday. Children's club, teen entertainment, mini disco, pony club, water aerobics and gym classes are waiting for you! The campsite has Wifi access, a restaurant, a bar and pets are welcome. On the spot also, rent of bicycles, cars and scooter; laundry; equipment rental and takeaway...
Voir le camping
















Argelès-sur-Mer
-
Languedoc-Roussillon
















Spend your holidays in an original setting in Argelès-sur-Mer close to Spain at Camping La Sirène 5 * at the edge of the Mediterranean Sea. In the heart of 23 hectares of greenery stay in upscale accommodation. The Mermaid 3 Luxury Cottage has 3 bedrooms and a terrace equipped with outdoor furniture with deckchairs, tables - chairs and barbecue. You will love its modern and refined decoration. A water park of 10,000 m2 Its water park of 10,000 m2 surrounded by 23 hectares of lush tropical vegetation will offer you a change of scenery guaranteed. Lovers of water games and swimming will be conquered by its 2 heated pools, giant slides and children's games all 900 meters from one of the most beautiful beaches of the Mediterranean. For a total holiday form, participate in aqua gym, aquabike or gym. Camping La Sirène provides parents and children a Kids Club for 3-4 years and for 3-12 years. Many activities will be proposed to them by a dynamic animation team. The wifi is available on all the camping and it is accessible for free. On site you will find many services. 2 restaurants, 1 pub, 1 ice cream parlor, a nightclub, shops and take-away meals for your lazy nights. Many activities and animations are proposed throughout the season. Sports tournaments, circus, theme parties, mini golf, playgrounds for children are at your disposal. As a bonus, you will have access to the sports complex of Camping L'Hippocampe 5 *. Indeed, the 2 campsites are part of the same group and you can enjoy both facilities. High end and very well equipped, the complex offers a host of activities for your well-being and your...
Voir le camping











Argelès-sur-Mer
-
Languedoc-Roussillon











Welcome to Camping Les Marsouins 4 * Argelès-sur-Mer for your holidays by the sea. Located 800 meters from the beautiful beaches of the Mediterranean, it welcomes you in a high-end for a comfortable stay. A wide range of accommodation is offered. Discover the Ciela Prestige Mobile Home - VIP Tao. Luxurious, modern and design, it can accommodate up to 4 people for a surface of 35 m2. Fully equipped, it has 2 bathrooms. You will love its terrace and trendy garden furniture. The campsite also offers pitches for tent, caravan and camper. Spacious and shaded, different packages and options are available. A water park with Californian pool of 530 Mm2 The water park at Camping Les Marsouins is fabulous. You will spend beautiful afternoons in couple, family or friends to slide along its 5 heated water slides and its pentagliss 3 tracks. Its Californian swimming pool of 530 m2 with swimming pool will enchant you. Toddlers have their own space with paddling pool and water games. Great novelty, you can practice Aquabike on the campsite and it's free! Many animations await you on the campsite. Karaoke, concerts, shows and cabarets will enchant your evenings. As for activities, many beach volleyball, football and ping-pong tournaments are organized. You can also participate in bike rides, scoot mountain and sea kayaking (these outings are not free). Have a nice holiday at Camping Les...
Voir le camping

Argelès-sur-Mer
-
Languedoc-Roussillon

In Occitanie, in the department of Pyrénées-Orientales, the 3-star campsite of the Stade welcomes you to Argelès-sur-Mer in a flowered and wooded area of 2 hectares, nestled between the old village and the Mediterranean Sea, just 800 meters from golden beaches. In this environment-friendly seaside campsite, you can stay in fully equipped mobile homes, standard for 2 to 4 people, Comfort for 4 holidaymakers, or Super Comfort for 4 to 5 guests, all with a garden furniture with umbrella or awning. You can also take place, with your caravans, tents and motorhomes, on large shaded sites, with possible access to electricity. On site, the campsite offers a playground for children with trampoline, slides and swings, a table football, ping-pong tables, a multisports ground to practice among others football and volleyball, a bowling alley, an area communal barbecues, a room where you can watch TV quietly and unlimited free WIFI access. Activities will also be organized for children, such as theater workshops or fun games, while the older ones will be able to participate in the various friendly tournaments organized. On the restaurant side, bakery and pizza truck are right in front of the campsite, a supermarket is 500 meters away and there are many restaurants on the waterfront. NB: the municipal sports center, with swimming pool and tennis court, awaits you nearby and the buses of the department will allow you to discover the region for 1 euro only (stop at 100 meters)! From this family campsite at the foot of the Pyrenean massif, take the bike path to the beaches and its warm seafront, spend the day in the singing city of Perpignan or, if you feel like it, cross the border to reach the Spain (20km)!...
Voir le camping







Argelès-sur-Mer
-
Languedoc-Roussillon







Camping Le Roussillonnais is located in full Catalan country 20 minutes from Perpignan and the Spanish border. This campsite welcomes vacationers in a pine forest with an area of 11ha with direct access to the Mediterranean Sea. The campsite is a member of the FFCC . The children's club on site welcomes children from 6 to 12 years old. Qualified animators take care of them through sports, artistic or manual activities. They will learn the pleasures of the scene by creating shows produced in the evenings in front of adults. Inflatable games are also present to delight the youngest. Teens are also entitled to their own club where they can alternate between sports tournaments, workshops and fun outings. For adults, sports and culinary activities take place. In the evening, everyone can enjoy music and dance. Many equipped accommodations are available for rent such as cottages for 5 people. A kitchen is present with microwave, hotplates, refrigerator, coffee maker etc ...) and a bathroom with shower and sink. The toilets are separated from the bathroom and a wooden terrace, covered, of 10m2 is present with its furniture. Cocosweet are also available for rent. These are 16m2 and can hold 4 people. They include an equipped kitchen area and a wooden terrace with table and chairs. The Catalan country has an environment between sea and mountains and offers more than 300 days of sunshine a year. Various activities are available including aquatic and fun complexes. The canton brings together 8 communes at the foot of the Albères massif. Various sites and cultural sites are to visit and the hinterland is full of hiking trails where visitors can discover the typical fauna and flora....
Voir le camping
There are no less than 607 campsites in Languedoc-Roussillon, many of which are located along the coast, in the departments of Hérault and Pyrénées-Orientales, with more than 200 km of coastline dotted with seaside resorts. Languedoc Roussillon is steeped in very different traditions and cultures and has managed to preserve its own identity, whether we are talking about French Catalonia or the Camargue, two of the most striking examples. As for the price of camping trips in Languedoc, it will be necessary to count on average 707€ per week for rental, the prices changing according to the seasons and destinations. You will find in this guide what you need to know about your destination (characteristics of each department and must-see), as well as the campsites in Languedoc-Roussillon that are worthy of welcoming you in strategic places in the region.
Choose a campsite in Languedoc by the sea
Let's start by talking about the coast, starting from the west of Languedoc. We are in the Pyrenees-Orientales, capital: Perpignan. A "gateway" city between Barcelona and France, Perpignan is both a southern and medieval city with a certain charm and a Catalan soul. The main monuments to be seen there are the Palace of the Kings of Majorca, the Cathedral of St John the Baptist, the Campo Santo (funerary cloister) and the Castillet. There are 165 campsites in the Pyrénées-Orientales, for which you will have to pay about 715€ per week.
Here are some campsites that we recommend in the west of Languedoc: On the coast near Perpignan, 15 km away, we have selected the campsite Le Palais de la Mer 4*, in Sainte-Marie-la-Mer, allowing you to enjoy the pleasures of the sea (sunbathing, swimming or water sports) AND to visit this beautiful city. This pleasant shaded campsite is equipped with a beautiful swimming pool with jacuzzi, gives access to the sea, and organises entertainment and theme evenings. Between renowned seaside resorts (Argelès-sur-Mer, Banyuls-sur-Mer or Canet-en-Roussillon...) and the Pyrenees mountain range (Catalan Pyrenees Regional Natural Park and Mount Canigou), the department has many assets, offering also many sporting activities to practice. The military fortifications of Vauban are among the most important, think about it!
We have also chosen to recommend one of Languedoc's flagship campsites: Camping Le Bois de Valmarie 5*, in Argelès-sur-Mer, which we appreciated for its great facilities (access to the sea, entertainment, children's club...) and for its superb aquatic area.
Following the Languedoc coast, we end up in the Aude, whose two main cities are Carcassonne, in the land, and Narbonne on the coast. There are 68 campsites in the Aude, offering prices approaching 653€ per week.
At Narbonne-Plage, you can stay comfortably at camping La Nautique 4*, bordering a lake and only a few kilometres from the beaches. A swimming pool with slide and jacuzzi has been set up for a great summer holiday! The Aude is known as the Cathar Country for its many remains of this period, made up of impregnable fortresses and castles (Peyrepertuse, Aguilar, Termes, Puilaurens...). Carcassonne surprises and amazes by its medieval aspect, to be discovered without moderation! Maquis, scrubland and oak forests of the Montagne Noire make up the landscape of the Aude that you may hike along one of the many paths that criss-cross the countryside.
Let's go back east to Languedoc and now enter the Hérault to walk the cobbled streets of Montpellier before enjoying a street show on the beautiful Place de la Comédie decorated with its Opera House. There are 199 campsites in the Hérault, at an average rate of 790€ per week. In the essential seaside resorts of Palavas-les-Flots, La Grande-Motte or Sète, plan a higher budget in high season as this is one of the regions in which you will find the most camping in the Languedoc.
On the coast, in Frontignan, 30 km from Montpellier, we have selected Camping Les Tamaris 5*, with an admirable water park with slides by the sea, and offering many activities and a club to keep your children busy during the day. There are many unforgettable sites in the Hérault: to name but a few, Saint-Guilhem-le-Désert, the Gorges de l'Hérault, the Lac du Salagou, the Canal du Midi, the Etang de Thau and the Pic Saint-Loup, as well as impressive caves known as the Clamouse and Les Demoiselles caves.
Languedoc campsites in the Terres and Camargue
It is now time to enter the land in order to discover, above the Hérault, the Gard, proud of its capital city, Nîmes. Have on hand an average budget of €634 for a week camping in the Gard, the department that hosts 129 campsites. Everyone has already heard about the Nîmes Arena and the famous ferias taking place in the city, causing a tourist tidal wave every year. This traditional city plunges us into the heart of the Camargue, a unique and unavoidable region, famous for its pink flamingos in the middle of the ponds, its horses and bulls... In Grau-du-Roi, you can settle for an exotic holiday at camping La Marine 4*, located along the road leading to the largest beach in Europe: l'Espiguette. Water park, entertainment and children's club are just a summary of the qualities of this top-of-the-range campsite. Don't forget to visit the superb site of the immense Pont-du-Gard, the cities of Uzès and Beaucaire (cities of art and history), Aigues-Mortes and the Causses des Cévènes, among others. For more information, consult the Camargue Campsite Guide, in the north of Languedoc we arrive in Lozère, the change of scenery is striking. Who would have thought that the coastal garrigue hides such mountainous terrain? There are 58 campsites in Lozère, offering more affordable rates than on the coast, surrounding 537€ per week. Mende and Florac are two of the main cities in the department, but the main focus here should be on the beauty of the natural sites. By taking the Cévennes road, we feel very small, lost in the immensity of these beautiful mountains, and the Gorges du Tarn flowing in the valley are an invitation to whitewater sports and fishing that we cannot decently decline... We recommend you the video report we shot on the Gorges du Tarn... Cascades, megalithic sites and caves mark our journey, revealing to our eyes the magic of these unique places. We recommend camping Les Terrasses du Lac 3*, in Langogne, a splendid campsite by the lake, equipped with a beautiful heated swimming pool and a spa, and offering its guests varied entertainment and children's club. Nevertheless, Lozère is home to beautiful castles (Château de Luc or Saint-Alban-sur-Limagnole), as well as former religious buildings (Temple of Vialas, Church of Notre-Dame-de-Bon-Secours aux Salettes), medieval cities (Mende) and archaeological sites (Mausoleum of Lanuejols).
destination-tres-populaire