Camping Erbalunga : The guide
top-camping-du-moment-by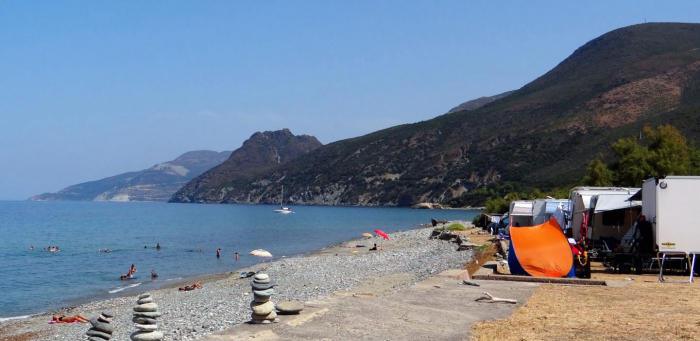 Corsica
Dès 609€ /sem
Farinole
Camping A Stella
Camping Erbalunga : The guide -
listing-text-elargisement km at Erbalunga


In Corsica, the campsite Les Orangers welcomes you to Santa-Maria-di-Lote, 5 km from Bastia, on its terraced land, ideally located 100 meters from the center of the town and 50 meters from the beach of Miomo. In this family campsite close to the beach, you can stay in mobile homes with covered terrace furnished for 2 to 3 or 4 to 5 people, canvas bungalows without sanitary equipped for 2 to 5 holidaymakers or rooms 2 places. Please note that the campsite no longer offers spaces to receive your motorhomes, tents and caravans. NB: possibility to rent also F2 or F3 fully equipped apartments for 2 to 4 or 4 to 5 people, including TV, garage and terrace or balcony, located 100 meters from the beach. On site, you can alternate small pleasures of the beach, located in the immediate vicinity, and moments of relaxation at the edge or in the outdoor swimming pool of the campsite, skirted by deckchairs. You can also enjoy a bar and a breakfast service to quench your thirst and enjoy the day before going on a stroll around the area. In order to refuel you during your holidays, you will be able to reach easily with the various restaurants, trade and services of the village. Good to know: Free WIFI at the campsite! From this small, relaxing campsite in Cap Corse, indulge in the pleasures of fishing, scuba diving and hiking of all kinds, admire the Genoese tower - dating from the sixteenth century - overlooking the seaside resort and the castle of the hamlet of Figarella and why not spend a day in the heart of the beautiful city of Bastia!...
Voir le camping


the campsite La Casiola is located north of Bastia in the foothills of Cap Corse. This campsite is located by the sea. It is a haven for families wishing to enjoy the wild Corsica. Many hiking trails start from the campsite. The Casiola is an ideal destination to enjoy Cap Corse in peace. The campsite La Casiola has 60 pitches for tent, caravan and...
Voir le camping
listing-text-elargisement km at Erbalunga


The campsite La Pietra is located in the valley of Pietracorbara in Corsica, in a beautiful setting. The family holidays will be ideal for those who appreciate to enjoy beautiful landscapes of a warm atmosphere. Children and adults will be captivated by the lagoon pool which is located in the heart of La Pietra campsite. This rounded basin offers a pleasant turquoise water. The surrounding beach gradually descends into the water to provide a depth for swimming. During their stay, holidaymakers will have the opportunity to rent a boat, go mountain biking, water skiing or horseback riding. The restaurant located within the campsite invites you to feast for lunch and dinner by the pool. The proposed tables are shaded under plane trees that bring a very pleasant freshness. The cuisine that is proposed is traditional, quality and composed of local products. The most gourmet can taste pizzas, fresh pasta, fish and meat. Hiking enthusiasts will be able to visit the Genoese tower, the chapel and the bird island which are located on a site classified national reserve. Just 5 minutes from the campsite is the beach of Pietracorbara which is joined by a small and very pleasant path. This beach is composed of fine sand and turquoise waters. It will be possible to admire the seabed with a mask and a snorkel. The aquatic activities are numerous and proposed by professionals. Lovers of relaxation will also be delighted to enjoy this beach. The stay promises to be relaxing at the campsite La Pietra thanks to pitches of 95 m2 which are delimited by large hedges. These pitches are shaded and give access to modern toilets with bathroom for babies and hot water at will. It will be possible to wash dishes and linen....
Voir le camping
ville-les-plus-rechercher-pres






















In Upper Corsica, the campsite U Sole Marinu offers you an appointment near Patrimonio, 7 km from Saint-Florent, on its domain with preserved nature stretching over 3 hectares, located at the foot of Cap Corse and at the edge from the beach of Catarelli. In this family campsite on the seaside with direct access to a private beach, you can stay in air-conditioned mobile homes fully equipped, consisting of 2 or 3 bedrooms, which can accommodate between 4 and 6 people maximum, all with covered terrace with garden Lounge. You can also install your motorhomes, tents and caravans on delimited and semi-shaded pitches, with electricity as a paid option. There will be something to distract you and you will spend on the spot between the children's play area, the ping-pong table and the petanque and volleyball courts provided by the campsite without forgetting the direct access to the beach. which will be conducive to pleasant aquatic moments and idleness. In order to perfect your stay, the campsite also offers you a restaurant-pizzeria summer, a bar with bread and pastries and a small supermarket where you will find a wide choice of essential products, fresh fruits and vegetables, local specialties and beach items. NB: Foodtruck present on the beach. From this small environmentally-friendly campsite, get your fill of water sports, fishing and hiking along the coast or in the heart of the mountains of the island, visit the famous vineyards of this beautiful country and spend a day with family or friends in the beautiful city of Bastia!...
Voir le camping
listing-text-elargisement km at Erbalunga




The campsite Les Sables Rouges is rather a car park on the sea in front of the gates of Bastia. The campsite is located about 2 km south of the city on the beach Arinella, quiet and simply...
Voir le camping








At the heart of the seaside village of Farinole, in the department of Haute-Corse, west of Cap Corse, the 2-star campsite A Stella welcomes you on its wooded terrain with mountainous environment directly overlooking a large beach alternating sand end and pebbles of the Big Blue, the Mediterranean Sea. Within this seaside campsite with direct access to the beach, you can stay in bungalows for 4 people or in apartments that can accommodate 4 to 6 guests. In addition, you can invest, with your motorhomes, tents and caravans, locations sunny or shaded by large oaks, not delimited, provided with an electrical connection. Note that the campsite has a service area for campers. Camping in the ideal situation for fishing lovers, swimming enthusiasts and lovers of boat rides, A Stella will also seduce you with its calm and natural charm. For recreation, there is a games room with billiards and table football and a boat launch. At the catering level, you can enjoy the restaurant-snack bar, with a pleasant outdoor terrace sheltered by the local vegetation, especially tasting pizzas cooked with care over a wood fire. From this campsite on the waterfront 5 km from Patrimonio and 10 km from Saint-Florent, discover the Farinole Navy, a typical port of Cap Corse, practice diving, horseback riding or hiking walk and board a boat to the Agriates Desert, about 15 minutes away!...
Studio /1 du 06/25 au 07/02
Marchand: Booking
Voir l'offre




On the island of Beauty, in the department of Haute-Corse, 25 km from Bastia, the 2-star campsite Santa Marina in the town of Luri, in the heart of Cap Corse, awaits you in its quiet and green area located in 100 meters from the sea, on the banks of the river Luri and near the picturesque village of Santa Severa. Within this campsite with direct access to the beach, you can install your tents, caravans and motorhomes on shady pitches, delimited for the most part, with access to water and electricity. Please note that the campsite does not have a permanent accommodation and a motorhome service area is available to residents for a minimum of one night. For entertainment on site, guests can enjoy a ping-pong table, a playground for toddlers and two monthly evening entertainment. Finally you will find a bar-restaurant with takeaway and a bread roll to restore you as well as a TV room and free wifi access to relax with friends or family after including a day of beach or sightseeing. From this blooming campsite, relax, explore the treasures of the Cap Corse to admire the blue panoramas of the coast, indulge in the joys of hiking of all kinds or water sports such as jet skiing, sailing or sailing. scuba diving and revel in the charms of the village of Santa Severa: its harbor, beaches and vestiges of the past!...
Voir le camping










Located in the Gulf of Saint Florent in Corsica, Camping d'Olzo allows a family stay near the beach and Bastia. Holidaymakers will have the opportunity to enjoy an outdoor swimming pool within the campsite. This basin with rounded shapes blends perfectly into the surrounding wooded space and has deckchairs to relax and enjoy a truly relaxing holiday. Children have at their disposal a playground on which they will be able to have fun whereas the biggest will be able to profit from a corner ping-pong, a table football and a bowling ground on which many parts of game of bowls can be contested. The services offered by the Camping d'Olzo are of quality. Holidaymakers will be able to benefit from a sanitary block with hot-water showers accessible 24 hours a day. In these sanitary blocks are also family cabins with washbasin and shower. Holidaymakers will also enjoy the use of dishes and laundry bins. A baby cabin is available with a bath adapted and a space for changing. People with reduced mobility will enjoy a cabin reserved for them. For total comfort, guests can wash their clothes in the laundry area with washing machines and a tumble dryer. A barbecue area is present in the campsite and will enjoy 7 barbecues available and inviting to great moments of conviviality. In the vicinity of the campsite, holidaymakers will have the opportunity to discover the Nebbio with its picturesque villages and breathtaking views. History buffs can discover churches and archaeological sites. Lovers of beautiful walks will discover the Cape Corsica and Balagne. The ancient capital of Corsica, Corte, is accessible through two beautiful valleys. Campers will have at their disposal shaded pitches of 80 m2 equipped with electricity. These sites are as well suited for tents as for caravans. They have electrical connections. For a comfortable and unusual stay, it will be possible to rent a hull, wooden hut of 200 cm by 200 cm. Chalets of 19 m2 are also available for rent with kitchen and terrace....
Voir le camping






Camping San Damiano is a family-run, upscale property located in Biguglia, Corsica, and enjoys a seafront location. The whole family will be absolutely conquered by the superb and huge outdoor pool provided by the San Damiano campsite. This large pool is heated to 28 ° C and offers an impressive area of 264 m2. Its maximum depth is 155 cm. So that the toddlers also have the opportunity to fully enjoy the pleasures of water, camping San Damiano provides them, next to the main pool, a paddling pool of 40 m2 whose depth does not exceed 40 cm . The pools are in the heart of a huge solarium of 1000 m2 equipped with deckchairs. In this area dedicated to swimming and relaxation, holidaymakers can also participate in water aerobics, water games or enjoy night pool sessions. The campsite has direct access to a beautiful sandy beach where you can rent deckchairs, parasols and paddle boats. Holidaymakers can play beach volleyball, tennis, petanque and football. Children's games are present and various water sports are practicable. Nearby is a jet ski rental base and a nautical base where you can kayak, windsurf, dinghy, catamaran and paddle. During the day, the campsite team offers lively activities that will delight every member of the family. Step, zumba and yoga sessions are offered to people looking for energy. Various tournaments are organized for table tennis, water-ball and petanque lovers. Children can join the kids' club for activities. Themed evenings are offered with music groups, karaoke, film sessions, various games and other dance nights. The atmosphere promises to be warm. During their stay at Camping San Damiano, holidaymakers can rent a superb fully equipped accommodation located in the countryside. The models adapt to all needs....
Voir le camping














Located in Cap Corse, north of Bastia, in a completely wild valley, the campsite Aria Marina is located 50 meters from a pebble beach and 2 kilometers from a sandy beach. Shops are 2 kilometers away. It welcomes you in a family atmosphere and offers a magnificent view of the sea. Cap Corse is considered one of the most beautiful places on the island with its mountainous backbone 40 kilometers long pointing to the North. The campsite will allow you to access the beautiful coves and hilltop villages with their terraced crops, while offering a spectacular view of the...
Voir le camping
listing-text-elargisement km at Erbalunga
































Camping Kalliste 4 * is ideal for holidays in Corsica feet in the water. Between beach and river, enjoy the preserved landscapes of Haute Corse. From the beach, a path will take you to the charming village of Saint-Florent. Comfortable and upscale, Homair mobile homes will delight you. Cottages, villas, Super Lodge, everything is thought for your comfort and well-being. The Super Lodge combines comfort and proximity to nature. Open to the outside and bright, it has a terrace of 10 m2 and can accommodate up to 5 people. Traditional camping enthusiasts will find their happiness in this campsite. Indeed bare pitches for tent, caravan or camper are available for rent. Different packages and options are possible. Camping Kalliste has many facilities and services. Swimming pool with solarium and whirlpool. For entertainment, evenings - themed meals, board games, petanque ... For sports holidays, the campsite offers water aerobics, fitness and stretching classes. The wifi (paying) is available on the campsite so you can stay connected during your holidays in Corsica. Children from 6 to 12 years old can visit the Children's Club, where many activities await them. On the program, games, tournaments, shows and many other...
Voir le camping


















In Saint-Florent, in the department of Haute-Corse, the 2-star campsite U Pezzo welcomes you in its eucalyptus area, located near the city center, on the sandy beach of Roya. In this seaside campsite with direct access to the beach, you can stay in mobile homes - one of which is suitable for people with reduced mobility - beachfront 4 or 6 seats, fully equipped, with air conditioning and furnished terrace, or in a villa for 6 holidaymakers with sea view. You can also rent rural cottages comfortable for 2 to 4 people, located in a farm 15 minutes from the campsite and beaches. Also provided are shaded pitches, with electricity possible, to receive your motorhomes, tents and caravans. To relax and have fun, there is a children's playground on site, a space with table tennis, table football and billiards, a petanque and a mini-farm to the delight of the children. young and old. In addition, to liven up your day's end, the campsite regularly organizes karaoke nights for all generations. For your meals, you can enjoy a grocery store, a collective barbecue and a restaurant-pizzeria-ice cream parlor and its pleasant sheltered terrace with breathtaking views of the blue horizon, also offering breakfast service and dishes. carry. From this family campsite on the waterfront, invest in the diving and sailing school or Altore center to introduce you to extreme sports, go hiking or 4x4 to discover the desert of Agriates and its splendid beaches of Lodu and Saleccia or take advantage of this ideal situation to visit Cap Corse or the region of Balagne!...
Voir le camping






The 2-star campsite La Pinède, located in the department of Haute-Corse, Saint-Florent, warmly welcomes you on its wooded area of 4 hectares, located on the banks of the river Aliso and close to the city center and a wide beach stretched over 1,5km. In this campsite close to the sea with direct access to the river, you can stay comfortably in mobile homes, fully equipped, can accommodate between 2 and 6 holidaymakers and equipped with terrace with garden furniture. Note that the Tonga model, intended for 4 people, does not have sanitary facilities. You can also occupy shaded and numbered pitches with your tents, caravans and motorhomes. For sports and recreation, the campsite offers an outdoor swimming pool surrounded by sunbathing and a large playground with table tennis, billiards and swings and slides for the youngest. The beach not far from there will also be a perfect place for relaxation and activities of all kinds such as jet-skiing or scuba diving. For meals, there is a snack bar with takeaway service, as well as a grocery store that also serves bread and pastries. NB: for boat owners, know that you can moor your small ship at the edge of the river! From this quiet and family campsite to the ideal location, visit the village for its citadel and picturesque port, enjoy a sea trip by embarking on a shuttle from Saint-Florent to the beautiful beaches of Lodu and Saleccia and go on a hike to the desert of Agriates, alternating beaches with crystal clear waters and green mountains!...
Voir le camping


In the department of Haute-Corse, adjacent to the town of Saint-Florent, nicknamed the little Saint-Tropez, the 2-star campsite Acqua Dolce gives you an appointment in a wooded and green setting of 1.5 hectares, located at edge of the Mediterranean Sea, close to the sandy beach of Roya. In this seaside campsite with direct access to the beach, you can install your motorhomes, caravans and tents on shady or sunny sites, with access to an electrical connection. Note that a camper service area is present on the site and that the campsite does not have accommodation in hard. In order to entertain you and to spend during your stay, you will be able to take advantage of the beach, accessible directly from the campsite, to enjoy swimming, fishing, idleness as well as various water activities that will be proposed like water skiing or wakeboarding. . For your meals, you will find on site a pizzeria and its vast terrace offering including traditional salads and Italian specialties, a grocery store of first necessity and a deposit of bread and pastries. From this campsite between sea and mountain blooming good calm and relaxation, go hiking to reach the desert of Agriates and the famous beach of Saleccia, learn to sail or scuba diving through schools. immediate proximity and win Saint-Florent to discover its fishing port and marina, its old town, its vineyards and its local festivities!...
Voir le camping
There are 2 campsites around Erbalunga in Corsica within a 5 km radius around the city.Our guide to campsites in Erbalunga will allow you to discover the list of campsites, prices, essential tourist sites in Corsica and to exchange with the holiday community. If you broaden your search in Corsica you will discover 14 campsites in the vicinity of Erbalunga, at - 25km.
The camping comparator allows you to find the best price for your outdoor holidays in Erbalunga.
Use the map and videos to simplify your search for a mobile home rental at Erbalunga
The price of campsites at Erbalunga
On the price side, a week camping in Erbalunga in a 4-person mobile home will cost you on average 1548€ in high season and 1249€ in low season.
Here is the evolution of the average prices 1249€ for a rental of a family mobile home for 7 nights on a campsite in Erbalunga over the whole holiday season.
In June : 1249€, From 1-15 July : 2073€,
Our camping comparator allows you to compare the prices of camping trips to Erbalunga for one and two weeks. However, you can book a short camping trip at Erbalunga or a weekend in low season.
Choose a campsite in Erbalunga : practical advice
We propose here the list of campsites available at Erbalunga classified by popularity. When booking your stay, please note that you can ask each campsite to Erbalunga choose the location of your mobile home.
We recommend consulting our Top Camping selections to obtain a list of the most popular campsites around Erbalunga in Corsica.
Good deals and promotions on campsites at Erbalunga
Finding a good plan or promotion on a campsite at Erbalunga becomes easy! We update daily all the prices of mobile home rentals in Corsica, furnished tents and unusual accommodation. You can find the best camping promotion every day at Erbalunga. We advise you to take advantage of the last minute offers in Corsica which will start from the opening of the campsites at the end of May. On the good side, look at the evolution of the prices of large capacity mobile home rentals because it is often on this type of rental that you will find an interesting discount for your holidays at Erbalunga.
We therefore wish you to find the campsite of your dreams at Erbalunga for your family holidays in Corsica!