Camping Royan : The guide camping-to-compare
top-camping-du-moment-by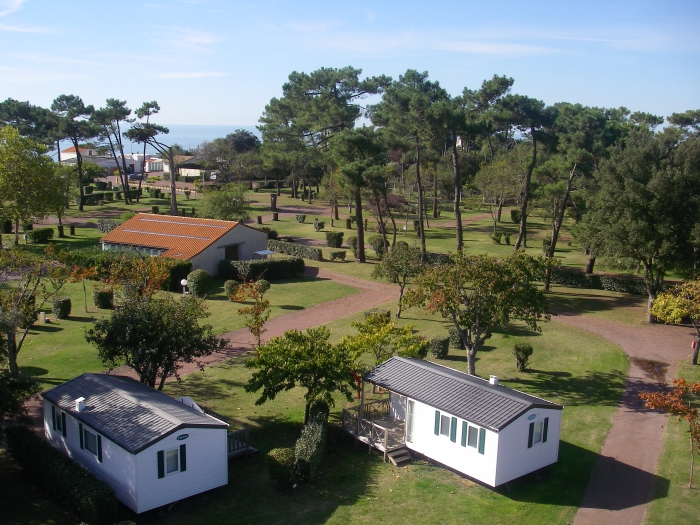 Poitou-Charentes
Dès 273€ /sem
Saint-Palais-sur-Mer
Camping Le Puits de l'Auture
Aquitaine
Dès 378€ /sem
Soulac-sur-Mer
Domaine de Soulac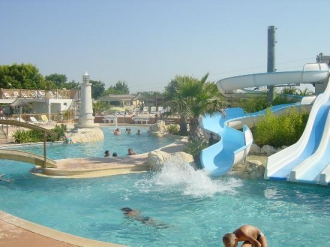 Poitou-Charentes
Dès 665€ /sem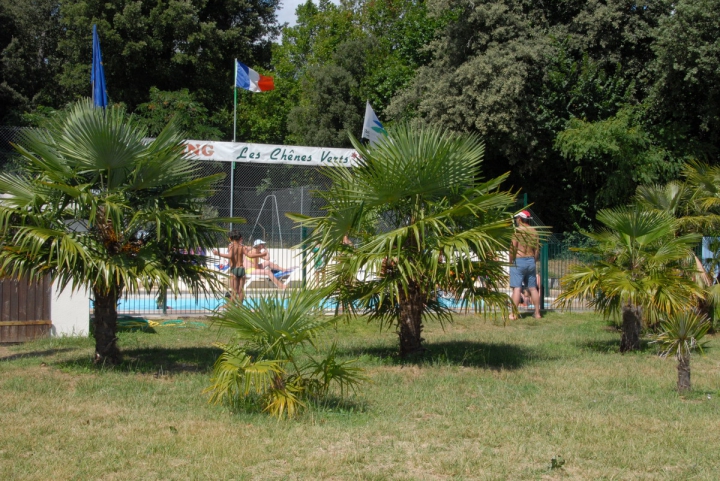 Poitou-Charentes
Dès 392€ /sem
Meschers-sur-Gironde
Camping Les Chenes Verts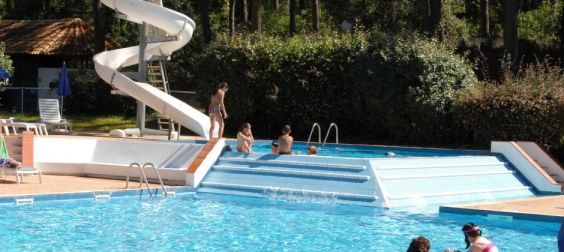 Poitou-Charentes
Dès 728€ /sem
Saint-Georges-de-Didonne
Domaine de la forêt de Suzac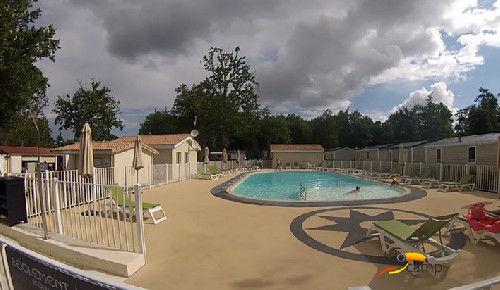 Poitou-Charentes
Dès 560€ /sem
Royan
Camping Les Chèvrefeuilles
Camping Royan : The guide - 7 campings à comparer










































To spend a stay in Royan by the sea, welcome to Campéole Clairefontaine campsite, located in a green domain nestled in the heart of the city, in Charente Maritime. This campsite is a member of ACSI . The campsite Clairefontaine has in its enclosure a heated outdoor swimming pool, which invites holidaymakers to have fun and relax in complete tranquility, in the water or on one of the deckchairs provided. For the pleasure of young children, the campsite Clairefontaine has a paddling pool accompanying the pool and will ensure total safety for the little ones. During their stay, holidaymakers at Camping Clairefontaine will be able to play tennis, grass volleyball, table tennis, take advantage of the multi-sports pitch or boules pitch for petanque enthusiasts. The children will be sure to let off steam in the playground with bouncy castle. During the whole stay, in high-season, each member of the family will be able to benefit from animations which correspond to him. Children from 4 to 11 are welcome at the mini-club which will offer them many fun activities, other sports activities and even some activities that will let express their artistic side. For teenagers from 12 to 17 years are organized great games, Olympics or activities outside the campsite. Young people will even be able to participate in the creation of a show. Dancing parties are organized for the pleasure of holidaymakers as well as film screenings. The campsite Clairefontaine offers its holidaymakers to rent a mobile home, chalet or bungalow. These accommodations are fully equipped, fully functional and allow you to enjoy total comfort in a very relaxing natural setting. Maasai canvas lodges are also for rent, with bedrooms, bathroom with walk-in shower, fitted kitchen and 15m2 terrace with garden furniture. Staying at Camping Clairefontaine means having the opportunity to visit some of the most important places in the Poitou Charente region. Those who wish can go to the city of Brouage, Rochefort-sur-Mer or Marennes, the capital of Oseiculture....
Voir le camping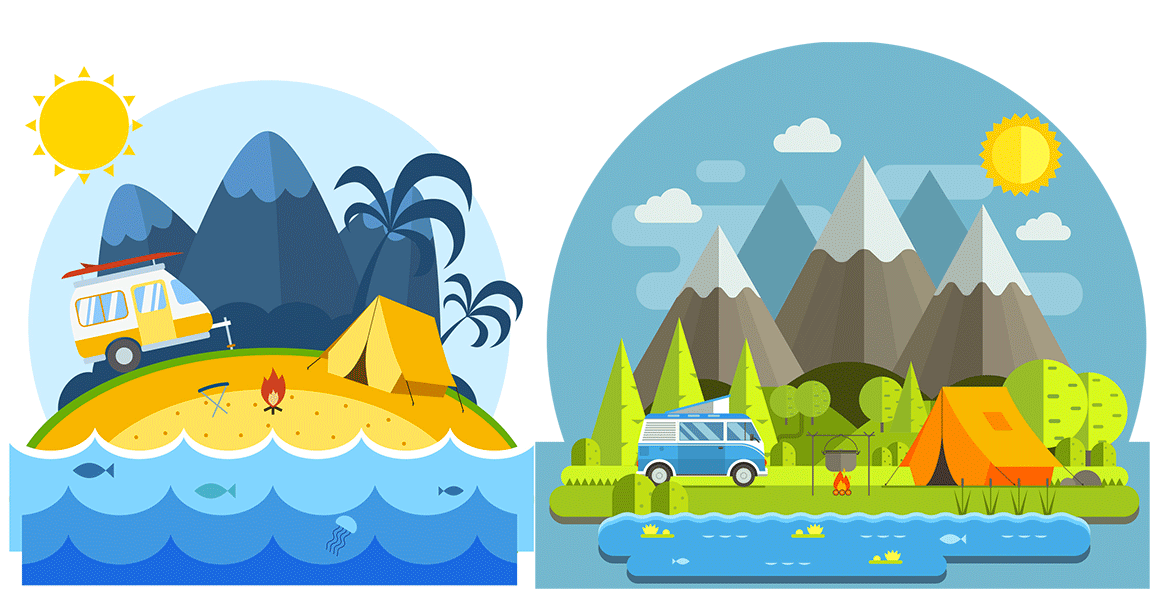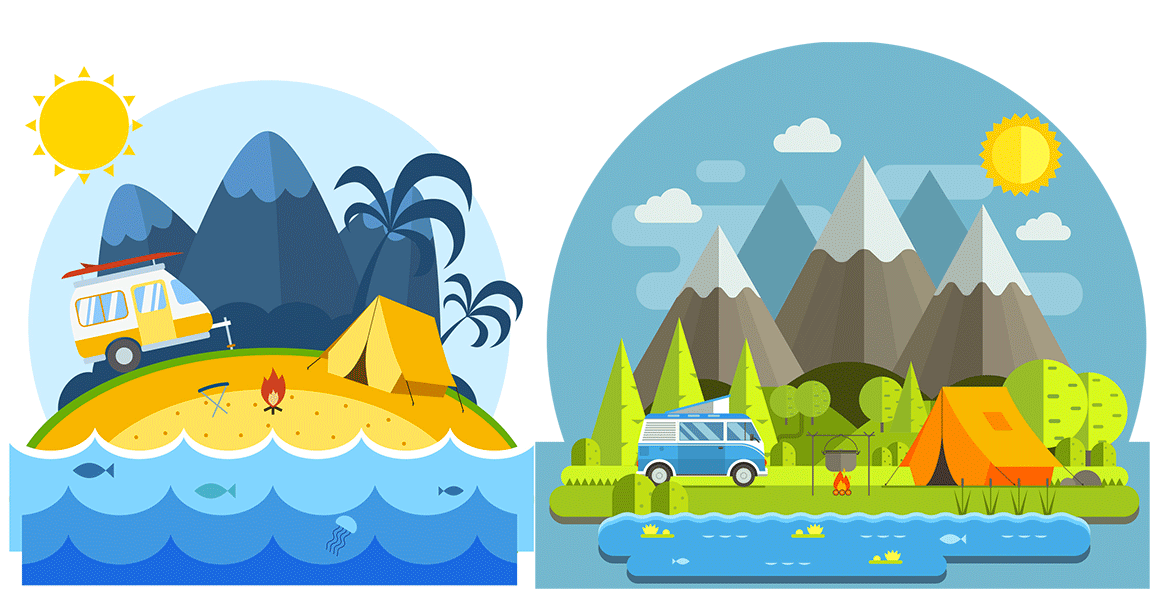 The holidays promise to be upscale within the 4-star campsite Les Coquelicots which is part of the group. It is located in Royan, not far from La Rochelle, the island of Oleron and the Ile de Re, in one of the sunniest regions of France. In the campsite Poppies, ancv holiday vouchers are accepted. For a colorful holiday, there is nothing like staying at the campsite Les Coquelicots which has a large pool area. This area reserved for the pleasures of swimming, play and relaxation will delight young and old. There is a large heated outdoor pool and an indoor heated swimming pool. These pools will be perfect for swimming and relaxing at any time of day as the water is always at ideal temperature. The toddlers have not been forgotten since a paddling pool comes to give them the opportunity to discover the joys of swimming while having fun with the aqua-playful equipment that is available. Holidaymakers will also enjoy exciting waterslides that provide maximum fun. Pleasant sunbeds are arranged around the pools, which will allow lovers of relaxation to tune their tan while enjoying a moment of relaxation. Around the campsite Les Coquelicots, it will be possible for holidaymakers to enjoy activities that will allow them to enjoy a pleasant environment. Nature lovers will appreciate the hiking trails and can also go horse riding. Fishing and water activities are also at the rendezvous. For thrills, nothing like doing the acrobatic course in the forest or a ride on quad. In the campsite Poppies, children will enjoy with pleasure playgrounds designed especially for them. An inflatable game is also present. The bowlers will enjoy the petanque and it will also be possible to play table tennis or beach volleyball. Regarding animation, vacationers will not be disappointed and whatever their age since a team of animators is responsible for organizing activities tailored to each. Children and teenagers can join clubs that welcome them throughout the week....
Voir le camping


Located in the Charente Maritime, camping Le Royan offers a wooded setting of 3.5 hectares with camping pitches and mobile homes for rent. It is close to the beaches and the Palmyre Zoo. A superb water park is present in the campsite Le Royan. This large space dedicated to swimming and games is decorated in an exotic theme and has 500m2 of beach to relax, rest and sunbathe. The large pool that makes up the aquatic area contains 275m3 of water. A balneo corner is present to relax as well as toboggans aquatic and pentagliss intended for the amusement. Toddlers can play in the paddling pool provided for this purpose safely. At the campsite Le Royan, holidaymakers can also spend their days playing volleyball, football, table tennis or petanque, or enjoy the games room which has a table football, billiards, table hockey and video games. Children will enjoy fun in the playground with swing, spring games, climbing nets, rope spider, spinning and car-shaped hut. A bike rental service is available for those who would like to discover Royan and Charente Maritime The mini-club and its team are in charge of offering recreational activities and activities for children aged 6 to 12 such as sports games, ping-pong tournaments, board games, drawing contests and photo rallies. During the day, fitness classes are offered, as well as water aerobics and muscle building sessions. Petanque competitions and volleyball tournaments are organized regularly. Teenagers are also entitled to their own program in the afternoon. In the evening, the Le Royan campsite team invites its guests to enjoy convivial moments through themed evenings with games like quiz nights, karaoke nights or lotto nights. For the enjoyment of the whole family, foam parties are organized as well as cabaret and magic shows. Once a week, the whole family can meet for a night in the water park...
Chalet 5 pers. du 06/25 au 07/02
Marchand: Booking
Voir l'offre
ville-les-plus-rechercher-pres








The campsite Chant des Oiseaux is located in Royan which is a famous resort of the Atlantic. This 3-star campsite therefore offers a privileged setting between trees and seaside. A playground is available for children in the campsite with wooden cabins, climbing ropes, slides, swings and spring games. Children and adults can also enjoy table tennis, a volleyball court, a petanque and a games room with table football, billiards, pinball machines and electronic games. The whole family can enjoy the heated pool at 28 ° and open from 10h to 20h. The paddling pool that accompanies the pool allows smaller children to play in the water safely. For moments of relaxation, nothing better than to enjoy one of the chairs on the solarium of 150m2. Those who want to explore the surrounding area and make beautiful walks can take advantage of the bike rental service offered by the campsite Chant des Oiseaux. Lovers of reading will enjoy the library. Animations are proposed in days, supervised by a confirmed animator. Vacationers can practice archery, participate in petanque competitions, wake up or take Zumba classes. Night pool evenings are organized as well as relaxing evenings. Themed meals are offered once or twice a week, as well as dance nights and karaoke nights. Pitches of about 100m2 are proposed, delimited between them by hedges. Hot showers are available 24 hours a day as well as baby baths. It is also possible to spend your stay in one of the rental mobile homes. They have a kitchen, a bathroom, bedrooms, a living room and a semi-covered terrace. Not far from the campsite Chant des Oiseaux, holidaymakers will be able to visit the Palmyre Zoo, the Cordouan Lighthouse, the village of Talmont, the Regulus Caves and the famous Fort Boyard....
Voir le camping






















The 4-star campsite Chèvrefeuilles is located in Royan and welcomes its guests in a very family atmosphere. Holidaymakers enjoying a good swim will be captivated by the outdoor swimming pool which is at their disposal in the campsite les Chèvrefeuilles. The latter has indeed a pool whose water heated to an ideal temperature will allow you to swim in peace even at a little cooler hours. This pool is 20 m long and 9 m wide and offers a depth of between 0.80 m and 1.50 m. All around is a large solarium of 320 m2 equipped with deckchairs and parasols. This space dedicated to sunbathing and relaxation will be the ideal ally for all those who wish to rest in absolute tranquility. At the campsite, children will have fun on the playground which is at their disposal and which is equipped with swings, games spring, a multi-game structure and a great course of balls. Ping-pong tables are present and it will be possible to get rackets and balls. Sports enthusiasts can have fun on the multi-purpose field while the bowlers will join for wild parties of petanque; A playroom for toddlers and presents next to the playground and has many toys. For the older ones there is another room with electronic games and babyfoot. Many activity programs are offered to all holidaymakers and invite you to spend unforgettable moments of conviviality. During the day it will be possible to participate in circus workshops, take cooking classes, go on a pony trek or try archery. In the evening, there are night parties at the pool, musical evenings, clown shows or pancake nights. Pitches of 100 m2 are offered to campers and accommodate tents, caravans and motorhomes. All are delimited by vegetable hedges, which ensures comfort and intimacy. It will also be possible, for even more comfort, to rent a mobile home fully equipped....
Mobile home 3 pers. du 06/25 au 07/02
Marchand: Booking
Voir l'offre


Camping La Triloterie, open all year, is ideally located in Royan 930m from the large beach of Royan (Grande Conche beach), 2.5km from the beach of Saint Georges Didonne, 1.7km from the city center Royan and its animations and only 500m from the Royan Park: mini-golf, children's play area, pediment for the practice of Basque pelota, carousel (in summer), post...
Voir le camping
autre-destination-populaire-pres




















The campsite Le Walmone is 600m from Royan and less than 4km from the beaches. This campsite is a member of the Flower camping chain. Good VACAFs are accepted, which ensures holidaymakers can spend a stay at low prices. In the campsite, children and adults will have the pleasure of enjoying a covered and heated area dedicated to swimming. A pool of 110m2 will allow holidaymakers to enjoy pleasant bathing moments. A paddling pool accompanies the large pool to ensure maximum safety and fun for young children. A solarium area with deckchairs is available for those who want to take a moment to relax in the sun. Activities are at the rendezvous at Camping Le Walmone. Holidaymakers can indeed play tennis, petanque parties or enjoy the ping-pong. Those who would like to explore the area can take advantage of the bike rental service to make beautiful hikes. Camping Le Walmone offers all the family to participate in organized entertainment throughout the stay. Children will enjoy a club dedicated to them and participate in fun and creative activities. Aquagym sessions are organized and combine the pleasure of swimming with muscle strengthening. It will be possible to do diving baptisms for those who would like to explore the seabed. In the evening, the Walmone team organizes parties where holidaymakers can meet and have a good time. Dancing parties are organized as well as lotto nights, karaoke nights and themed meals with mussels and fries and paella. Concerts are planned during the month of July. The campsite has a shaded park which offers serenity to those who spend their stay on one of the available pitches. These can be sunny or shaded, are delimited and equipped with electricity. The sanitary blocks consist of hot layers, sinks and toilets in individual cabins. A baby area is present with bath and changing table....
Voir le camping
listing-text-elargisement km at Royan





Vaux-sur-Mer
-
Poitou-Charentes





The campsite Le Val Vert is a family-run 3-star hotel located in Charente-Maritime near Royan and the village of Vaux-sur-Mer. A heated swimming pool is available to holidaymakers. A paved beach with deckchairs surrounds the pool to relax. Children will have the opportunity to swim safely in the paddling pool that accompanies the pool. The bowlers will be able to take advantage of the ground to make parties and a corner ping-pong is also present. Children can have fun on the playground with its cabin, climbing wall and swings. The whole family can enjoy the games room, which offers billiards, pinball machines, foosball and arcade games. Near the campsite, it will be possible to play golf, horse riding, sea excursions, fishing, sailing and various walks. Entertainment is offered to everyone every week from July to August. Water polo games are organized as well as volleyball and petanque tournaments. It will be possible for those who wish to maintain fitness to take water aerobics classes. The animation team also organizes movie nights, dance nights and karaoke nights. The campsite Le Val Vert has grass pitches of 100m2, shaded and delimited by hedges. Sanitary blocks are present with crockery and laundry, sink, shower and toilet in the cabin and baby bath. Hot water is at will. Mobile homes are available for rent with kitchen, living room with sofa, two bedrooms, a bathroom with cabin and shower and sink, separate toilet and an outside with garden furniture and parasol. They can accommodate 4 people and are 18m2. Cottages are also for rent, they too with all the equipment and the necessary comfort but can accommodate 5 people....
Voir le camping



Vaux-sur-Mer
-
Poitou-Charentes



Located in the region of New Aquitaine, in the department of Charente-Maritime, in Vaux-sur-Mer, labeled tourist resort, camping 2 stars La Roche awaits you on the Atlantic coast, in the middle of oaks, in the heart of Millard wood, on its wooded and resting ground of 2.7 hectares being about 3 km from a fine sand beach favorable to multiple nature activities. In this quiet campsite close to the sea, you can stay, lulled by the song of birds, in mobile homes for 4 people, equipped for your comfort and equipped with a terrace with garden furniture. You can also install your tents and caravans on shaded sites, with access to electricity through a surcharge. Note that the campsite also offers residential sites for owners of mobile homes. Between a visit-discovery of the surroundings and a pleasant time spent at the beach, it will be good to relax and have fun on site by observing the flora and fauna surrounding, practicing fitness, petanque, badminton or ping-pong and for more young people, by investing the playground with inflatable structure specially dedicated to their attention. To restore you, convenience store, wood for sale and bread and pastries will also be available on the ground, not to mention the various markets, shops, bars and restaurants around. NB: WIFI accessible on the whole field! From this family campsite nestled between Royan and Saint-Palais-sur-Mer, practice galore water sports, horseback riding and hiking of all kinds - velodyssey close - admire the seascapes that will be offered to you from the path of customs and do not miss to visit the famous sites of the country royannais: the Palmyre zoo, Cordouan lighthouse and Talmont-sur-Gironde!...
Voir le camping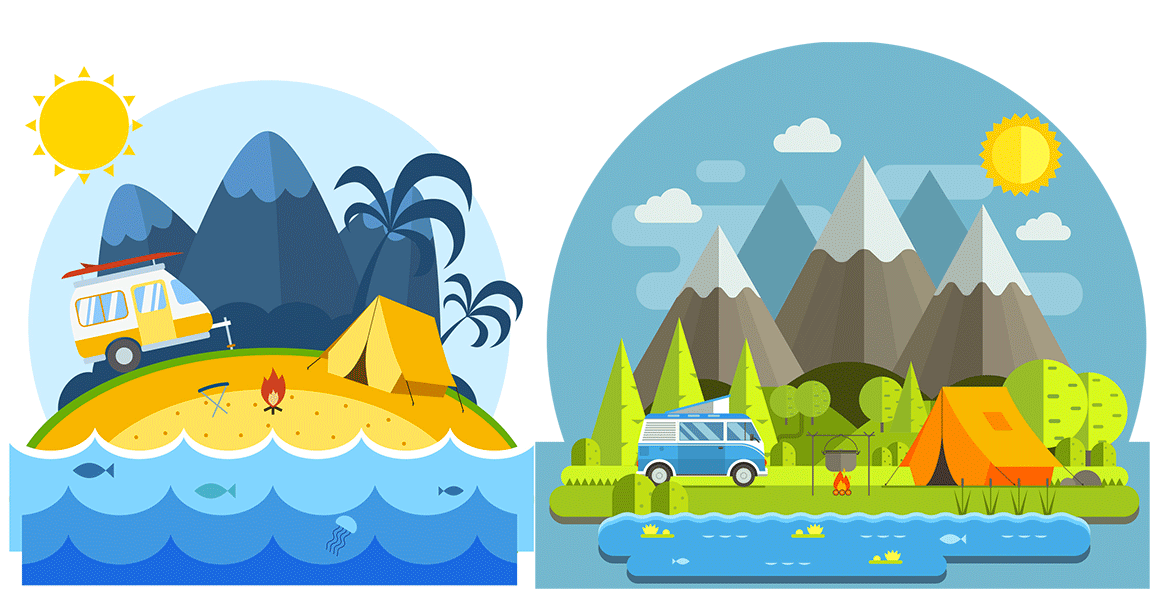 Vaux-sur-Mer
-
Poitou-Charentes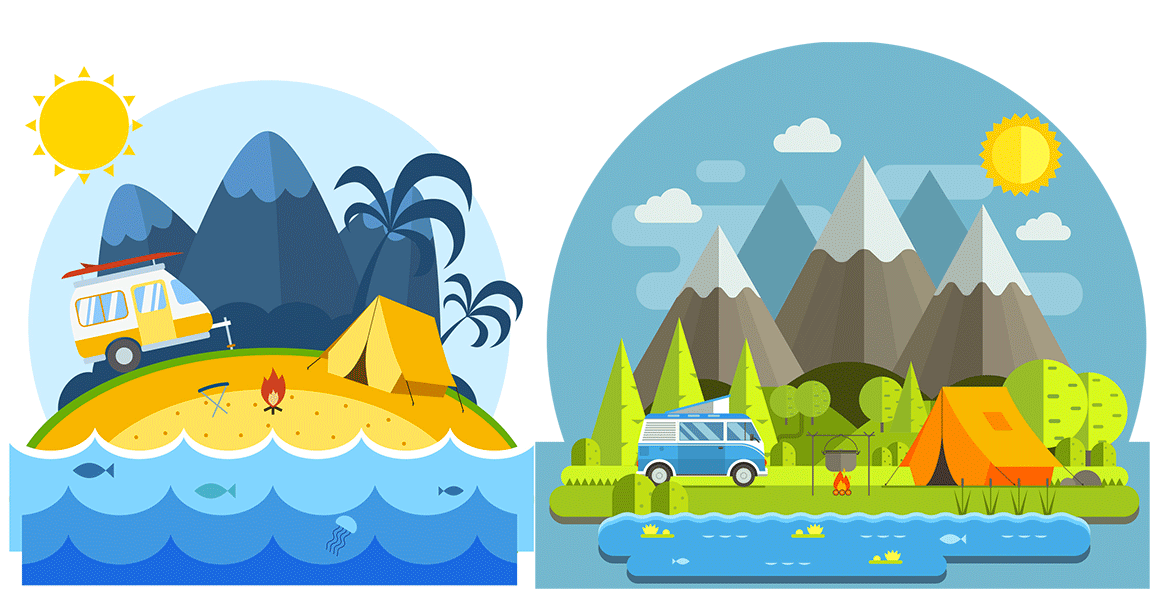 In New Aquitaine and Charente-Maritime, the 3-star campsite Chauchamps welcomes you in Vaux-sur-Mer, on the coast of Beauty, on its land of 4 hectares less than 2 km from a sandy beach of the coast atlantic, the supervised beach of Nauzan including a children's club and a sailing school. In this campsite near the seaside, you can stay in mobile homes, Eco, Comfort or Comfort plus, fully equipped with TV, can accommodate between 2 and 8 people, semi-mobile homes - semi-mobile homes -table-5 places or Coco Sweet for 4 people - the latter two types of accommodation do not have bathrooms - all with furnished terrace. There are also semi-shaded sites, with or without electricity, for tents, motorhomes and caravans. The campsite also offers the sale of new mobile homes. As for sports and leisure, you will be able to enjoy on-site a heated swimming pool and an outdoor paddling pool, several bowling alleys, ping-pong tables, volleyball, handball and basketball courts, play structures for children and adults. toddlers, a fitness area as well as pinball machines and other various games. In addition, sports tournaments, zumba and aquagym sessions, thematic evenings and shows will be the rendezvous during the summer. For your meals, you will find on the ground even snack bar, grocery store and bread deposit at your disposal and in the immediate vicinity municipal market, shops and various services. From this nice campsite, take the path of the customs officers to go for a walk while admiring in the distance the Cordouan lighthouse, spend a day with the family at the zoo of La Palmyre or at the Planet Exotica park of Royan and invest at leisure the vast beaches of surrounding fine sand, between Saint-Palais-sur-Mer (2 km) and Royan (3km)!...
Voir le camping








Vaux-sur-Mer
-
Poitou-Charentes








The campsite Le Nauzan Plage, a member of the Flower Campsites chain, is a 4-star establishment located in the Charente Maritime, near the sandy beaches, and which will allow holidaymakers to discover such must-see as the Zoo de la Palmyre, the famous Fort Boyard or La Rochelle and its aquarium. for its holidaymakers, the campsite Le Nauzan Plage offers a large heated outdoor swimming pool, rounded shape. This pool is heated to 28 ° C and it is surrounded by deckchairs, allowing the followers of idleness to spend moments of pure tranquility. For children, a paddling pool accompanies the pool and promises maximum safety for days of games and fun. In the campsite Le Nauzan Plage, those who want to have fun will have the opportunity to enjoy the multi-sports field, while children will have fun on the playground at their disposal, with trampoline and even inflatable structure. Throughout the stay, parents and children can participate in activities supervised by animators, family, with Olympics, wooden games and petanque competitions. Aquagym sessions are organized in the morning and will allow the most courageous to start the day off right. The holidaymakers, after a busy day, will be delighted to meet and enjoy dances, foam parties, karaoke sessions, themed meals with mussels and fries and paella, concerts, shows and other themed evenings that will delight the little ones like the adults in a family atmosphere can not be more. The campsite Le Nauzan Plage offers pitches defined by hedges, in wooded areas that offer an average area of 100m2, perfect to reconnect with nature. Many models of mobile homes are also available for rent with all the comforts for an ideal stay. Indeed, vacationers will have a kitchen, a bathroom, toilet and a terrace thanks to its mobile homes....
Voir le camping







Saint-Georges-de-Didonne
-
Poitou-Charentes







On the Atlantic coast, Campéole Les Bains Salés campsite in Saint-Georges-de-Didonne, located in the department of Charente-Maritime in the region of Aquitaine, welcomes you for holidays filled with sea spray, rays sun and grains of sand. In this seaside campsite, you can reside in a canvas bungalow for 4 people or two separate canvas bungalows placed side by side for 6 people. With no sanitation or water supply, these accommodations are composed of two bedrooms, a living room with storage, a fully equipped kitchen area and garden furniture. You can also invest bare sites with electricity for tents, caravans and camper. Within the site, playground, library, ping-pong table, petanque and volleyball are all equipment available to you. Cycling enthusiasts will be able to take advantage of the cycling area, ideal starting point for long walks through the forest paths, while lovers of merguez and chipolatas will be able to occupy the barbecue area to cook a meal in a friendly atmosphere. . To liven up your evenings, you will be offered film screenings in connection with the annual theme. Near this campsite, which is ideal for water sports of all kinds, why not try sailing, surfing or jet skiing? From the campsite Les Bains Salés, with its evocative name, discover the authentic ports and treasures of the Gironde Estuary, such as the Cordouan lighthouse, or, for urban enthusiasts, admire the diverse architecture that are the particularity of Royan!...
Voir le camping










Saint-Palais-sur-Mer
-
Poitou-Charentes










The campsite Les Ormeaux is located in Charente Maritime and offers a proximity to the sea and a family setting. At the 3-star campsite Les Ormeaux, the whole family will enjoy a large space dedicated to aquatic pleasures. A heated pool is present with massaging jets and overflow pool. The children have their own shallow pool, which is also heated. The beach around the pool has a solarium terrace dedicated to sunbathing. Water slides are present in this area, to the delight of small and big lovers of sledding. A playground is reserved for children with huts and slides and inflatable structures that will delight the youngest. Once a week, a dinner evening with dancing is organized. In high season, it is possible to refuel in bread and pastries. In the evening, fries, pizzas and takeaway meals are offered by the campsite snack bar. Pleasant camping sites are available as well as mobile homes and cottages for rent. All have bedrooms with beds, a living room, a small kitchen, a bathroom, separate toilet and a covered terrace. Near the campsite, holidaymakers can discover the seaside resort of St Palais sur Mer at the edge of the Atlantic with its large pine forests, sandy beaches, the coastal path, and the amusement park Raymmond Vignes. The Charente Maritime is known for its oysters, so gourmets can discover the famous oysters of Marennes. Those who wish will be able to discover Royan, its casino and its port. The region includes many forests that participate in its charm with bike paths that allow you to walk between sea and forest. The zoo of La Palmyre, the oyster road and the coastline invite holidaymakers to enjoy the most beautiful assets of the Charente Maritime....
Voir le camping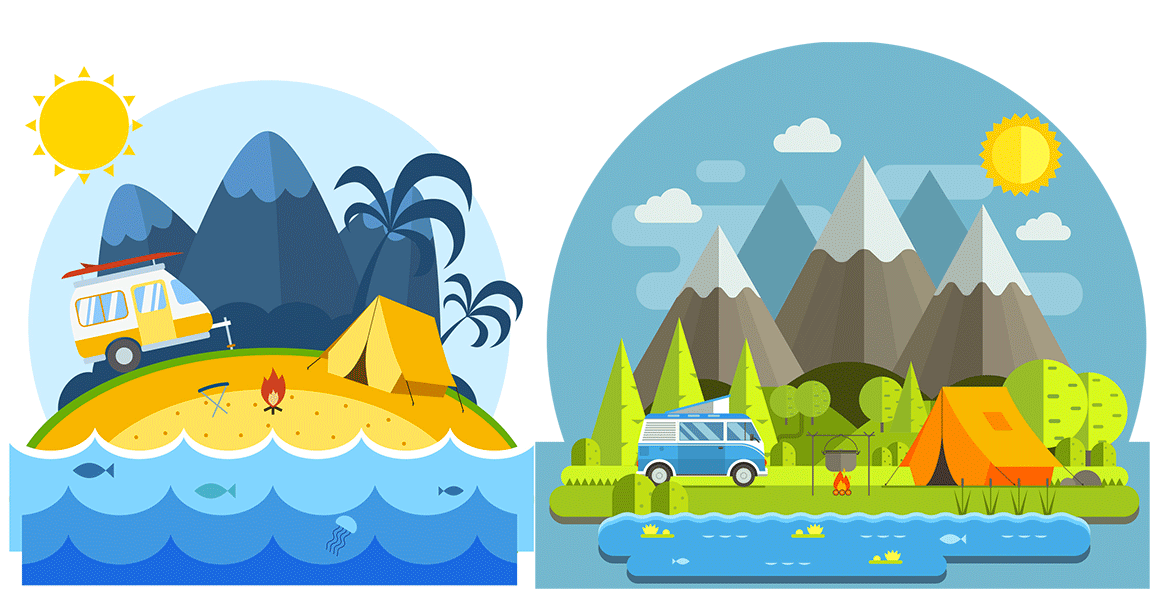 Saint-Palais-sur-Mer
-
Poitou-Charentes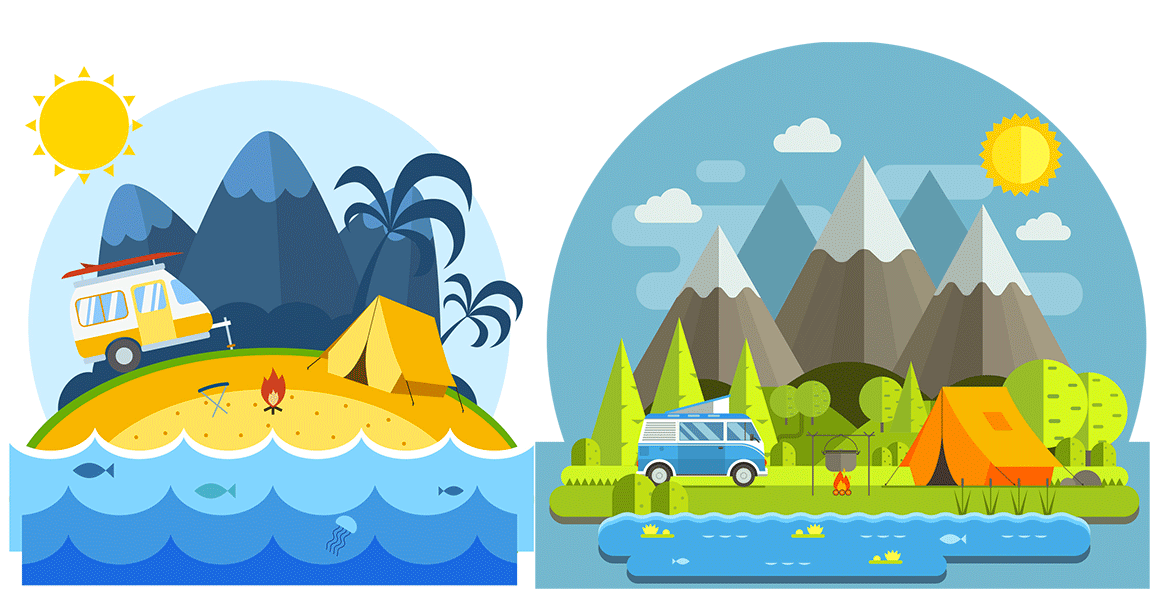 The camping Bernzac is located next to Royan, haven of peace in the heart of St Palais sur Mer. This campsite cultivates for you: silence and greenery, comfort and relaxation, at the gates of the beach of Nauzan. Many walking and cycling routes will be offered nearby, in the forest, along the beaches; visit of historical monuments, of our islands, discovery of the oyster parks, excursion to the zoo of the Palmyra, getaway in the branches or in the equestrian...
Voir le camping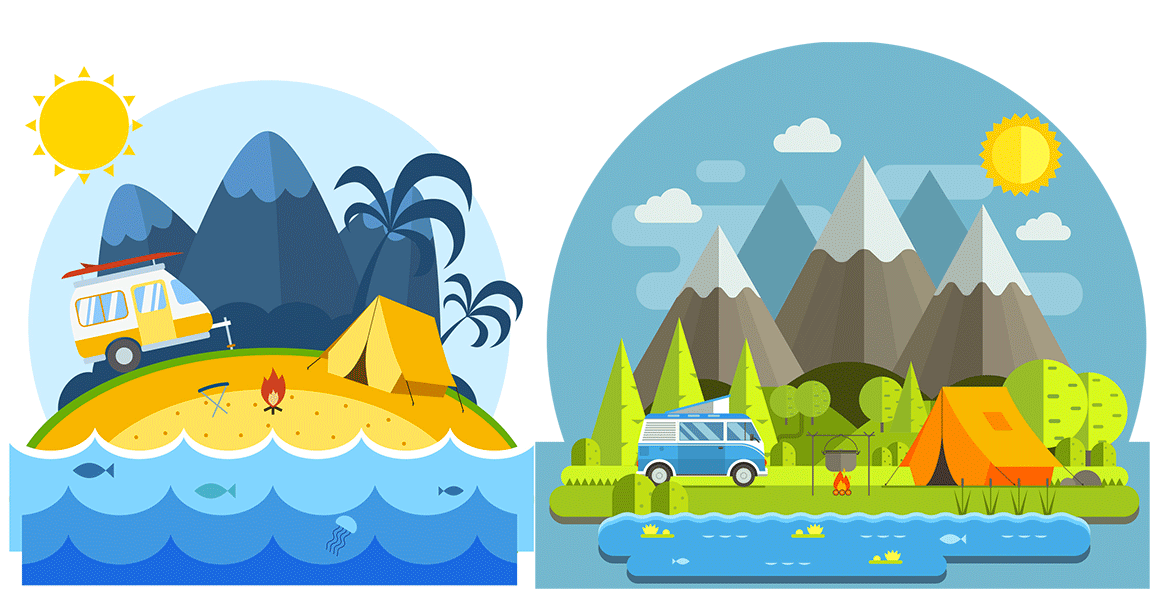 Étaules
-
Poitou-Charentes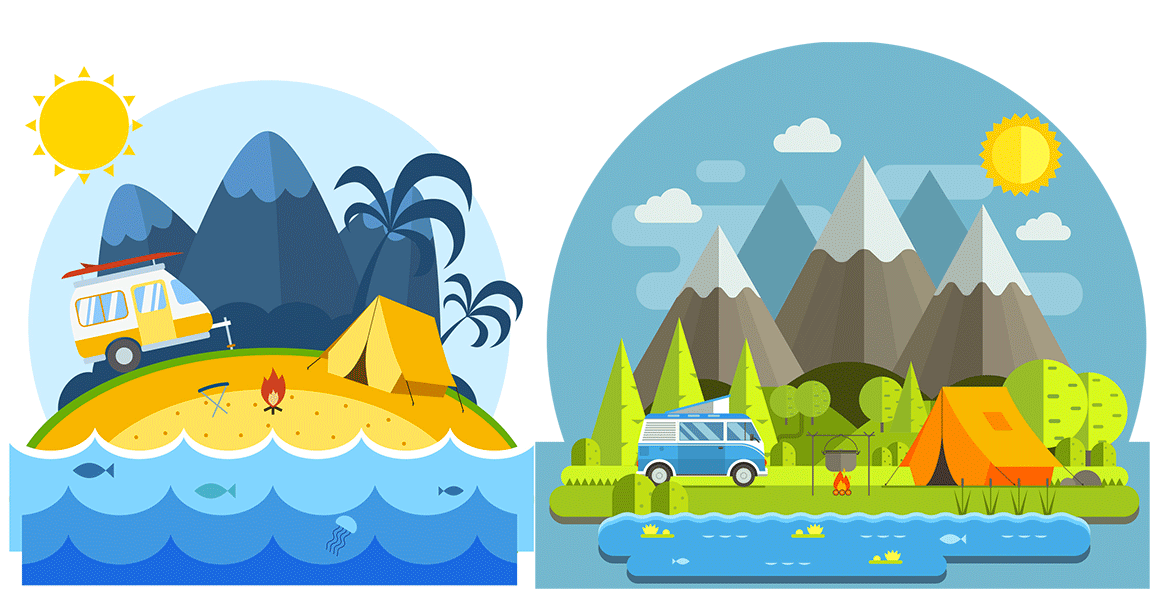 Located in Etaules, in the Presqu'île d'Arvert, in the Charente-Maritime department, in the Nouvelle-Aquitaine region, the 2-star campsite of the Park invites you to spend a quiet stay, surrounded by nature, in the heart of its verdant area of one hectare, located equidistant from Royan and the island of Oleron. In this campsite near the seaside, you can stay in mobile homes fully equipped for 2 or 4 people, or more unusual in tents equipped with toilets - without health - 4 places. On the other hand, you will find demarcated and semi-shaded pitches, with or without electricity, to receive your motorhome tents and caravans. Note that the campsite also offers residential sites year-round for mobile home owners. Between strolls through the varied landscapes around, children and adults can relax and have fun on site through a playground for the youngest, fields to practice galore bowling, volleyball and badminton, two ping pong tables and a common area conducive to idleness including various games available free of charge. You can finally enjoy a collective barbecue surrounded by picnic tables where it will be good to organize with family or friends an outdoor meal and a refreshment bar with hot or cold drinks and local specialties à la carte. Good to know: shops in the village a stone's throw away! From this eco-friendly and warm welcome camping, win the beautiful sandy beaches nearby, spend a day with the family at the zoo La Palmyre and discover the natural beauty of the forest of Coubre, surrounding swamp and the estuary of the Gironde!...
Voir le camping
You will find 7 campsites at Royan in Poitou-Charentes to spend your holidays..
The price of a mobile home rental in Royan is between 440€ and 1686€ per week.Much appreciated by campers, 4 3-star campsites are the best value for money. If it is the beach that attracts you in Poitou-Charentes, you can book a rental in one of the 2 campsites at Royan on the seaside. The camping comparator allows you to find the best price for your outdoor holidays in Royan.
Here is the identity card of the 7 campsites at Royan by range and equipment
- 2 campsites near the sea, - 1 campsites with a water park, - 3 4-star campsites, - 4 3-star campsites, - 6 campsites with a pool, - 1 campsites by a lake - 5 campsites that offer a kids club
The price of campsites at Royan, from 440€
On the price side, a week camping in Royan in a 4-person mobile home will cost you on average 788€ in high season and 757€ in low season.
Here is the evolution of the average prices 757€ for a rental of a family mobile home for 7 nights on a campsite in Royan over the whole holiday season.
In June : 757€, From 1-15 July : 1009€,
Our camping comparator allows you to compare the prices of camping trips to Royan for one and two weeks. However, you can book a short camping trip at Royan or a weekend in low season.
Choose a campsite in Royan : practical advice
To help you choose your campsite in or around Royan, we recommend that you consult the holiday notices and look at the geographical location in Poitou-Charentes of the campsites on the map. If you have specific questions about any of the campsites 7 at Royan in Poitou-Charentes, concerning accommodation, entertainment or rentals, ask your questions directly to the Camping Discussion Wall. If you are going with your family with children, this is the best campsite with a water area at Royan:
We propose here the list of campsites available at Royan classified by popularity. When booking your stay, please note that you can ask each campsite to Royan choose the location of your mobile home. If you are looking for peace and quiet in one of the 6 campsites in Royan, ask for accommodation away from the entertainment areas (pool, bar, restaurant...).
To make your stay easier, the campsite with the most popular Royan is:
Good deals and promotions on campsites at Royan
Finding a good plan or promotion on a campsite at Royan becomes easy! We update daily all the prices of mobile home rentals in Poitou-Charentes, furnished tents and unusual accommodation. You can find the best camping promotion every day at Royan. We advise you to take advantage of the last minute offers in Poitou-Charentes which will start from the opening of the campsites at the end of May. On the good side, look at the evolution of the prices of large capacity mobile home rentals because it is often on this type of rental that you will find an interesting discount for your holidays at Royan.
We therefore wish you to find the campsite of your dreams at Royan for your family holidays in Poitou-Charentes!
nouvelles-idees-destinations-autour