Camping Mesquer : The guide camping-to-compare
top-camping-du-moment-by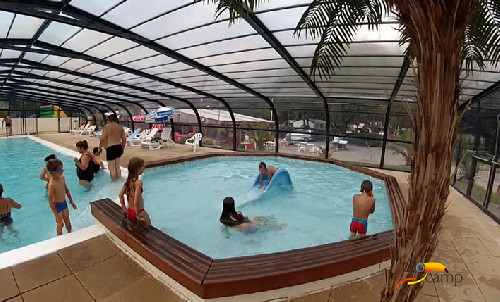 Pays de Loire
Dès 196€ /sem
Guérande
Camping L'Etang du Pays Blanc
Camping Mesquer : The guide - 7 campings à comparer










In Pays de la Loire, in the Loire-Atlantique department, the 3-star campsite Château de Tréambert awaits you in Mesquer, north of the peninsula of Guérande and in the heart of the Brière Regional Nature Park, on its domain verdant 17 hectares that will seduce you with its heated water park, its natural environment and its privileged location. To accommodate you in this holiday village 2 km from the first beaches, you will have the choice between many chalets equipped for 4 or 6 people - including 5 are adapted for people with reduced mobility - or Pagan Lodges Maasai 4 places. Note that there are no pitches available to accommodate tents, motorhomes and caravans. It is impossible to get bored at the Château de Tréambert thanks to the various equipment and animations present on site. At the equipment level, you will have a heated water area, many sports fields, mini golf, TV and library areas, rental bicycles and a theater. In terms of entertainment, the youngest will be able to invest in the kids club or participate in the various activities for teenagers, while the older ones will be able to have fun and play sports tournaments or aerobics classes before meeting together. at the end of the day as part of a fun evening, musical or show. In addition, the campsite organizes outdoor tours and arranges excursion programs on demand. Finally, for your meals, you will find a snack bar with terrace, a grocery store with bread and pastries and several collective barbecues. NB: the campsite accepts good VACAF! From this campsite-holiday villages in the Pays de Guérande, get acquainted with water sports, enjoy a boat ride and do not miss to visit the must-see salt marshes!...
Voir le camping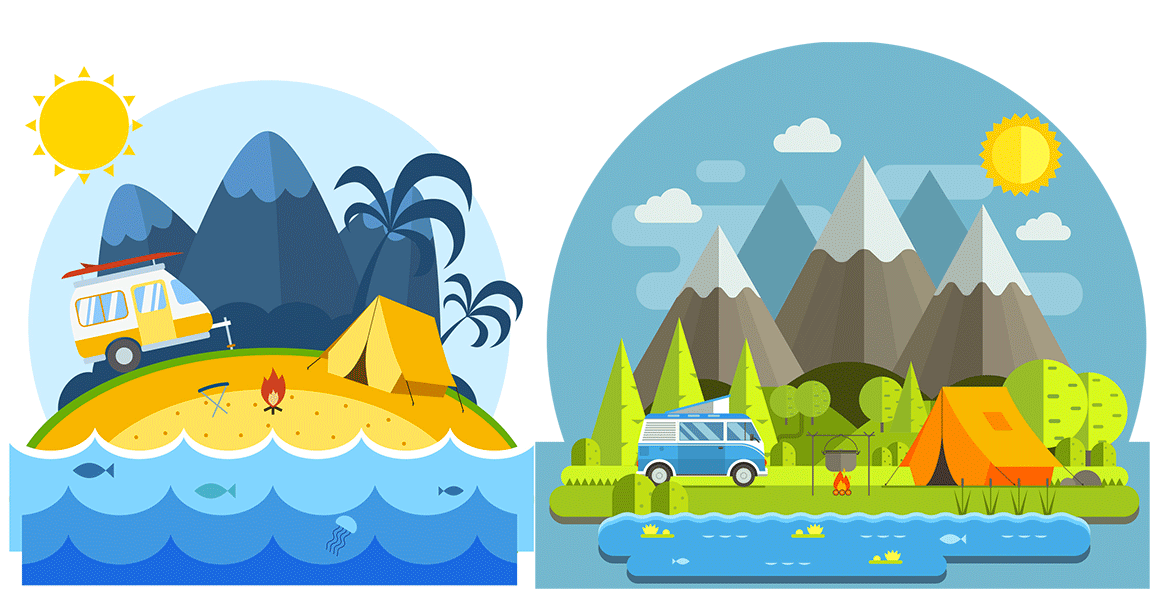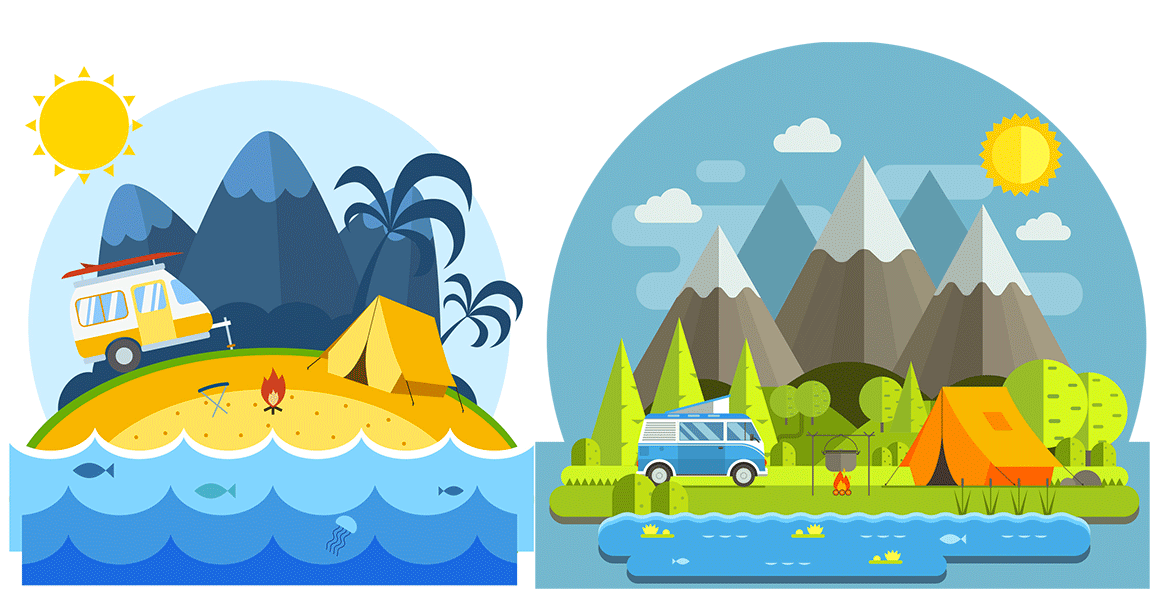 The 3-star campsite Le Beaupré welcomes you in Mesquer, in the Loire-Atlantique department, in the Pays de la Loire, on its family and relaxing ground located 500 meters from a beach suitable for fishing and 1.6 km from the beach of Sorlock where it will be good to bask on the fine sand between two swimming in the Atlantic waves. In this campsite close to the sea, you can stay in the choice of fully equipped mobile homes or furnished duplexes, with terrace with garden furniture and can accommodate between 4 and 6 people. You can also install your motorhomes, tents and caravans on shady pitches, all with an electrical connection. Library, playground for children, table tennis, petanque, bikes for rent and various games available are all sports and recreation facilities present on site that will pleasantly pleasant stay of children and adults. At the catering level, you can have on the campsite even a snack bar, a bread and pastries in the morning and barbecues graciously lent and enjoy themed meals regularly organized in a friendly atmosphere. From this campsite in Brittany Sud, close to the picturesque port of Kercabellec, go hiking in all kinds on the various paths, do not miss to visit the fortified city of Guérande and the salt marshes are about ten kilometers from there, and go to fill up with nature in the heart of the Regional Natural Park of Brière (15 km)!...
Voir le camping












On 2 hectares the campsite Welcome on the sea near La Baule and Guérande 100 pitches with indoor heated pool, in the south of Brittany in the Loire Atlantique will seduce you in a wooded and flowery. For a cheap holiday this quiet and quiet family campsite (no entertainment in the evening) will offer rental mobile home ideal for families with young children or...
Voir le camping
ville-les-plus-rechercher-pres








The campsite Le Château du Petit Bois offers a privileged location In Loire Atlantique near the medieval city of Guérande. Within the campsite is a 28 ° heated pool with water slides, waterfall, whirlpool and geysers. The slides overlook a separate reception area to avoid any risk of collision. The little ones will have the joy of swimming in the paddling pool with small aquatic playground. The terrace of the restaurant adjoins this beautiful aquatic space. A multi-sports field is available as well as a volleyball court and a ping-pong area. A games room is present. A large playground with swings slides monkey bridge and small train will allow children to have fun at will, as well as trampolines. For teens and adults, sports tournaments are offered with basketball, football, volleyball, badminton, ping-pong and petanque. Children from 4 to 10 years old can be welcomed at the kids club where animators will make them play and artistic activities with makeup workshops, photophore, painting, hut contest, treasure hunt etc ... In the summer evening are proposed animations. Campers will be able to feast during the theme meals of the restaurant, have fun during quiz nights or blind test and move in rhythm during the disco dance parties and concerts of all kinds. Pitches are available, sunny or shaded with an area of 100m2. It is also possible to rent a mobile home for a comfortable stay. There are several models that can accommodate from 2 to 6 people. Around the campsite Le Petit Bois castle, holidaymakers can visit salt marshes, the Océarium du Croisic or the fishing house in Turballe. Young and old alike will love to discover the animals of the Planète Sauvage safari...
Voir le camping






















Looking for an upmarket and family campsite near the beaches in South Brittany? Welcome to Camping Au Soir Summer 4 * at Mesquer Quimiac! Located 800 meters from the beach of Quimiac and 500 meters from its shops, this campsite near La Baule and Guérande offers all the flavor of Brittany between beach and pool! At 4 * Summer evening you can choose to swim in the sea or in the pool. A covered and heated pool awaits you and your children with paddling pool, water slides and balneo area. After swimming, you will enjoy the quality of camping equipment: multisport field, playground for children, inflatable structures, bike rental ... And can participate in the entertainment offered by the campsite during the day and evening. As for accommodation, the Au Soir summer campsite has chalets and mobile homes as well as raised wooden huts. These "Nest" huts are raised on stilts and have a terrace on the pontoon. The mobile homes have 2 rooms for 2 to 6 people or 3 separate rooms for 6 to 8 people. Each mobile home has an outdoor or semi-covered terrace. The chalets are for 2 to 6 people in two bedrooms and have an integrated or semi-covered terrace. If you travel with your own tent, caravan or camper, you can sit on bare pitches in the shade of tall trees. At the campsite you will find a snack bar, take-away food, a restaurant and a fresh bread roll each...
Voir le camping


The campsite Prad Héol in Mesquer, located in the Pays de la Loire, is a family campsite. Organize your family holidays and take advantage of the pitches or rental of mobile...
Voir le camping
autre-destination-populaire-pres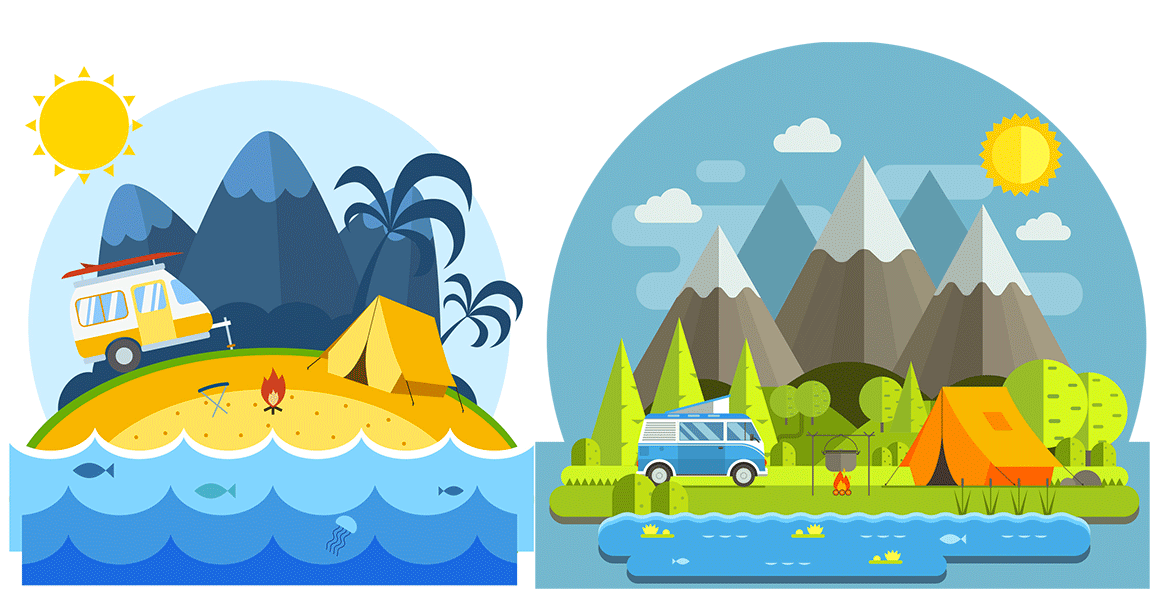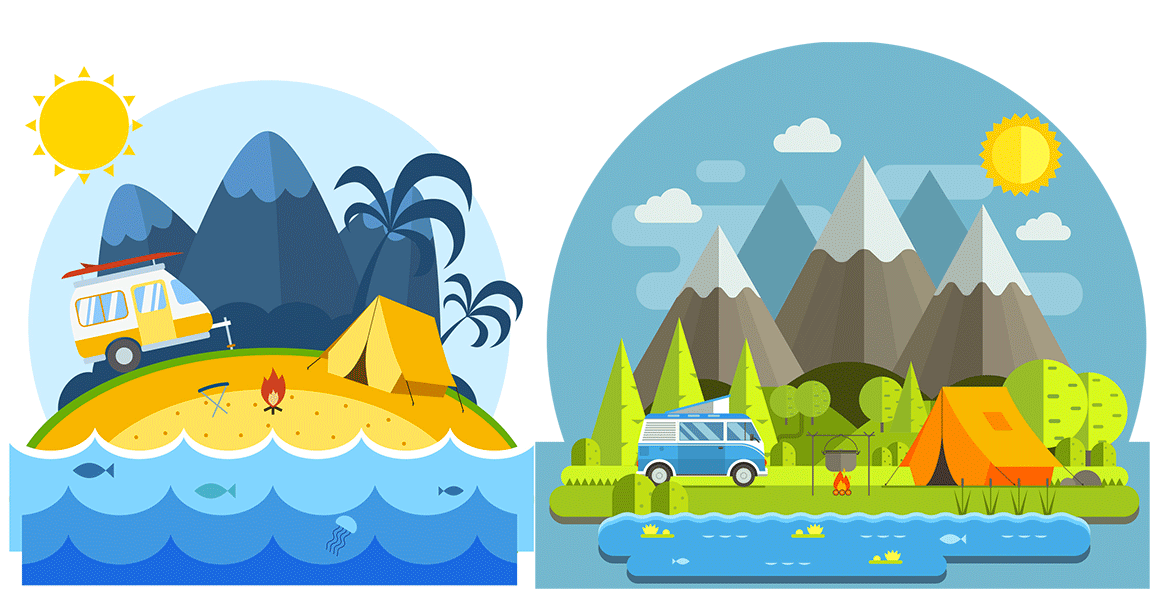 Voir le camping
listing-text-elargisement km at Mesquer

Saint-Molf
-
Pays de Loire

Looking for a quality campsite near the sea in South Brittany? The campsite Au Domaine de Kernodet 4 * in Saint Molf is waiting for you. Located 3 km from the beach of St Molf and 5 minutes by car from Guérande, this high-end campsite offers all the flavors of Brittany between salt marshes, sand and pebble beach and water park. At the Domaine de Kernodet you can swim in the sea or in the pool. The aquatic area of the campsite consists of two covered and heated pools, a lagoon pool outside and a paddling pool for your children with slides. A spa area with whirlpools and a SPA await you at the end of the pool. As for accommodation, the campsite Au Domaine de Kernodet offers chalets and mobile homes for rent. The mobile homes have 2 or 3 bedrooms for 4 to 6 people in an indoor space of 29 to 33 square meters. Each mobile home has a terrace with a garden furniture, canvas or fully covered. The comfortable chalets enclose 2 bedrooms for 4 or 5 beds in a living space of 32 to 35 m². If you travel with a tent, a caravan or a motorhome, you will have prepared, delimited and shaded pitches. At the 4-star campsite you will not miss any activity proposals: fitness room, games room and playground for children, multisport field ... As for your plates, you will find them copious and ready at the Grill - bar of the...
Voir le camping







Saint-Molf
-
Pays de Loire







In the Pays-de-la-Loire region, in the Loire-Atlantique department, the 3-star campsite L'île de Kernodet will meet you in Saint-Molf, on its verdant 2-hectare site in a quiet environment. relaxing, located 5 km from the beaches of Quimiac, for a holiday alternating the pleasures of the sea to those of the countryside. This campsite in the countryside and near the seaside offers two types of rentals: on the one hand, comfortable mobile homes for 4 or 6 people, including 2 or 3 bedrooms, a living room equipped with a television and a covered or discovered terrace with living room of garden; on the other hand, spacious pitches, delimited and shaded, with access to water and electricity., intended to receive your caravans, campers and tents. Note that the campsite also has a room available for rent and used mobile homes for sale. To the delight of all, the campsite offers a heated pool with a wading pool, an infinity spa, a jacuzzi and plenty of sunbeds to fill the sun between two moments in the water. In addition, there is a playground for slippers, basketball and petanque, ping-pong, billiards and table football. Finally the pond on the campsite itself will be the opportunity for beautiful fishing solo, with friends or family. From this small family campsite in the South of Brittany, discover the natural charms of the Côte d'Amour, visit the famous salt marshes of Guérande and the Regional Natural Park of Brière and do not miss to spend a day in La Baule, whose beach is known to be one of the most beautiful in Europe!...
Voir le camping






















Camping de la Baie is a 3-star establishment located near La Baule and Guérande. The Baie campsite invites its guests to enjoy an area entirely devoted to aquatic pleasures. An outdoor pool heated to 28 ° is present, accompanied by a paddling pool with slide, heated too. To relax, a hot tub is available as well as a solarium with deckchairs that extends over an area of 400 m2. Twice a week, the campsite organizes night sessions at the pool for moonlit swimming. Children will enjoy a playground and an inflatable structure. Athletes will be able to participate in petanque tournaments to enjoy the multisports ground for basketball, football, volleyball or ping-pong. A games room is present with games of puck, pinball and foosball. Younger guests can also go on pony rides. The Baie campsite is a point of honor for its campers to have an unforgettable stay. Thus, many activities are organized in the evening, with convivial dance evenings and concerts and shows offered by external speakers. Campsites are available for caravan, camper and tent. These last are of a good surface, on a grassy ground and are delimited by hedges. There are shady pitches and sunny sites. It is possible to spend a stay at the campsite of the Bay with even more comfort thanks to mobile homes and chalets available for rent. Several models are available as the family cottage which consists of a bedroom with double bed and a bedroom with single beds and bunk beds. A kitchen with hob and appliances and presents, as well as a bathroom with shower and sink. The toilets are independent. TV is included in the rental and a covered terrace with garden furniture and parasol will bring a place of conviviality where the whole family can meet....
Voir le camping




The campsite L'étoile de Mer is located in Pays de Loire, just 300 m from the seaside and is close to La Baule and Guérande. Camping with heated pool in Pays de Loire The pleasures of swimming will be at the rendezvous within the camping L'étoile de Mer. Indeed, the holiday makers will be able, during their stay, to benefit from the presence of a superb swimming pool covered and heated which will allow to bathe at any time of the day and whatever the weather. At the campsite, campers can bathe in water at ideal temperature ranging from 25 to 28 ° C. The large size of this pool will allow swimming enthusiasts to swim while the children have fun and some will enjoy a good moment of relaxation offered by the pool with massage jets. Lovers of relaxation will take great pleasure in lounging on deckchairs arranged on the solarium which is available with the pool. On the campsite L'étoile de Mer, holidaymakers will not miss activities to fill their stay. Indeed, sports enthusiasts will have great pleasure to enjoy a multisport field while the bowlers will enjoy the presence of 3 petanque courts. A table tennis table is at the disposal of holidaymakers as well as a large playground for children. By staying in a campsite near the ocean, holidaymakers will have the chance to enjoy all the pleasures offered by the seaside. Between swimming and idleness, adults will be able to watch the children who will have fun making castles. sand. Various water sports will be available to holidaymakers who can enjoy an enchanting setting. Campsite in Southern Brittany By staying at the camping L'étoile de Mer, campers will appreciate sites for tents, caravans and motorhomes with an area of about 100 m2. These locations may be shaded or sunny just 300 m from the seaside....
Voir le camping










Piriac-sur-Mer
-
Pays de Loire










Located on the Guérande peninsula near the seaside is the Parc Guibel campsite. This 3-star family-run establishment promises a relaxing stay in a most pleasant setting. For its holidaymakers, the Parc du Guibel campsite offers a large outdoor aquatic area with over 500m2 of pools. Water slides are present and promise to young and old a maximum of thrills. Young children will have the opportunity to enjoy a paddling pool adapted to their size. An indoor area with heated pool will allow holidaymakers to relax. This covered area also has a swimming river. To relax, holidaymakers will enjoy the anatomical benches and massage jets available to them. In the campsite, each member of the family will be able to take part in activities that interest him. Sports enthusiasts will play football, table tennis or gymnastics, while children will have fun and let off steam in the playground at their disposal. In the vicinity of the Guibel Park campsite, it will be possible to go fishing, or water activities since the campsite is only 1km from the sea. Those who want to discover the surroundings and lovers of beautiful landscapes are sure to make beautiful hikes or bike rides. For the more courageous, a park in the trees is only 800m from the campsite and offers a lot of sensations. The equestrian center, next to the campsite will allow young and old to make beautiful ride on horseback or pony. During their stay, children will be able to join the mini-club which will offer them to participate in many fun activities that will make them happy. The team at the campsite also offers, at the end of the day, to meet for lotto nights, karaoke or even dance evenings. For campers, pitches of 100m2 are proposed, delimited between them in a green and flowery area. These pitches can accommodate a tent, a caravan or a camper. Several models of mobile homes and chalets are available for rent and provide optimal comfort with all the necessary amenities....
Voir le camping






















The campsite Airotel 4 stars Le Moulin de l'Eclis offers its holidaymakers the opportunity to spend a holiday rich in activities but also very relaxing in Assérac in Loire-Atlantique. The campsite Le Moulin de l'Eclis has two large aquatic areas suitable for the whole family. The outdoor area consists of a large pool for swimming accompanied by a relaxing pool and two large pentaglisses, a slide and a large toboggan slide with a length of 62m, the giving everything in a basin of reception. Two water cannons and a cascade come to decorate the aquatic space as well as a mini river with countercurrent. The whole family can also enjoy the balneo area which can accommodate 8 people. Very comfortable sunbeds are installed all around the aquatic area and allow relaxation lovers to relax in the sun or in the shade of a bamboo umbrella. The other aquatic area is covered and heated. It has a swimming pool and a beautiful paddling pool with waterfalls and small slide for the delight of toddlers. This space is also a place of relaxation as it invites holidaymakers to enjoy massage benches and a water cannon, ideal for massaging the back. The campsite Le Moulin de l'Eclis also has a Spa with hammam, whirlpool, massage guns and treatment room. Those who want to do some exercise can also enjoy aquabiking. Many activities are offered at the campsite Le Moulin de l'Eclis, for adults and children alike. They will also be able to join the mini-club, which will offer them many fun activities. In the evening, shows and other fun activities are offered for the whole family. The Moulin de l'Eclis offers holidaymakers the opportunity to stay not only on their camping pitches, but also in one of the many accommodations available for rent. Many models of mobile homes and chalets are proposed, adapted to all needs and fully equipped....
Voir le camping


















Ideally located between sea and countryside near Guérande, the 3-star campsite les Prairies offers a very natural holiday 5 minutes from the beach. Book a mobil home any comfort with 2 or 3 rooms, a spacious and sported site in a family camp-site where peace and tranquility are the key words. In a caravan, motorhome or under a tent, you can relax with family or friends in a natural setting and enjoy the leisure activities offered on site: aquatic area with indoor heated pool, spa, recreation area with playgrounds....
Voir le camping




















The 3-star campsite Domaine de Pont-Mahé offers a beach holiday and accepts the good VACAF that allow to spend a stay at lower cost. Holidaymakers will enjoy an indoor pool heated to 28 ° surrounded by armchairs and sun loungers to relax. A heated paddling pool is in the open air. The latter is equipped with a slide and a water mushroom. A playground is open for 2-12 years with games on spring, spider web and slide. In the morning, adults can go to the pool to do water aerobics twice a week, and pétanque tournaments are organized every week, prizes are up for grabs. Teens will be able to participate in beach soccer and ping pong tournaments. The bar offers table football, pinball and billiards. The pool also allows for water polo matches. On the beach of Pont Mahe, holidaymakers can learn about kite surfing. A children's club supervised by a children's facilitator invites young people from 5 to 12 to come and enjoy various activities. They will be able to play various games as a team, take dance classes and learn choreographies that will be presented to parents during shows. They can do treasure hunts, sand castle competitions and even creative workshops with jewelry, paintings and various objects made from wood, pearls etc ... Animated evenings are offered with the meal program mussels and fries and other themed parties such as karaoke party, disco party, Tahitian evening, white party etc ... Shows and concerts are regularly offered. The campsite Domaine de Pont-Mahé offers holidaymakers the possibility of renting a chalet, a mobile home or a bungalow to enjoy a family holiday in undeniable comfort....
Voir le camping
You will find 7 campsites at Mesquer in Pays de Loire to spend your holidays..
Much appreciated by campers, 6 3-star campsites are the best value for money. If it is the beach that attracts you in Pays de Loire, you can book a rental in one of the 4 campsites at Mesquer on the seaside. The camping comparator allows you to find the best price for your outdoor holidays in Mesquer.
Here is the identity card of the 7 campsites at Mesquer by range and equipment
- 4 campsites near the sea, - 1 campsites with a water park, - 1 4-star campsites, - 6 3-star campsites, - 4 campsites with a pool, - 3 campsites that offer a kids club
The price of campsites at Mesquer
To get the best price for a mobile home rental on a campsite in Mesquer, we advise you to compare prices. It's ideal for finding a cheap campsite. Indeed, we observe on average cost variations of nearly 20% on a mobile home, furnished tent or bungalow rental during the high season of the holidays in Mesquer.
From 1-15 August : 582€, From 16-30 August : 449€, In September : 389€.
Our camping comparator allows you to compare the prices of camping trips to Mesquer for one and two weeks. However, you can book a short camping trip at Mesquer or a weekend in low season.
Choose a campsite in Mesquer : practical advice
To help you choose your campsite in or around Mesquer, we recommend that you consult the holiday notices and look at the geographical location in Pays de Loire of the campsites on the map. If you have specific questions about any of the campsites 7 at Mesquer in Pays de Loire, concerning accommodation, entertainment or rentals, ask your questions directly to the Camping Discussion Wall. If you are going with your family with children, this is the best campsite with a water area at Mesquer:
Camping LE CHATEAU DE TREAMBERT EST
We propose here the list of campsites available at Mesquer classified by popularity. When booking your stay, please note that you can ask each campsite to Mesquer choose the location of your mobile home. If you are looking for peace and quiet in one of the 4 campsites in Mesquer, ask for accommodation away from the entertainment areas (pool, bar, restaurant...).
To make your stay easier, the campsite with the most popular Mesquer is:
Camping Le Château du Petit Bois
Good deals and promotions on campsites at Mesquer
Finding a good plan or promotion on a campsite at Mesquer becomes easy! We update daily all the prices of mobile home rentals in Pays de Loire, furnished tents and unusual accommodation. You can find the best camping promotion every day at Mesquer. We advise you to take advantage of the last minute offers in Pays de Loire which will start from the opening of the campsites at the end of May. On the good side, look at the evolution of the prices of large capacity mobile home rentals because it is often on this type of rental that you will find an interesting discount for your holidays at Mesquer.
We therefore wish you to find the campsite of your dreams at Mesquer for your family holidays in Pays de Loire!
nouvelles-idees-destinations-autour