Camping Les Berges du Canal
Villeneuve-lès-Béziers
|
Hérault
|
Languedoc-Roussillon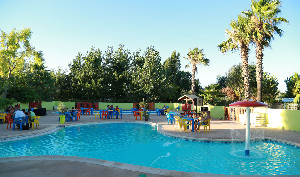 ---
---
Toeristische activiteiten Camping Les Berges du Canal
Top tourist activities
Languedoc-Roussillon
|
Sète
|
Distance to campsite: 22.2 Km
Category: Etang Public: En famille
Languedoc-Roussillon
|
Distance to campsite: 38.2 Km
Category: Lac,Randonnée Public: En famille
Languedoc-Roussillon
|
Distance to campsite: 106.2 Km
Category: Canal Public: En famille
The closest activities
Plage centrale
Languedoc-Roussillon
|
Sérignan
|
Distance to campsite: 8 Km
Category: Plage Public: Tout public
 Plage des Tellines
Languedoc-Roussillon
|
Valras-Plage
|
Distance to campsite: 8.1 Km
Category: Plage Public: Tout public
 Plage Centrale
Languedoc-Roussillon
|
Valras-Plage
|
Distance to campsite: 8.3 Km
Category: Plage Public: Tout public
 Plage du Casino
Languedoc-Roussillon
|
Valras-Plage
|
Distance to campsite: 8.6 Km
Category: Plage Public: Tout public
 Plage du Bosquet
Languedoc-Roussillon
|
Portiragnes
|
Distance to campsite: 8.6 Km
Category: Plage Public: Tout public
 Plage de la Redoute
Languedoc-Roussillon
|
Portiragnes
|
Distance to campsite: 9 Km
Category: Plage Public: Tout public
 Plage des Montilles
Languedoc-Roussillon
|
Vendres
|
Distance to campsite: 10.5 Km
Category: Plage Public: Tout public
Plage de la Farinette
Languedoc-Roussillon
|
Vias
|
Distance to campsite: 12.9 Km
Category: Plage Public: Tout public
 Plage de la Grande Cosse
Languedoc-Roussillon
|
Fleury-d'Aude
|
Distance to campsite: 13.2 Km
Category: Plage Public: Tout public
 Plage de la Tamarissière
Languedoc-Roussillon
|
Agde
|
Distance to campsite: 14.1 Km
Category: Plage Public: Tout public
---
Description
Camping Les Berges du Canal
Villeneuve-lès-Béziers
|
Hérault
Address of the campsite:
Prom. des Vernets
---
The family campsite Les Berges du Canal is located on the banks of the Canal de Midi, a stone's throw from the Mediterranean beaches which makes the camping ideal for holidays near the water. It is bordered by the vineyards of Languedoc, the largest vineyard in France. On the canal, it is possible to sail by boat, canoe or electric boat and make walks on foot, bike or horseback along the banks. For a cheap holiday, the campsite accepts VACAF holiday vouchers.
Within the campsite, an aquatic area is available, consisting of two basins. The first pool is dedicated to swimming and games, the second, accessible to all, is reserved for games of smaller. There is a curtain and jets of water, as well as bubble seats for adults who accompany children or to relax on the water. The pool is open, in full sun, and sunbeds are installed all around to enjoy sunbathing. The aquatic area is surrounded by trees and greenery to end up in a cocoon on vacation. In the aquatic area, a bar-glacier offers its services to cool off.
The campsite Les Berges du Canal offers many mobile homes, which can accommodate from 2 to 6 people for some. They are fully equipped, with up to two bedrooms, bathroom WC separated, convertible sofa in the living room, kitchenette equipped with fridge, fridge, hob and coffee maker. Each rental has a small terrace with garden furniture included.
The campsite has a good atmosphere and a friendliness foolproof: it regularly organizes many activities for large 'evenings swimming pools, pétanque competitions, election of Miss and Mister and also for children through his Kid's Club for vacations in successful families. p>
Opening date : 15/03
Closing date : 15/09
Payment options: CB / Chèque vacances
Number of pitches: 82
---
campsites nearest to Camping Les Berges du Canal

Camping La Gabinelle
Sauvian
- Languedoc-Roussillon

Camping Le Sérignan-Plage
Sérignan
- Languedoc-Roussillon

Camping Aloha Village
Sérignan
- Languedoc-Roussillon

Camping La Maïre
Sérignan
- Languedoc-Roussillon