The most beautiful campsites in Burgundy camping-to-compare
top-camping-du-moment-by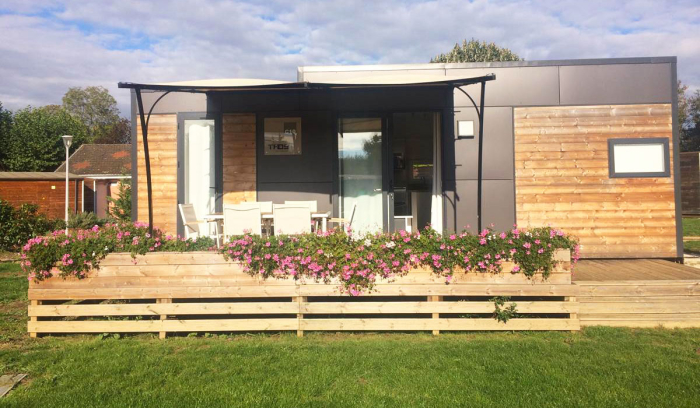 Burgundy
Dès 526€ /sem
Chagny
Camping Le Paquier Fane
The most beautiful campsites in Burgundy - 108 campings à comparer




Located in Dijon, Camping du Lac Kir is located, as its name suggests, near a lake. At the campsite, holidaymakers will enjoy a ping-pong area for entertaining. Children will have the pleasure of enjoying a playground dedicated to them and allowing them to play with friends for hours. Only 1km from the campsite, holidaymakers can enjoy a large aquatic area with an outdoor swimming pool and an indoor pool. With these pools is a fun water slide. Golf enthusiasts will only have 5km to practice their favorite sport while fishing enthusiasts will be delighted by the surrounding environment. It will be possible to go cycling and mountain biking, or paragliding for those who would like to admire the beauty of the landscape from a completely new angle. The privileged location of the campsite on a river and near a lake will allow lovers of water fun to cool off and do activities such as windsurfing, boating and sailing. The campsite team provides a 24-hour reception and speaks English and Spanish. A deposit of breads and croissants is present and it will be possible to buy good regional products. A snack bar service will allow you to eat and wifi access is available. Campers will have access to hot showers and it will be possible to empty their camper. Pets are allowed on the pitches and the accesses are adapted for people with reduced mobility. The region around Dijon invites to discover the wine route of Burgundy. History buffs can discover the Château de Sully and nature lovers can stroll through the Morvan Natural Park....
Voir le camping














Camping Nevers is located, as its name suggests, in the city of Nevers in Burgundy, which is the capital of Earthenware. This campsite takes the CampingCard ACSI . Nevers is located 240 km south of Paris, and is on the road to Saint Jacques de Compostela. Each year, many pilgrims come to visit the famous sanctuary of Saint Bernadette with its spacious and bright corridors, its park and its chapel and the reconstructed cave of Massabielle, where the Virgin Mary appeared to the young woman. The region offers the opportunity to experience whitewater sports with several options such as rafting, hydrospeed or canoe that await the holiday makers to make them live an unforgettable experience full of thrills. The Ducal Palace of Nevers is a magnificent construction in stone that will make visitors discover many remains of excavations as well as a slide show on the history of the city. Nature lovers will not fail to admire the Panorama of Bec d'Allier where the waters of the Loire and the alley marry. Sandbanks, alluvial forest and meadows will delight fans of flora and fauna. Wine lovers can also visit the vineyards of Burgundy and discover the Sancerre Blanc by tasting it around a good table or in a cellar. The activities around the campsite are not lacking either with direct access to the river that will delight fishing enthusiasts, as well as a volleyball and badminton court. A playground for children is present and allows the youngest to have fun as much as they wish in complete safety. The surroundings of the campsite are also full of activities that can be used by holidaymakers, including many hiking trails with marked trails, but also mini-golf and bowling, tree climbing, a water sports center and even a parachuting center! Camping Nevers is therefore the ideal place to spend family holidays with the guarantee of never getting...
Voir le camping






























Camping Saulieu is located in the Morvan, two hours from Paris and Lyon. For a cheap holiday, the good VACAF are accepted. This campsite takes the CampingCard ACSI . From May to September, holidaymakers will have the pleasure of enjoying the outdoor swimming pool available to them. A paddling pool reserved for young children accompanies it so that the whole family can enjoy. Athletes will be able to play on the football field, volleyball, tennis, petanque and ping-pong. A service within the campsite allows you to rent bicycles to discover the surroundings along the paths. The whole family will have fun on the mini golf of the campsite. To relax, those who wish can go to the relaxation room where they can watch television, read books or borrow board games. Nearby you can enjoy horse-drawn carriage rides, horse riding, diving, pedal boating, mountain biking, windsurfing, rafting, fishing or tree climbing. The children will have a good holiday at Saulieu campsite since they will be able to take advantage of the on-site playground as well as the children's club which offers them a creative workshop twice a week, such as the workshop "Make your name ". Family holidaymakers will be able to rent a mobile home or one of the chalets available, ranging from the mini chalet of 6m² up to the comfort chalet of 33m². Chalets and mobile homes are fully equipped with a living room, a bathroom with shower, separate toilet, a team and a wooden deck with garden furniture. The equestrian center of Saulieu is not far from the camping Saulieu and allows to go horseback riding or pony riding. The nature lovers will be conquered by the Regional Natural Park of Morvan and its walks, whether on foot, by bike, on marked trails or not. Fans of historical sites will be able to discover the Saint Andoche Basilica....
Voir le camping






























The campsite Porte d'Arroux is located in Autun in the Morvan, it is bordered by a river. The good VACAF are accepted, which will allow to spend holidays at low cost. This campsite takes the CampingCard ACSI . In the campsite, holidaymakers can enjoy table tennis, as well as a petanque and a volleyball court. Children will have fun in the shaded playground with spring games and slide. It will be possible to reserve for canoeing on the river. Activities are organized to discover the surroundings, such as quad rides to visit the vineyards and castles of the Côte Chalonnaise with a guide who will reveal the treasures of the region on a walk that can last from 2 to 4 hours. Canoe trips are also organized on 1h30 to 3h. 20 km from the campsite is the archaeological site of Bibracte with museum, exhibitions, restaurant and research center. This site is located at Mont Beuvray in the Massif du Morvan. Other activities are accessible such as carriage rides, electric bike rental, fishing, parks, climbing, quad biking, tree climbing, horse riding or golf . Mobile homes are offered by the Camping Arrou, equipped and functional. Several models are available. The most spacious of the models, the Loggia is 32m² and has two bedrooms with beds, a bathroom with shower, separate toilet, a living room, a kitchen, a semi-detached wooden terrace. covered and garden furniture. 15 minutes from the campsite, lovers of historic sites can visit the Priory Saint Martin. They can also visit La Ferme de la Noue which raises snails, the Roman theater, the temple of Janus, the cascade of Brisecou, the Rolin Museum and other natural or cultural sites....
Voir le camping




















The chalet-village of Breuil is located in the charming medieval city of Bourbon-Lancy, and invites holidaymakers to spend a stay both leisure and discovery. This campsite takes the CampingCard ACSI . This is a campsite located in the heart of nature, near a lake with water slide and which allows to practice various water activities such as fishing, canoe rental, pedalo rental or just swimming for those who want to be quiet in a natural haven. Nature lovers will not miss the many marked trails for hiking, whether on foot, mountain bike or horseback, and enjoy the beautiful surroundings of the region. In the campsite, holidaymakers can enjoy the pool for special moments of bathing and can also bask in the sun, while the youngest enjoy the paddling pool made available for the whole family can enjoy the joys of bathe safely. Children and adults alike can enjoy the Volleyball court as well as the ping-pong area, but also practice golf, mini golf, tennis and even horse riding near the campsite. Indeed, the activities in the region are not lacking, for those who dream only of relaxation during their holidays, the spa of Bourbon-Lancy with massages, treatments, baths, sauna, hammam and jaccuzi opens its doors and allows to experience moments of pure relaxation and well-being. A leisure park and a casino are also just 10 minutes walk from the campsite. Various entertainment programs are organized regularly to offer holidaymakers a stay with family and friends in a friendly atmosphere and in the best mood, with also a kid's club that will delight the little...
Voir le camping


















Located in Burgundy along the Loire, the Camping des Halles invites you to spend a relaxing stay at the water's edge, in a friendly atmosphere. This campsite takes the CampingCard ACSI . Camping des Halles adjoins the municipal swimming pool, which will allow holidaymakers to enjoy an outdoor pool, accompanied by a paddling pool. They will also have the opportunity to go to Decize's water sports stadium, an aquatic playground that features water jets, water games and a bar-restaurant. It will be possible to rent bikes or mountain bikes to discover the region starting on the paths. Decize Canoe Club offers natural canoeing to discover nature. Those who want to sail on the Vieille Loire or the Aaron will be able to rent an electric boat. The children will be delighted to be able to go for pony and carriage rides. A golf course is on the island of Caqueret and a mini-disco-golf in the water stadium. Fishing enthusiasts can put themselves on the banks of the Loire and quietly indulge in their passion. There is a play area with nets and climbing wall on the campsite grounds, as well as a games room. Workshops are offered for children. Those wishing to spend a very comfortable stay can rent one of the mobile homes available in several models. All are composed of a living room with a dining area, a bathroom with shower, toilet, a kitchen equipped with microwave, refrigerator and coffee maker, a wooden terrace and a living room of garden. Not far from the campsite, holidaymakers will be able to sail on the Nivernais canal between Decize and Auxerre, and thus enjoy the surroundings and the climate while visiting villages. Lovers of historical sites will not miss visiting the Saint-Aré Church with its crypt dating back to the 11th century or the ruins of the Old Castle with its corridors and underground rooms....
Voir le camping
ville-les-plus-rechercher






















Located in the Burgundy region of Côte-d'Or, the Etang de Fouché campsite invites holidaymakers to spend a quiet, water-filled stay. The campsite is located on the edge of a beautiful lake with direct access to a beach. Located on a large site of 8 ha, the campsite offers its holidaymakers a privileged place where the whole family can relax in the countryside close to the Regional Natural Park of Morvan. The campsite of Etang de Fouché offers large and shady pitches, as well as rental accommodation such as mobile homes or chalets to spend a quiet stay in the most total comfort. Other more unusual accommodations such as tents called "Canvas there is something for everyone, holidaymakers are sure to never be bored! A playground for children is also available so that they can have fun...
Voir le camping




















The campsite La grappe d'Or is located in Meursault, in the heart of a vineyard Bourguignon, and invites vacationers to relax and enjoy the wine landscape in a setting conducive to well-being and rest. The village of Meursault is just 7 minutes walk and has all the necessary services and shops. Lovers of walks and visits will have something to do, Beaune and its surroundings offer many cultural visits including a mustard, a walk in the park of La Bouzaize, a visit of Beaune by train, or a hike in the vineyards , on foot or by bike. Burgundy is a region dotted with castles, holidaymakers are invited to discover the magnificent cultural and historical heritage, with castles, Renaissance castles, palaces and wineries that make this region a jewel of French heritage . Hiking enthusiasts will find their happiness since the campsite La Grappe d'Or is the ideal starting point to visit the country Beaunois which offers 31 loops to discover for beginners or seasoned walkers who wish to discover this magnificent region by immersing themselves of the surrounding nature. The mountain of 3 crosses, Mount Rome and the Circus at the end of the world are all beautiful places to discover to keep an unforgettable memory of the region. Holidaymakers will be able to take advantage of an aquatic area available in the campground for those who wish to enjoy swimming and family fun thanks to the large outdoor swimming pool, the swimming pool with water slide and to the paddling pool that allows the little ones to swim safely. A playground is also available so that the youngest can have fun as much as they want in the facilities provided for this...
Voir le camping
































Les Sources campsite is located in the countryside of Burgundy, in a naturally peaceful setting and ideal for a relaxing family holiday. This campsite takes the CampingCard ACSI . The walks are numerous and the hikers will not miss any way to go as this region has beautiful landscapes to offer for the pleasure of holidaymakers. In the campsite, holidaymakers can practice several activities available. The more sporty can enjoy the football field, tennis, volleyball and mini golf. A games room is also available to allow young and old to have fun and never get bored. A playground is available to allow the youngest to have fun with each other and play safely. For swimming enthusiasts, a heated municipal swimming pool adjoins the campsite and allows holidaymakers to enjoy moments of pure family fun as a paddling pool is also present to allow the little ones to swim and enjoy the pleasures of the pool . In addition to camping pitches, mobile homes are available for rent to enjoy the natural setting while staying in comfort with the family. Vacationers can enjoy their stay to discover the heritage of the region, including the Château de La Rochepot, former home of the Dukes of Burgundy and knights of the Golden Fleece. This medieval fortress invites to admire all its impressive defense that was his strength. Another place to visit: The town of Nollay with its beautiful half-timbered houses and narrow streets. And for lovers of beautiful landscapes, the Cirque du Bout du Monde Waterfall offers a spectacular view of an impressive waterfall springing from a cave. Camping de Sources is the ideal holiday spot to spend a family holiday in a natural and rich cultural...
Voir le camping








Camping Les Bruyères is a family campsite located in Burgundy, on the edge of a recreational lake and opposite the Château de la Clayette. Lovers of walks and tourism will appreciate to discover the Charolais Country with its beautiful undulating landscapes as well as its pastures. An exceptional panorama will offer holidaymakers a real sense of tranquility and invite them to visit the colorful villages of the surrounding area, as well as the castles, churches and chapels and museums that constitute a true historical and cultural heritage making the wealth from this beautiful region. This setting is ideal for moments of relaxation and family cultural discoveries. The region offers a large number of activities to practice, those who love the contact of water can practice fishing or go down the Loire by canoe. Nature lovers will be able to take advantage of the exceptional setting to make wonderful hikes, on foot, by mountain bike or even on horseback since an equestrian center is nearby. And for thrill-seekers, the ULM Club of Burgundy will allow those who wish to admire the surrounding nature from a completely new angle. Many activities are also practicable in the grounds of the campsite with sports fields and mini-golf but also a water area available with outdoor pool and water slides so that the whole family can spend real moments of pleasure and pleasure. bathing. Various entertainment programs are organized regularly and invite holidaymakers to live moments of conviviality, in the best mood, with entertainment for adults but also for children so that they can also enjoy their stay, practicing activities. activities developed especially for their greatest pleasure, and that the whole family can spend holidays in complete...
Voir le camping

















Dompierre-les-Ormes
-
Burgundy

















The campsite Le Village des Meuniers 4 * is located in Dompierre-les-Ormes, in Burgundy on a hill with breathtaking views of the green nature that surrounds it. A family-friendly upscale campsite, Le Village des Meuniers presents a unique water park in Borgogne: a 25-meter heated outdoor pool, a game pool with water slides and a paddling pool for children. The whole is adroitly arranged of spaces sunbeds to take the sun. Come and pitch your tent, park your caravan or camper on 4.5 acres of woodland just 500 m from the village and its weekly market. As for rentals, the standing camp site Le Village des Meuniers has everything you need to please you: 7 3-bedroom chalets for 6 people with covered terrace and teak garden furniture, 10 mobile homes for 4/6 people from 28 m² and 6 mobile homes from 6 to 8 beds and 3 bedrooms all with a raised wooden terrace. Two large mobile homes have just enriched the rental panel with the particularity of offering direct access from the kitchen to the wooden terrace. You can also opt for a cottage 3 bedrooms, or more economical: tents bungalows or tents logdes natures 6 places with canopy, wood furnishings and garden furniture. To entertain you and your children you will find at the campsite 2 playgrounds and a games room as well as a trilingual children's club , a mini-golf, 2 tennis courts, a multisport field, a fishing pond and the animators of the camping will offer you fitness classes, yoga, sports tournaments and other themed...
Voir le camping
















1 km from the village of Tonnerre, in a preserved natural setting of the Yonne, in Burgundy-Franche-Comté region, you will probably love at first sight for the calm and bucolic charm of the 3-star campsite La Cascade! Between the serenity of the Burgundy canal and the lapping of the Armançon river, you can stay in one of the picturesque chalets flanked by a covered terrace. Planned for 5 people, they are divided into 2 bedrooms with 1 double bed and 3 twin beds, a bathroom with toilet and an equipped kitchenette. One of them, accessible to people with reduced mobility and equipped for 3 people, includes a room with 1 double bed and 1 single bed. Alone with a semi-covered terrace with sunbed and solarium, the chalet "Habitat Loisirs" welcomes 5-7 guests in 2 bedrooms, 2 bathrooms-WC, a lounge with convertible sofa and a small well equipped kitchen. Tents, caravans and motorhomes may invest semi-shaded sites with access to electricity as a paid option. When it comes to swimming, there will be something for everyone between the small heated outdoor swimming pool and the beach of the river. Some will enjoy the pleasures of hiking or mountain biking along the canal, while others can play ping-pong and volleyball, fish or occupy the children's playground. To fully satisfy the whole family, various activities are offered in July and August. The campsite has a restaurant-bar with television and offers, in high season, bread and groceries. For more amplettes, the shops of the village are just a stone's throw away. From the campsite La Cascade, stimulate your pupils and your taste buds by visiting the castles of Tanlay and Ancy-le-Franc and the vineyards of Tonnerre, Epineuil and Chablis!...
Voir le camping










Dompierre-les-Ormes
-
Burgundy










Holiday village Domaine des Monts du Mâconnais This small holiday village is made up of 13 chalets, located in the beautiful hilly landscape of Burgundy. It is completely renovated and features an indoor swimming pool. The 12 wooden chalets were completely renovated last winter and are spread over a large plot of 2 hectares. Whatever your cottage, you enjoy a superb view of the hilly...
Voir le camping






Villeneuve-sur-Yonne
-
Burgundy






The campsite Le Saucil is located in the town of Villeneuve-sur-Yonne between the cities of Troyes (1:10) and Orleans (1:30). It is located 30 m from the beach on the Yonne and 500 m from the center of the village. A haven of peace with greenery awaits you for a quiet stay. The establishment has 70 sites with areas ranging from 90 to 140 m². You can install your tent, caravan or camper in the middle of the greenery because hedges, shrubs and trees are present. You will have access to 2 sanitary blocks, electric terminals, wifi and a motorhome service area. In rental mobile homes are available. They have 2 bedrooms and accommodate up to 6 holidaymakers with all the comforts to feel at home. A cleaning fee is offered if you wish. On-site fast food is open with breakfast, fries, grills, drinks and ice cream. Theme nights are held a few days in the week. All amenities are in the village 5 min walk, it also has 2 markets per week. Children will enjoy the playground equipped with an inflatable structure and the ping-pong table. You will have only 30 m to go to reach the beach. A few minutes away you can access many activities such as swimming pool, mini golf, canoeing, hiking, rosalies rental, fishing, tennis, horse riding and a leisure center 2 km. Everything revolves around relaxation and leisure. Do not miss to visit Villeneuve which is a pretty medieval city with interesting buildings without forgetting exhibitions, museums, parties and other animations....
Voir le camping
















The Naturist Camping Domaine de la Gagere 4 * welcomes you in the heart of the Morvan National Park in Burgundy. 120 pitches for tents, caravans and campervans are available for rent around 5 hectares of greenery. You can also opt for a rental cottage or mobile home. For a more traditional camping, pitches for tent, caravan and camper are available for rent. The campsite has 3 heated swimming pools, a sauna and a restaurant. On site, you can also go shopping and buy bread every morning. Enjoy the solarium to soak up the sun during your stay. As for entertainment, Camping Naturiste Domaine de la Gagère offers every Monday morning hiking from the campsite to the summit of Mont-Dône. Many walks are available in the Morvan National Park. You will come across rivers, streams and waterfalls more attractive than each other. Visit the Roman cities of Autun, Beaune and Dijon. Many villages are worth visiting as Vézalay and its Sainte-Madelaine basilica. Do not miss the great Burgundy wines. To add to the program of your holidays, visit and wine tasting without forgetting to taste regional dishes such as beef bourguignon and the famous snails of...
Voir le camping
There are 106 campsites in Burgundy. You will be able to choose from a very wide range of campsites. From the simplest to the most upscale camping, Burgundy offers a wide variety of campsites with simple tent and caravan pitches or with mobile homes. You can choose to go to the property of a castle, to the edge of a pond or in the middle of nature. Some campsites are even located on the edge of large vineyards such as camping La Grappe d'Or in Meursault.
At the level of prices, count on average 400€ for a campsite in Burgundy (for one week in mobile home rental). As an indication, the average price is 900€ during the high season.
Opt for a campsite in Burgundy: the holiday destination for fine gourmets, lovers of wild nature as well as art and history lovers. The campsites are spread over its four departments and largely irrigate the main tourist attractions from the Morvan Regional Natural Park via the banks of the Seine and Loire, the wine roads and Romanesque churches, not to mention the region's flagship towns of Dijon, Auxerre, Nevers and Châlon-sur-Saône.
North of Burgundy: Yonne
There are 16 campsites in Yonne with an average rate of 1000€ per week in July and August. Take advantage of your stay to visit Auxerre, a city of art and history renowned for its Abbey St Germain, its Cathedral St Etienne and its churches.
In Villeneuve-sur-Yonne you will find the 2-star camping Le Saucil 50m from a river and 500m from the city centre. An ideal campsite to enjoy the banks of the Yonne and visit the Cistercian Abbey of Pontigny. In Cravant, also near Auxerre, you will find Camping Village de Chalet de Cravant ideally located on the edge of the Morvan Regional Park and its large lakes. You will enjoy the swimming pool and barbecue evenings and will be in pole position to discover La Puisaye and its green countryside by mini-train.
East of Burgundy: La Côte d'Or
For your stay in Burgundy, we advise you to opt for a campsite in Côte d'Or.Dijon, capital of Burgundy, former capital of the Dukes of Burgundy, is a delight for the curious onlooker of Art and heritage with its pedestrian streets, its inner courtyards and its many 17th century bell towers, not to mention its splendid Palace of the Dukes of Burgundy and its Moses' Well.
On site, you will find the 3-star Lac Kir campsite on the banks of the Burgundy Canal and near Lake Kir, with swimming pool and restaurant...
Other unmissable town on the Côte d'Or: Beaune, the capital of the Burgundy Vineyard from which the Grands Crus roads start, is no less famous for its Hospices, a gothic architectural jewel. Near Beaune, in Meursault, you will find the 3-star La Grappe d'Or campsite with a swimming pool and direct access to the walking paths, the Morvan Regional Park and the famous vineyards of Meursault.
In the department, you will not fail to visit the Abbey of Fontenay and the Museum of the Châtillonnais region where the Treasure of Vix, the largest Greek bronze vase ever discovered to date, is located. Finally, the very beautiful and brand new MuséoParc Alésia will tell you all about the siege that opposed Vercingetorix in the year 52 César.
La Nièvre
Nevers is famous for its earthenware, its Ducal Palace, and also for its Magny Cours circuit where amateurs can learn how to drive a Formula 1 or a kart. Overlooking the Loire, the city offers beautiful walks on the Veloroute along the river, which can also be enjoyed by canoe or boat. A few kilometres away, the Bec d'Allier, meeting the Allier and the Loire, is one of the most beautiful natural sites in Europe.
We have selected for you, 2 campsites in La Nièvre. you will find in Crux-la-Ville the 3-star Etang du Merle campsite by the pond with swimming pool, snack bar and access to the 500km of mountain bike tours that cover the region. The city of Saint-Honoré-Les-Bains is a charming family spa. You will find on site the campsite Les Bains 3 stars with a large swimming pool, adult entertainment and a warm welcome.
Campsites in southern Burgundy: Saône-et-Loire.
You can discover Mâcon, the Massif du Morvan and its famous Roche de Solutré.Many thematic routes allow you to discover this territory rich in history and endowed with an exceptional natural heritage: take the route of Romanesque churches, archaeological sites and caves (such as the Neolithic Camp of Chassy-le-Camp) or the 189 castles in the department, including the magical Château de Couches called Marguerite de Bourgogne, not to mention the Route des Vins du Mâconnais-Beaujolais. On the way, you will not miss visiting Cluny and its Abbey, an essential stopover on another famous road: that of St-Jacques de Compostelle. And in July, Châlon-sur-Saône celebrates street arts during the Châlon dans la rue festival, a reference in the field!
See the 3-star Tournus campsite 19km from the Grotte d'Azé, a stone's throw from the town centre of the pretty little town of Tournus, famous for its Romanesque abbey church and excellent restaurants. 3-star Pont de Bourgogne campsite in Saint-Marcel is located on the banks of the Saône just a few minutes walk from the town centre of Chalon sur Saône. It has a swimming pool and you are ideally located to discover South Burgundy.
destination-tres-populaire